David Beckham Lines Up for Queen's Coffin From 2 A.M.: 'Special to Be Here'
Soccer star David Beckham lined up for more than 13 hours Friday with members of the public to view the lying in state of Queen Elizabeth II, praising the late monarch's "incredible legacy" and recalling how "lucky" he was to meet her.
The former England soccer captain was spotted among the afternoon's crowd as the U.K. government told members of the public not to join the line, which had reached its full capacity, stretching about 3 miles from Westminster Hall.
Elizabeth died at the age of 96 on September 8 while staying at Balmoral Castle, her Scottish estate. The monarch's body will lie in state at Westminster until her state funeral Monday. The queen's body was transferred to the hall from Buckingham Palace on Wednesday in a special procession followed by members of her family, including King Charles III and Princes William and Harry.
Britain's kings and queens have been lying in state at Westminster Hall before their funerals since Elizabeth's great-grandfather, Edward VII, did so in 1910. When her father, King George VI, died in 1952, over 300,000 mourners lined up to pay their respects.
There are no preliminary estimations as to how many will attend Elizabeth's lying in state. But the number is expected to exceed all previous occasions since there will be one additional day compared with George VI's lying in state, and the hall has been opened for 24 hours a day.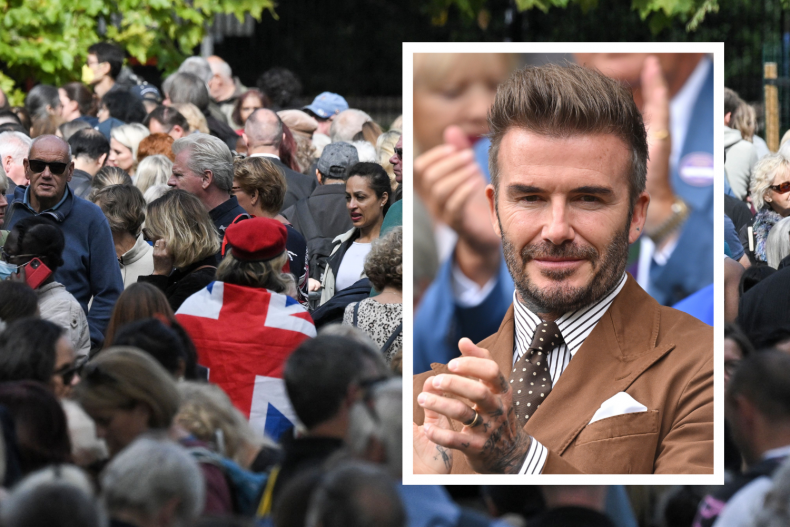 Asked by Britain's ITV why he decided to join the lengthy line to participate in the event, Beckham, who arrived at 2 a.m., said that he wanted to "celebrate" the queen's life and that it was "special to be here."
"I grew up in a household of royalists," he said, "so if my grandparents would have been here today I know that they would have wanted to be here. I'm here on their behalf and on behalf of my family and obviously to celebrate with everybody else here."
Beckham later said, "We can all see with the love that's being shown how special she was and the legacy she leaves behind. It's a sad day, but it's a day for us to remember the incredible legacy that she's left."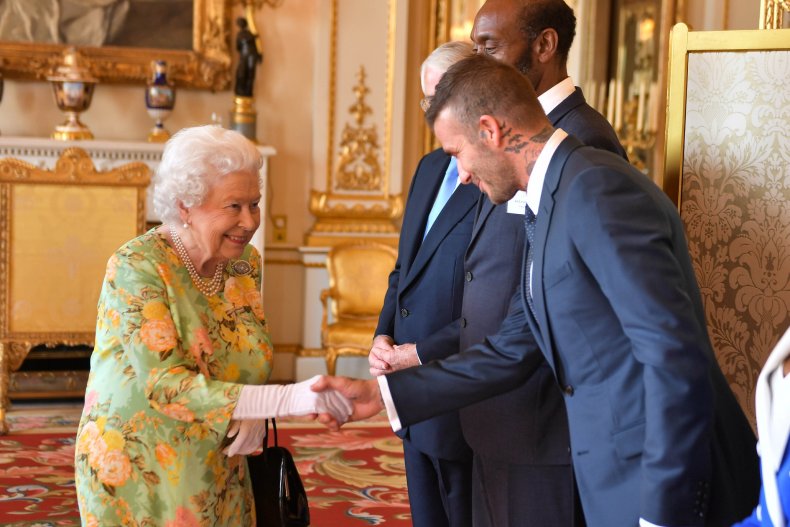 The soccer star said, "I thought that by coming at 2 a.m. it would be a little bit quieter. I was wrong. Everybody had that in mind, but the people here are all ages.... Everybody wants to be here to be a part of this experience, to celebrate what Her Majesty has done for us."
So far, Beckham is the most high-profile celebrity who has been spotted queuing in London as the public has paid respects to the former monarch.
On Friday evening, the queen's four children—King Charles, Princess Anne, Prince Andrew and Prince Edward—are scheduled to pay a special tribute to their mother. They will take part in a "Vigil of the Princes," where they will stand guard next to her coffin for a short period.
This tradition was started in 1936 by the four sons of King George V and was repeated in 2002 for Queen Elizabeth, the Queen Mother by her four grandsons.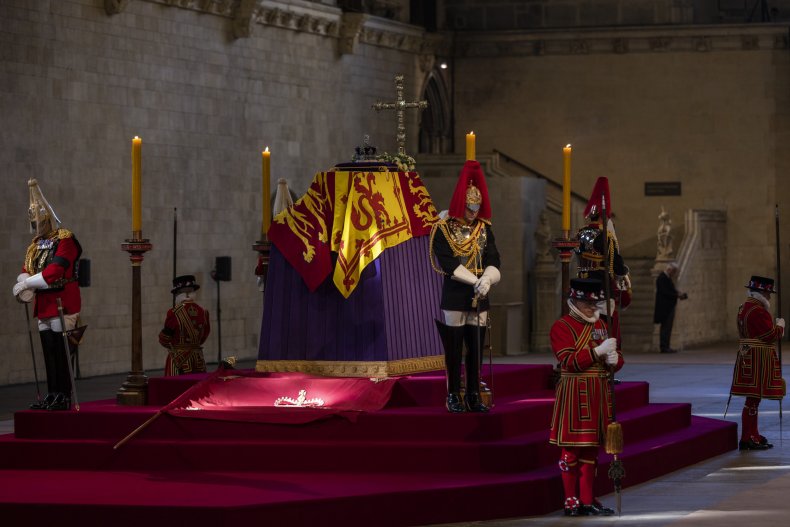 The eight grandchildren of Elizabeth II will take part in a similar vigil set to take place Saturday. They will include Prince William, who is the new prince of Wales, as well as Prince Harry and the Princesses Beatrice and Eugenie of York.
The queen's coffin will be transported Monday morning to Westminster Abbey, where the state funeral will be held before what is expected to be the largest assemblage of crowned heads and world leaders in London since her coronation in 1953.
From the abbey, the queen will be taken to Windsor Castle, where she will be buried alongside her husband, Prince Philip, who died last year.