William and Harry—United in Grief—Walk Side-by-Side To Honor Queen
Prince William and Prince Harry made a united showing of grief on Wednesday as they appeared side-by-side to walk behind Queen Elizabeth II's coffin on its journey from Buckingham Palace to Westminster Hall.
For the two princes this is only the second time that they have appeared together in public amidst a reported royal rift since the unveiling of a statue to their mother Princess Diana at Kensington Palace last summer to mark what would have been her 60th birthday.
With the death of Queen Elizabeth II on September 8 at her Scottish home of Balmoral Castle, her son Charles became His Majesty King Charles III. One of his first acts as king was to create his son William as Prince of Wales.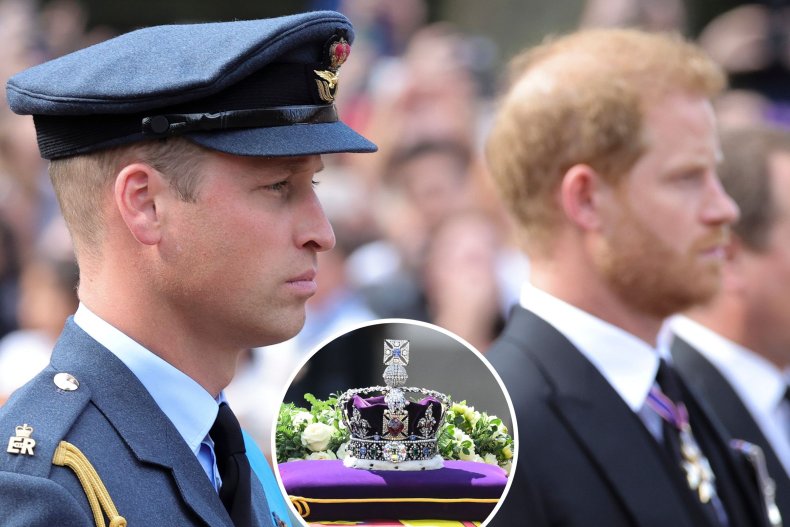 The relationship between William and Harry has been widely speculated upon after the Sussexes' decision to step down from their royal roles and move to the United States in 2020.
In an interview given to television veteran Oprah Winfrey in 2021, Harry described his relationship with William as one of "space at the moment," adding: "I love William to bits. He's my brother. We've been through hell together. I mean, we have a shared experience. But we're on different paths."
William was revealed to have extended a significant olive branch to his younger brother on Saturday with an invitation to join him and the Princess of Wales in a viewing of the floral tributes to the late queen.
Harry, along with Meghan Markle, arrived outside the castle gates with William and Kate on Saturday evening and spent time meeting members of the public before being driven away by William.
A spokesperson for the Prince of Wales previously confirmed to Newsweek that he had reached out to the Sussexes himself.
The queen's coffin was taken to Westminster Hall on Wednesday where it will lay-in-state until the day of her funeral on Monday, September 19, a day that has been proclaimed a public holiday in the U.K.
The procession left Buckingham Palace at 2:20 p.m. local time accompanied by a military escort.
Members of the royal family including the king, Princess Anne, Prince Andrew, Prince Edward, William, and Harry all marched behind the coffin.
There had been considerable speculation in the days leading up to the procession surrounding whether Harry would be permitted to wear a military uniform for the ceremonial aspects of the late-queen's lying-in-state and funeral.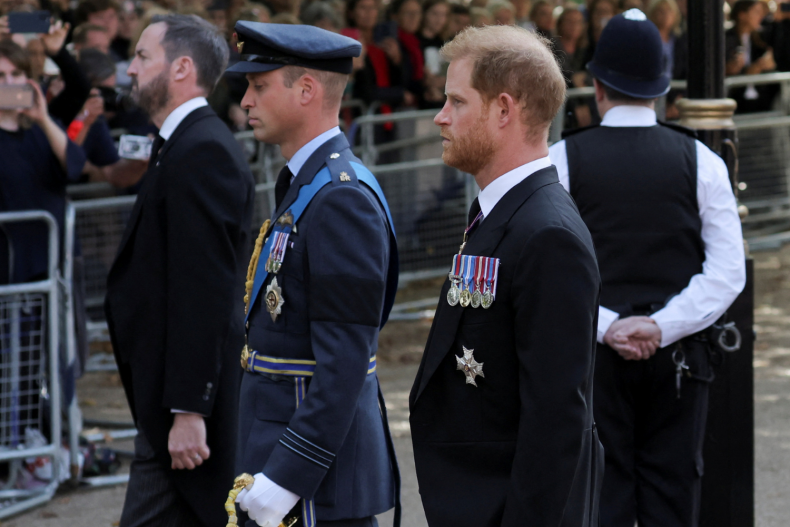 It was reported that only working members of the royal family would be allowed to wear uniforms, despite the fact that both princes excluded under the protocol—Harry and Andrew—are also the only living members of the family to have served in active combat.
Harry surrendered his military patronages in 2021 as part of his stepping down from royal duties. Andrew did the same earlier this year after he faced a sexual assault lawsuit from Jeffrey Epstein victim Virginia Giuffre. The prince denied the allegations made against him and settled out of court.
In response to the focus on whether he would appear in uniform a spokesperson for Harry told Newsweek:
"Prince Harry, The Duke of Sussex will wear a morning suit throughout events honoring his grandmother. His decade of military service is not determined by the uniform he wears and we respectfully ask that focus remain on the life and legacy of Her Majesty Queen Elizabeth II."
Wednesday's procession took on an added layer of poignancy for William and Harry as it followed much of the same route as the funeral cortège for their mother, Princess Diana, which journeyed through London to Westminster Abbey on September 6, 1997—25 years ago this month.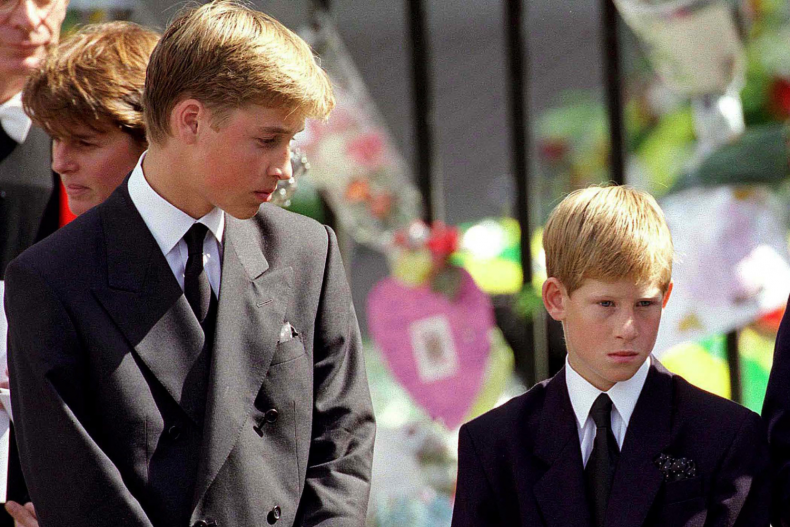 Harry and William have repeated this type of mourners procession only once since their mother's funeral, to accompany the body of their great-grandmother, Queen Elizabeth The Queen Mother, from the Queen's Chapel of St. James's Palace to her lying-in-state at Westminster Hall in 2002.
Following a short service in the hall given on Wednesday, where William and Harry were reunited with Kate and Meghan, the two couples exited with the Waleses in front and the Sussexes behind. The royal party then returned to Buckingham Palace by car.
The queen's body will remain at Westminster Hall before a second smaller procession takes place on the morning of her funeral, when it will be taken to Westminster Abbey.