Kate and Meghan Take Separate Cars as Princess of Wales Supports Camilla
Kate Middleton and Meghan Markle were in separate cars as Queen Elizabeth II's coffin made its way from Buckingham Palace to Westminster Hall on Wednesday. The procession began at 2:22 p.m. local time in London, ahead of the queen's lying in state.
Large crowds are expected to file past the queen's coffin over the next four days to pay their respects. According to Parliament's website, "Lying-in-State describes the formal occasion in which a coffin is placed on view to allow the public to pay their respects to the deceased before the funeral ceremony."
On Wednesday, Kate, the Princess of Wales rode in support of Queen Consort Camilla Parker Bowles in their car, while Meghan, the Duchess of Sussex and Sophie, the Countess of Wessex sat side by side in a separate vehicle.
Meanwhile, Kate's and Meghan's husbands—William, the Prince of Wales, and Harry, the Duke of Sussex—walked behind their grandmother's coffin.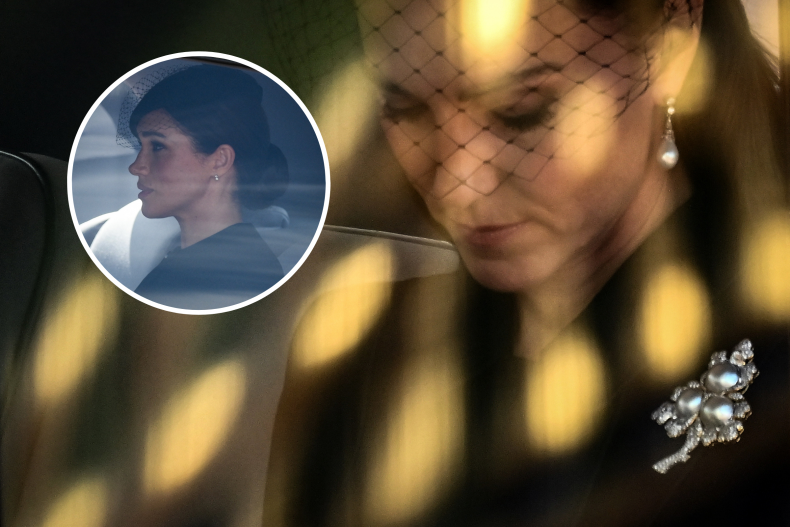 Kate and Meghan were previously seen together this past Saturday during a surprise appearance outside Windsor Castle alongside their spouses. For approximately 40 minutes, the foursome toured piles of flowers, flags, balloons and other items that well-wishers had left for the late queen. They also greeted members of the public, shaking hands and thanking them for their support.
The last time they were all seen together was during 2020's Commonwealth Day service at Westminster Abbey.
Earlier that year, the Duke and Duchess of Sussex stepped back from their senior roles as members of the royal family to live a quieter life in California. The couple—whose children are Archie, 3, and Lilibet, 15 months—moved to Los Angeles in March 2020 after briefly living in Canada. They are expected to stay in the U.K. for the queen's funeral, which is set for next Monday.
At the time of their stepping back, Meghan and Harry said on Instagram that they would become "financially independent" while still working with the palace. They also said they made the decision after "many months of reflection and internal discussions."
Queen Elizabeth II died last Thursday at the age of 96 after her doctors voiced concerns about her health. "The Queen died peacefully at Balmoral this afternoon," Buckingham Palace announced in a brief statement. "The King and The Queen Consort will remain at Balmoral this evening and will return to London tomorrow."
The monarch's eldest son, Charles, became king immediately after her death. An official proclamation ceremony on Saturday made the change official. The Privy Council's Accession Council made the announcement at St. James' Palace in London.
"We...do now hereby with one voice and consent of tongue and heart publish and proclaim that the Prince Charles Philip Arthur George is now by the death of our late Sovereign of happy memory become our only lawful and rightful liege lord, Charles III," the council said.