Prince Harry and Andrew Uniform Ruling Is 'Deplorable Double Standards'
Prince Andrew will get a chance to wear his military uniform in honor of Queen Elizabeth II while Prince Harry has been prohibited from donning his in a move that one author told Newsweek was "totally tone deaf."
Only working royals have been given permission to wear a military uniform to Elizabeth's funeral on September 19.
That means Prince Harry and Prince Andrew, the only living royals to serve on the front line, will have to wear suits.
However, Andrew, the Duke of York, who was accused of rape in a civil lawsuit in New York, will be allowed to wear his military uniform at the final vigil in Westminster Hall. He denied the rape allegation and settled out of court while admitting no liability.
No such opportunity in donning his military attire has been found for Harry, whose Invictus Games tournament for wounded service men and women regularly brings the armed forces community together.
Prominent U.K. commentator Shola Mos-Shogbamimu, author of This is Why I Resist, told Newsweek: "It's deplorable double standards here.
"Prince Andrew was stripped of all of his honorary military titles because of the disgrace he brought to the Royal Navy and the Royal Family following the accusations of sexual abuse by Virginia Giuffre.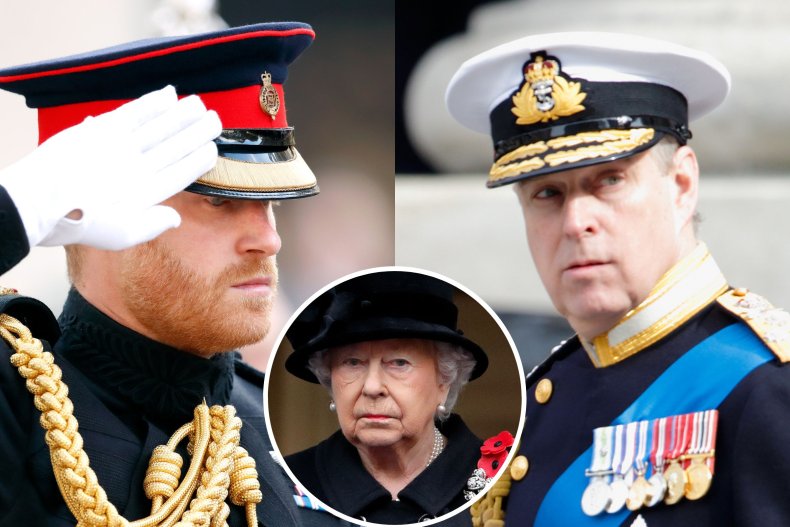 "Prince Harry served with distinction. He served in the army with distinction, rising in the ranks. He did two tours of Afghanistan. He still works with veterans and promotes support for wounded men and women.
"Plus, he started the Invictus Games. If there was anyone between the both of them who has the right to wear a uniform, then it's Prince Harry.
"This is my point about the royal family being totally tone deaf and not reading the room as well as sending the wrong message.
"I'm thinking about Charles. Hasn't he learned a thing or two about the backlash that the queen got about the way she protected Prince Andrew?"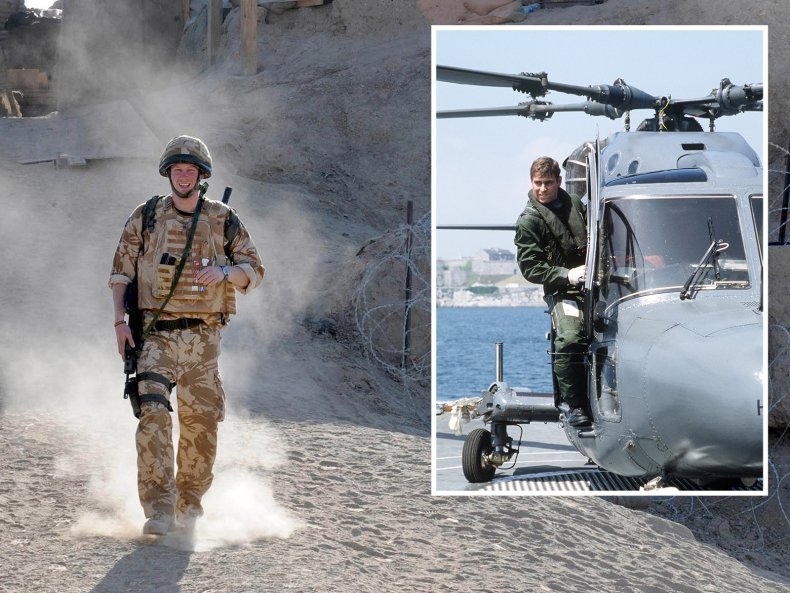 The surprise decision to give Andrew the chance to wear his uniform comes as he has twice drawn public scrutiny on the royal family in just four days since the queen died.
First, video footage showing an awkward moment between him and his daughter Princess Eugenie went viral on social media during a walkabout to meet crowds of well-wishers.
Then he was heckled as he joined the procession behind the queen's coffin through the streets of Edinburgh, Scotland, on Monday.
One mourner could be heard in the Sky News live coverage shouting: "Andrew you're a sick old man."
Virginia Giuffre sued Andrew in 2021. Court filings accused the royal of raping Giuffre when she was a 17-year-old trafficking victim of Jeffrey Epstein and Ghislaine Maxwell.
The duke denied the allegations. When he settled the case, he acknowledged Giuffre was a victim of Epstein, his former friend.
In June, Maxwell was sentenced to 20 years in prison for trafficking girls for Epstein to abuse.
Nigel Cawthorne, author of Prince Andrew: Epstein, Maxwell and the Palace, told Newsweek: "I noticed when Andrew came out to greet the crowds, most of them were shying away from him.
"Are they trying to rehabilitate him? I just can't see it. What regiment is going to come along and say, 'Oh, yes, you be our colonel in chief.' What charity will say, 'We want his name on our letterhead'?
"What supermarket would say, 'Come around and cut a ribbon.' I don't think he'd be making any school visits either.
"Prince Harry's made a career decision which suits him. There's no allegation that he's been involved in any criminal activity."
The difficulty over military uniforms echoes a similar conflict at the time of Prince Philip's funeral in April 2021.
At the time, it was reported that Andrew planned to attend in an admiral's uniform although never having been promoted to the rank. Ultimately, the palace resolved the issue by ruling none of the royals would wear a uniform.
The latest saga highlights how little active service some royals have done despite being showered with medals and honorary accolades.
Prince Harry will be in his suit while Prince Edward will be entitled to wear a military uniform, even though Edward dropped out of the Royal Marines before completing the training.
At Philip's funeral, Edward, the queen's fourth child, wore five medals across his chest, plus the star for his Knight Grand Cross of the Royal Victorian Order honor. He also has eight honorary military titles.
Do you have a question about Queen Elizabeth II, King Charles III or their family that you would like our experienced royal correspondents to answer? Email royals@newsweek.com. We'd love to hear from you.