Andrew's Interaction With Grieving Princess Eugenie Raises Eyebrows Online
Prince Andrew's gesture of comfort extended to daughter Princess Eugenie as they viewed floral tributes to Queen Elizabeth II at Balmoral Castle on Saturday, raised eyebrows online after the royal was forced to formally step down from public life earlier this year.
The prince, along with his two daughters, Princess Beatrice and Princess Eugenie, were among members of the royal family who traveled to Balmoral Castle following the death of Queen Elizabeth II at the age of 96 on Thursday.
After a church service at Crathie Kirk, the church local to the Balmoral Estate, Andrew and his daughters, together with Princess Anne and her family and Prince Edward with his, viewed the floral tributes left at the gates of the castle in tribute to the queen.
At one point Andrew was recorded by news cameras as he comforted Eugenie who broke down while reading messages left to her grandmother. With an arm placed around his daughter, the prince bent down to read further messages, a move which provoked both expressions of sympathy and unease on social media as his hand slipped lower down her back.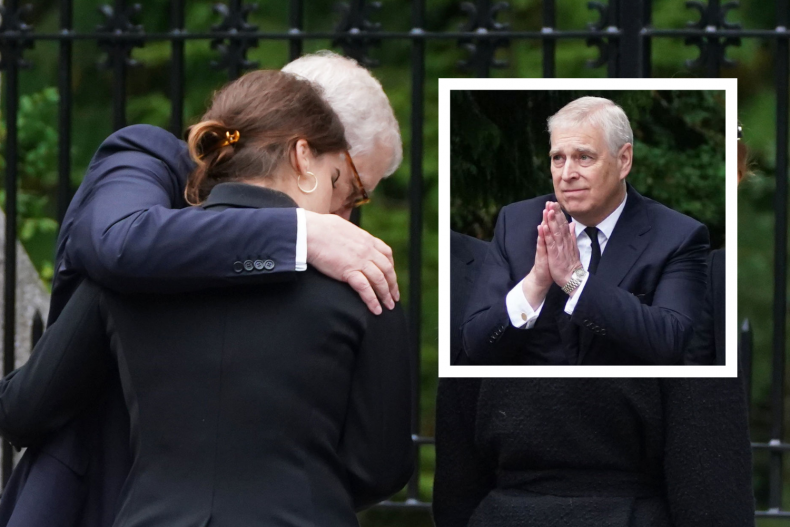 "Prince Andrew comforting Princess Eugenie. Its very emotional for all of them. I could see Zara close to tears as she was reading some of the cards and Sophie holding hands with Lady Louise. So so sad," wrote one user.
"Prince Andrew comforting Eugenie just came across creepy," posted another. "I don't know, maybe Prince Andrew's rare medical condition extends to losing control of his arms as well as not sweating. But, either way, feeling very sorry for Eugenie (and Beatrice) at the moment."
Representatives for the prince declined to comment when contacted by Newsweek.
Prior to the events at Balmoral, Andrew faced a difficult year following allegations of sexual assault lodged against him by Jeffrey Epstein victim Virginia Giuffre in August 2021. The prince has denied any wrongdoing.
The lawsuit was filed after the prince temporarily paused his undertaking of public duties after a disastrous interview with BBC Newsnight which saw him questioned on his friendship with Epstein.
When questioned by presenter Emily Maitlis about claims made by Giuffre that the prince had engaged in sexual relations with her while she was 17 years old, the royal denied recalling ever having met her. He said her claim that he sweat profusely during their interaction was false because he had an adrenaline-linked medical condition that prevented him from doing so.
In the fallout of the interview, Giuffre's lawsuit opened the prince up to heavy criticism as his legal team attempted to have the case thrown out of court.
In January 2022 a statement from Buckingham Palace announced that the prince had been stripped of his military honors and royal patronages, and would cease to use his HRH (His Royal Highness) title.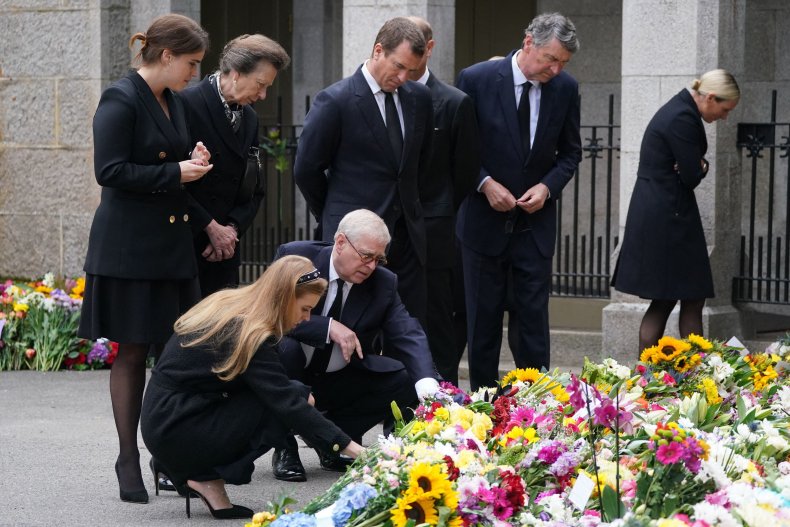 In February, the prince settled the suit out of court for an estimated sum in excess of $10 million, though he maintained his innocence in relation to the claims made against him.
Since then, the royal has made only three public appearances: the first in March to attend the memorial service of his late-father Prince Philip where he provoked considerable criticism by entering in a prominent position on the arm of the queen, the second appearance at Balmoral Castle on Saturday, and the third at Holyroodhouse in Edinburgh where the queen's coffin was laid on Sunday.
Andrew is expected to play a role in the state funeral plans for the queen which will take place on Monday, September 19th at Westminster Abbey.
Do you have a question about Queen Elizabeth II, King Charles III or their family that you would like our experienced royal correspondents to answer? Email royals@newsweek.com. We'd love to hear from you.