Man Arrested for Threatening to Shoot Nancy Pelosi Had 2,500 Rounds of Ammunition with Him
A man arrested in Washington, D.C. was in possession of more than 2,500 rounds of ammunition, according to a court filing.
Cleveland Grover Meredith was charged Friday for transmitting a threat in interstate commerce, possession of a firearm without a valid Washington D.C. registration and illegal possession of ammunition.
"Headed to DC with a [expletive] ton of 5.56 armor-piercing ammo," Meredith, a known QAnon supporter, wrote in a text message on January 6, according to a statement of facts by the FBI. However, due to an issue with his trailer, he didn't make it in time to attend the riots at the U.S. Capitol Building. Meredith was in possession of a Tavor X95 assault rifle, a Glock 19 firearm and ammunition when he was arrested at a D.C hotel.
The day after the riots, Meredith sent a text message threatening to shoot House Speaker Nancy Pelosi in the head on live television. He also expressed predictions that "many in our country will die" within the 12 days following the riots.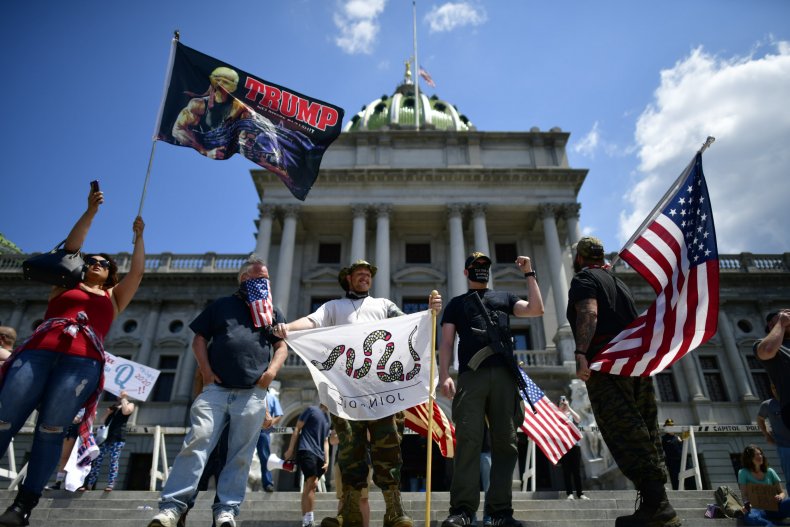 Since last week's attacks, President Donald Trump has been accused by many, including some lawmakers, of inciting violence by his supporters through his words and actions.
"Trump has created from disparate groups a private army," Joshua Horwitz, executive director of The Coalition to Stop Gun Violence said to Newsweek. "Now they have a common cause and now they have a general. When you have that type of despotic leader coupled with enough gun owners who are comfortable with the insurrectionist idea, you got a big problem."
Horwitz added that the issue is fueled by massive spikes in the purchasing of military-grade weapons since the Federal Assault Weapons Ban expired in 2004.
"Frankly 2,500 rounds of ammunition is terrible, but you can go to any gun show in America and buy 10,000 rounds," Horwitz said. "In the scheme of things, [2,500 rounds] compared to what other people are stockpiling...it's not that much."
Horwitz added that a weapon like a Tavor can fires rounds up to 1,000 yards.
Ahead of the attack on the Capitol, some rioters expressed their intent to transport weapons to Washington via public internet forums. About 40 individuals have been arrested in relation to the rioting last week, according to the Department of Justice.
Many of these charges include fire-arm related crimes. Open carry of handguns, rifles or shotguns, as well as the possession of ammunition, is prohibited in Washington, which has some of the nation's strictest gun laws. The mandatory minimum sentence for illegal possession of a firearm is one year.
"The Capitol's strict gun laws prevented even more carnage," Horwitz said. "The fact that these weapons were there, anywhere near the Capitol, shows you how close to...a mass killing we were. We have allowed private citizens...to acquire an ungodly amount of weaponry and ammunition. That is now coming back to haunt us."
The FBI has warned that more armed protesters are expected to "storm" Washington as well as state capitols ahead of President-elect Joe Biden's inauguration on January 20.
Newsweek did not receive a reply to a request for comment by the FBI.