The New York Police Department (NYPD) arrested and charged a man on Saturday in the case of a sexual assault inside a subway station in Queens, New York.
The police said that 38-year-old Tyrone Brown was charged with attempted rape, sexual abuse and drug possession, an NYPD spokesperson told Newsweek.
The victim was on her way out of the 169th St. station near Hillside Ave. in Jamaica Hills, Queens on Wednesday morning when Brown approached her from behind as she was walking up the street stairwell, police said.
Brown allegedly threw the victim on the steps after tackling her, placed his hand under her skirt, pulled down her tights, and attempted to rape her. However, Brown fled the scene after he saw a passerby.
The NYPD spokesperson didn't reveal further details about the victim or the crime but said that the victim refused medical attention on the scene.
Brown allegedly had crack in his possession when he was arrested, per the Daily News citing police. Surveillance footage showing Brown present nearby the station before the attack reportedly aided the police in tracking him down.
The police offered a $3,500 reward for tips that would lead to Brown. Late Friday night, they shared a clip from a surveillance camera inside the subway station showing Brown in a black sweater and a cap.
Sexual abuse is punishable up to four years in prison under New York State penalties.
Similarly, a man allegedly sexually assaulted a woman in October on board of a SEPTA train in Pennsylvania. The police said that the man, Fiston M. Ngoy, was charged with rape, indecent assault and sexual assault, among other charges.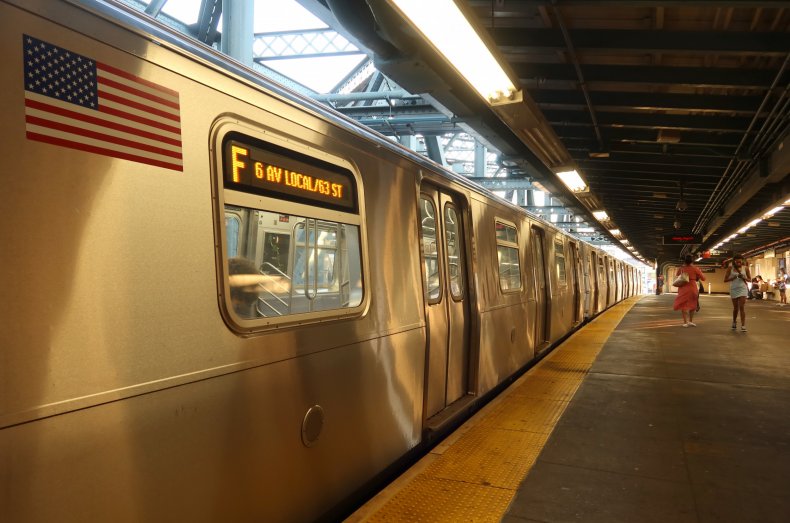 A police officer found Ngoy on the train next to the victim who was partially clothed. Investigators said that passengers on the train were standing by and "did nothing" when the woman was being attacked.
Ngoy was detained in lieu of 10 percent of $180,000 bail, according to WPVI-TV in Philadelphia.
"The victim, I spoke with her this afternoon. She is an unbelievably strong woman. She came forward, she provided a lot of information, and she's on the mend," said Tim Bernhardt, Upper Darby Police Department's superintendent, per the news outlet.
Rape is treated as a first-degree felony in Pennsylvania. Perpetrators could be sentenced to 20 years in prison and fined $25,000 if convicted.