When a man went to investigate a thud he heard on his porch in Montezuma County, Colorado, he felt something grab his leg, which he quickly learned was a mountain lion.
A press release issued by Colorado Parks and Wildlife reported that officials are searching for the mountain lion that reportedly attacked the man. This is the first reported mountain lion attack of a human in Colorado since March 11, 2020.
The agency reported that mountain lions are typically "calm, quiet and elusive."
"They tend to live in remote, primitive country with plentiful deer and adequate cover," officials said.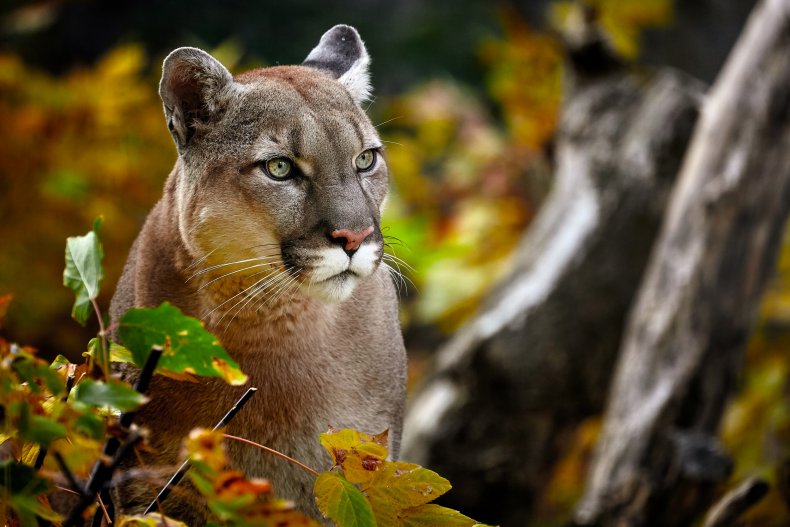 John Livingston, the public information officer for the southwest region of Colorado Parks and Wildlife, told Newsweek that more residential areas are encroaching on what is traditionally mountain lion habitats.
Officials made several suggestions for those living near these habitats, including installing outdoor lighting, making noise when coming and going at the hours mountain lions are most active, and putting livestock in secure sheds or barns at night.
The release stated that Michael D. Warren, 47, said he was in his house Sunday evening when he heard a noise outside on his porch. His dogs began to bark, and he thought his pet cats might be fighting on the porch.
As he began to step out into the open area, he felt the mountain lion grab his leg and saw it run away.
Officials noticed several punctures on Warren's lower leg, but he declined medical treatment.
They then tried to search for the mountain lion that evening but were unsuccessful. A trap was set up at the location of the incident.
The release also noted that two of Warren's domestic house cats recently went missing. Officials believe the mountain lion has been at that location before and returned.
Although there are numerous mountain lion habitats in the area, Livingston said they tend to be territorial animals. The mountain lion that they are searching for may come back to the same area.
Livingston said officials want to ensure they're able to find the right one.
"If there is a threat to humans or public safety, they'll be put down," Livingston said.
Officials collected fur samples from the man's porch when they investigated the incident, which may be helpful if they're able to trap a mountain lion.
In addition to capturing the mountain lion, Livingston said officials will evaluate the condition of the animal.
Attacks are rare, and Livingston said he did not want to speculate on the definitive cause behind it. However, he said the mountain lion may have been just as surprised as the man when the door opened.
He also said winter is the most common time that mountain lion-related incidents closer to towns and residential areas take place.
Earlier this week, Newsweek reported that a family dog found a mountain lion under the deck of a house in Colorado.
Officials subdued and relocated the mountain lion.