Man Calls Woman a 'Fat B***h' After She Rejects His Advances: 'So Charming'
A woman went viral after sharing that a man called her a "fat b***h" via direct message after she turned down his unwanted advances.
Posting to TikTok on Saturday under the username @pcossupportgirl, the woman shared screenshots of the man's "charming" messages, garnering more than 245,000 views and prompting a discussion about how men handle rejection.
"[You] are literally perfect," the man wrote in his first message to @pcossuportgirl. "I would do anything to get to know you like [for real]."
Though the woman thought the message was "very kind," she told him she wasn't "interested or available." The man, however, ignored her and sent another flirtatious message.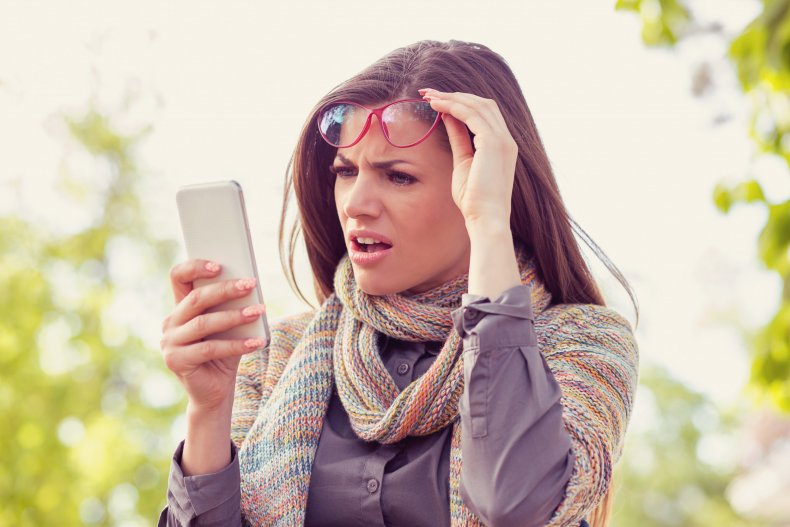 "I'd treat [you] real nice," he said.
When the woman reiterated that she wasn't "available or interested," the man got angry, and said: "[You're] lucky someone like me would even think about touching [your] b***h a*s."
"K. I am most certainly a b***h. But you will not be touching any part of me—including my a*s," she responded. "Also, upon further review, I think your FIANCÉ probably would like to weigh in on this."
At the mention of his alleged fiancé, the man called @pcossupportgirl a "fat b***h," and told her there was "no need to get others involved."
Many women commented on the post to share that they've experienced similar behavior from men they've rejected.
"I love how they always call us fat or ugly when we reject them," commented TikToker Danika Kasmira.
"They really do be complimenting and insulting in the same breath once they smell rejection," wrote abbyygoluckyy.
All of this led Monika to ask: "Why do they always insult right after getting rejected?"
Speaking to Cosmopolitan, psychotherapist Jaime Gleicher said that "men have been taught since the earliest of times to protect their masculinity."
"When they're rejected, they associate it with their masculinity. When that's threatened by an outside source, they tend to fight for it—also as a way to re-prove their manliness," Gleicher continued, adding that this is why some men become "inexplicably aggressive" after being turned down.
In jest, one commenter called the man's text messages "so charming" while another joked: "And they say romance is dead."
Many others begged @pcossupportgirl to tell the man's fiancé about the unsolicited messages.
"Please, tell her, and update us!!!" exclaimed Kayla Lindley.
Tess commented: "SEND THOSE SCREENSHOTS GIRL."
In a follow-up video, @pcossupportgirl said she did send a screenshot of the messages to the man's fiancé. However, she has since been blocked by the couple.
"I bet she stays with him," she wrote in the comments section of her follow-up post.
Newsweek has reached out to @pcossupporgirl for comment.
Of course, @pcossupportgirl isn't the first woman to receive rude messages from a man online. In November, a woman named Molly Hair shared the "red flag" message she accidentally received from her date, calling her a "c**t." A month later, another woman shared the "accidental" message she received from a Tinder match, calling her an "easy lay."
And earlier this month, the internet united to roast a man, who told his Tinder match via direct message, that she was "not hot enough" to take on a real date.