Man in Camp Auschwitz Shirt Pleads Guilty, Agrees to Let FBI Review Social Media
A Capitol rioter who donned a Nazi-themed sweatshirt to the January 6 Capitol riot pleaded guilty on Wednesday, and agreed to speak with the FBI and let them go through his social media accounts, a decision that could be beneficial for prosecutors.
Robert Packer, 57, is accused of illegally entering the Capitol and joining a crowd of people who broke a nameplate dedicated to Speaker of the House Nancy Pelosi. By pleading guilty, Packer cut his potential jail time by half and now faces a maximum sentence of six months in prison instead of up to a year if found guilty of all charges.
Officials tracked Packer down by homing in on the attire he was wearing that day. Photos from inside the Capitol on January 6 showed a man with a beard wearing a sweatshirt that said "Camp Auschwitz." It also featured a human skull and the phrase "work brings freedom," which closely resembles the translation of "Arbeit mact frei," an inscription on the gates of Auschwitz.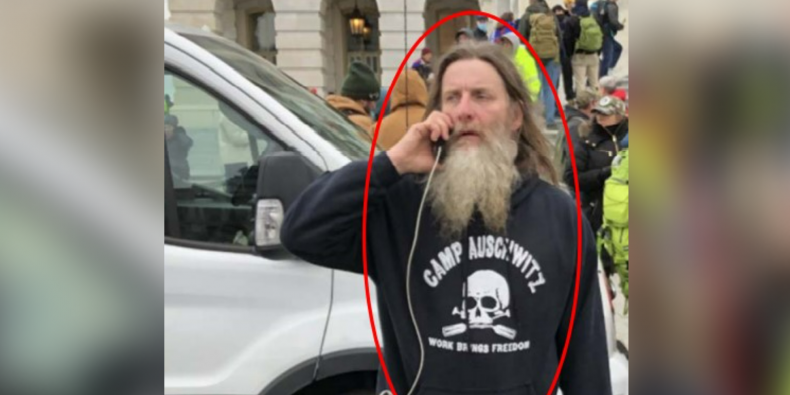 The shirt was widely condemned after the Capitol riot and Pelosi called Packer a "punk." She also used his bragging about being part of a "white supremacist raid on this Capitol" to push for a review of the events of January 6, including learning who the organizers were.
After the riot, a person contacted law enforcement and identified Packer as a routine customer at a store near Newport News, Virginia. The individual didn't identify Packer by name, but provided a photo of him wearing the sweatshirt inside the store about a month before the riot.
As part of his plea deal, Packer agreed to talk to the FBI about his role in the Capitol riot. He will also allow the FBI to review his social media accounts, according to CBS News' Scott MacFarlane.
While prosecutors have vowed to bring every person who played any role, big or small, in the Capitol riot to justice, the prosecutions' goal is likely to get at the players behind the scenes.
It's common for prosecutors to require defendants pleading guilty to have a discussion about their role in the riot as a condition of the plea deal. Requiring the conversations to take place could yield information about other defendants or even people who haven't been charged, yet. It also could help prosecutors frame cases against higher-profile defendants.
"Traditionally, they build up the pyramid through cooperation," Kendall Coffey, a former U.S. attorney, previously told Newsweek. "They're going to go far beyond the guilty who can be identified on videotape and try to reach organizers, funders and anyone who was really orchestrating what was obviously a wave of fatal criminality."
Packer's attorney, Steve Brennwald, made it clear to that his client is not cooperating with the government or the FBI, but will only be meeting with the FBI to debrief them on their participation in the event. He noted that this is a requirement of every person who pleads guilty in the Capitol riot cases.
While Packer faces up to six months in prison, Capitol rioters who pleaded guilty often have largely avoided receiving the maximum sentence, so far. Many have remained out of jail altogether, getting probation or house arrest.
He's scheduled to be sentenced on April 7.