Man Catches 'Monster' Bass With Plastic Worm, Throws It Back
A man caught an enormous "monster" largemouth bass with a plastic worm, and then threw it back into the lake.
Scott Flitcraft was fishing on Lake Isabella in California on a kayak, initially looking for crappie. He used two rods—one with a plastic worm—and suddenly felt something large tugging on his line.
At first he thought it had got caught on a tree, he told Newsweek.
"I pulled a little harder but there was no give. I pulled even harder and the line started to pull back, tugging hard on my line. Wow this is a fish," he said. "Suddenly it appeared at the surface, broke the water and was shaking its head violently and immediately dove back down pulling line back off my reel. Now the fight was on! We went back and forth several times getting the fish to come towards the boat but only to surrender to her going back down taking line back off my reel."
Flitcraft said "after what seemed an eternity" and thinking the fish was going to break his line, he finally reeled it in.
At the time of the catch, Flitcraft posted a video to his Facebook page.
"I've caught the biggest bass I've ever caught in my life. This thing is huge. I have no idea how much it weighs, its just giant. It's gotta weigh 8 or 10 pounds, I don't have a scale. This thing is a monster," he says in the video.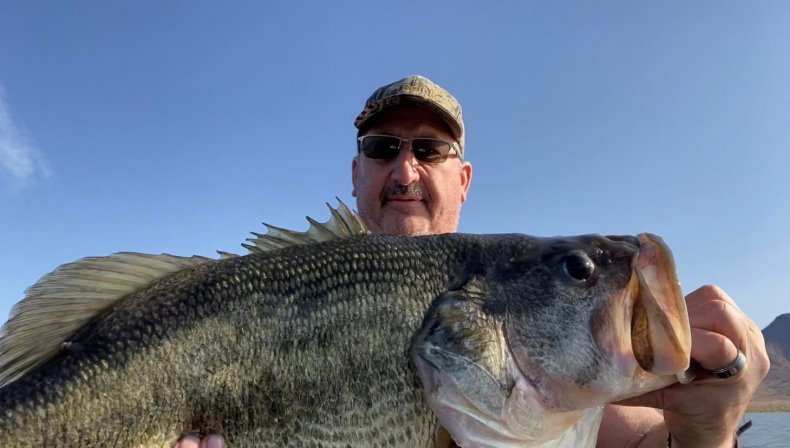 Big Fish
Flitcraft managed to borrow a set of scales from another fisher on the lake and found out the fish actually weighed 16 pounds, 12 ounces.
"Easily my whole hand could fit inside its mouth. Lifting it up out of the water and into my tiny boat I was in shock! This fish was huge!" he said.
Flitcraft eventually released the fish back into the water, after taking some photographs.
Lake Isabella is known to be home to lots of largemouth bass, which on average grow to weigh around 10 pounds. However, in some regions, they can grow to 20 pounds.
They first came to the lake in 1972, and the location has since become a hotspot for bass and other species of fish. Largemouth bass are most commonly found in the lake later in the spring, around May.
A 25-pound largemouth bass was once caught in the lake. It is thought that this could have been the largest bass caught in the world.
"The fisherman told me it was a female and she was fat with eggs so the best thing to do was release her so she could have more babies to grow up big like her. This was an experience I'll never forget. How in the world was I able to catch this big of a fish with the pole I was using that normally we catch small bass and panfish with?" Flitcraft said.
Seth Mostero, manager of Cope's Anglers, told Western Outdoor News that anglers looking to catch trophy Largemouth "should try dragging the bottom of the lake with slow-moving, deep-diving crankbaits, jigs and soft plastics."
"Crawdad- and shad-colored baits are always a good option to target the larger fish bulking up to spawn. Sandy flats, rock piles, and bases of Lake Isabella's famous tree stumps are always good structure to target," he said.
Update 05/09/22, 6:05 a.m. ET: This article was updated to include quotes and pictures from Scott Flitcraft.