Monstrous Paddlefish as Heavy as a Baby Rhino Breaks Tennessee Record
An enormous paddlefish reeled in on the Cherokee Lake in Tennessee has broken the state record, weighing in at 120 pounds—roughly the same as the weight of a baby rhino.
The "behemoth" fish was caught by Chad Collins and was confirmed as a record-breaking fish by John Hammonds, fisheries biologist from the Tennessee Wildlife Resources Agency (TWRA).
The record-breaking catch was announced by the TWRA on Facebook. In a post, the agency said the fish was 75.5 inches long, with a girth of 41.5 inches.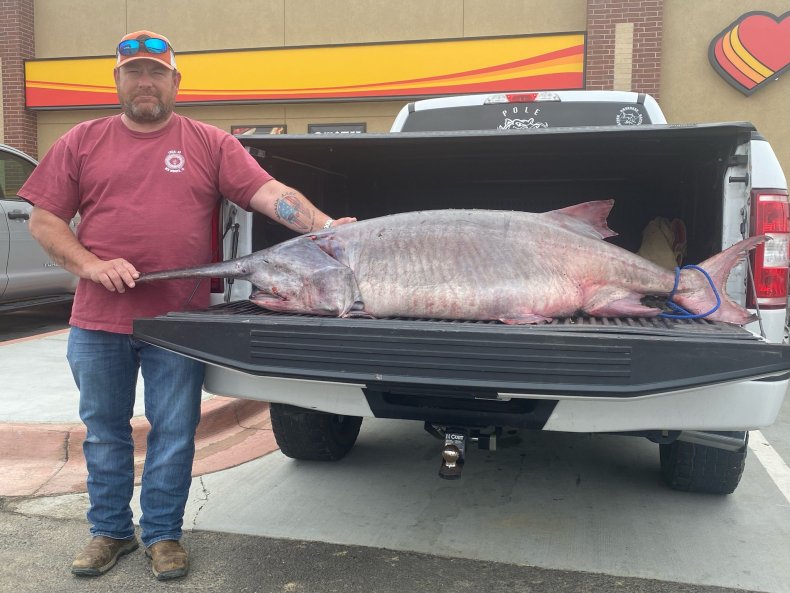 Hammonds told Newsweek the previous record for a paddlefish in Tennessee was 109 pounds. That fish was caught by Leonard Jech in Cherokee Reservoir in April 2021.
American paddlefish (Polyodon spathula) are primitive looking creatures that are native to the Mississippi River Basin. They have smooth skin and a large, paddle-shaped rostrum. The species is considered threatened, with numbers declining. Its population is fragmented, and threats include pollution, agriculture and residential and commercial development.
"Paddlefish are filter feeders and will not 'hit' lures," Hammonds said. "The only way to catch one is to snag them. They are difficult to catch because it's a matter of the hook being in the right place at the right time. Some anglers know where the fish hang out or congregate, so they drag their hooks through those areas to increase their chances."
Hammonds said he was not surprised by the size of the paddlefish as they can get bigger than 120 pounds. "Although it will probably be a while before a bigger fish is caught," he said.
The world record for the biggest paddlefish was set in June 2021 by Grant Rader from Wichita, Kansas. It was reeled in on the Keystone Lake in Oklahoma. The paddlefish weighed in at 164 pounds and was dubbed a "beast" by the Oklahoma Department of Wildlife Conservation.
The Missouri state record for paddlefish was broken in March, when Jim Dain, from Pittsfield, Illinois, was fishing at the Lake of the Ozarks. This fish was 140 pounds and 10 ounces, breaking the previous record set on Table Rock Lake in 2015 by just one ounce.
"We weren't having much luck, but decided to fish for another hour so we took another turn," Dain said in a statement. "And that's when the drag on the reel started. It felt like a tree was on the line!"
After weighing the paddlefish, Dain ate his catch. "We got 16 one-gallon bags of meat out of this catch," he said. "We've fried it, grilled it and made paddlefish tacos the other night. We'll be having paddlefish for a while!"