Monster, 140lb Paddlefish Caught in Missouri: 'Like a Tree Was on the Line'
A man from Illinois who broke the Missouri state record for the biggest paddlefish ever caught said it was like having a tree on his fishing line.
Jim Dain, from Pittsfield, Illinois, was fishing at the Lake of the Ozarks, when he snagged the "monster" fish. "The forecast was calling for storms, and then it changed to no rain, so we went out, but it just kept getting colder," he said in a statement.
"We weren't having much luck, but decided to fish for another hour so we took another turn. And that's when the drag on the reel started. It felt like a tree was on the line!"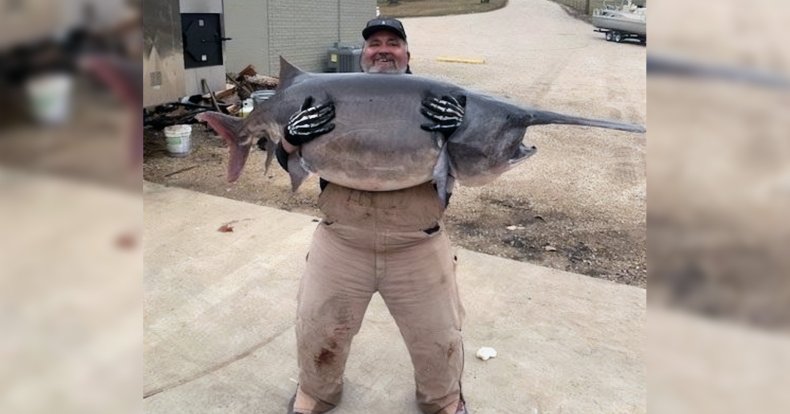 American paddlefish (Polyodon spathula) are smooth-skinned freshwater fish with large, paddle-shaped rostrum. They tend to live in large, deep and slow-moving rivers, lakes and reservoirs. They are native to the Mississippi River Basin.
Dain's paddlefish took 20 minutes to reel in. After getting back to shore, he realized what a beast he had caught and was advised by another state record holder to contact the Missouri Department of Conservation.
"He's looking at the fish and says to me, 'Boy, I think you should get that checked out because it could be a state record,'" Dain said.
The fish was weighed on a certified scale at a Montreal slaughterhouse and found to be 14lbs and 10oz—just one ounce heavier than the previous record set on Table Rock Lake in 2015.
Dain said he plans to eat the enormous paddlefish. "We got 16 one-gallon bags of meat out of this catch," he said. "We've fried it, grilled it and made paddlefish tacos the other night. We'll be having paddlefish for a while!"
American paddlefish are listed as vulnerable by the IUCN Red List. Its population is thought to be severely fragmented, with numbers declining. The biggest threat facing American paddlefish is ecosystem degradation from pollution, residential and commercial development, agriculture and transportation.
Andrew Branson, fisheries programs specialist at the Missouri Department of Conservation, told Newsweek the state was the first to artificially propagate and raise paddlefish in the 1960s and since then, it has stocked millions of the species across the state.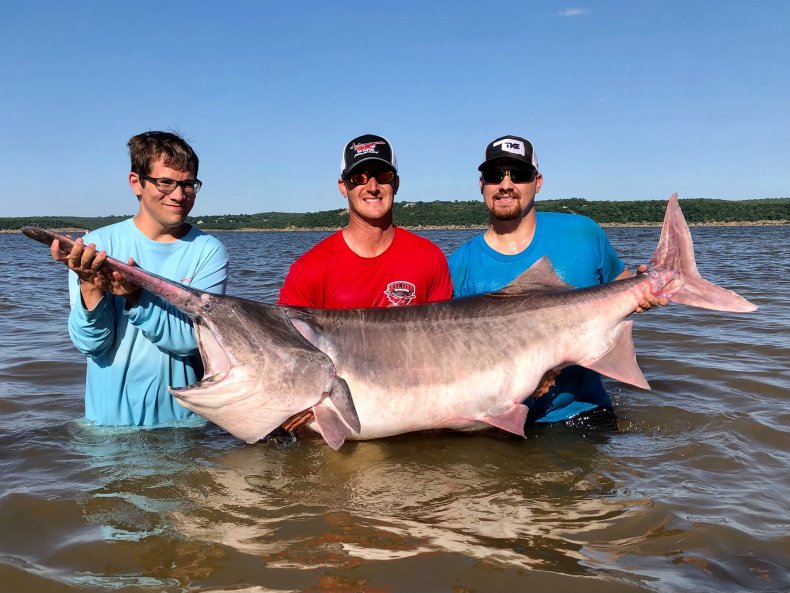 The record for the world's biggest paddlefish was set on June 22, 2021. The Oklahoma Department of Wildlife Conservation said the giant fish was caught on Keystone Lake by Grant Rader from Wichita, Kansas. The paddlefish weighed in at 164lbs.
Branson said paddlefish are highly valued as sport fish. They are filter feeders so do not bite a hook. "They must be caught by a repeated drawing or jerking motion of the pole, line, and hook or by trolling with an unbaited hook rather than enticement by bait or lure," he said.
"Paddlefish respond to the daylight and weather, and the snaggers know this. The best time for snagging is when water temperatures have risen to above 50 degrees and after a rain with when stream waterflows have increased. Water temperature combined with water flow get the paddlefish up and moving. After the correct daylight and water temperature, it's the increase in water flow that triggers them to make their spawning run."
Another Missouri state record was broken this month, when Josh Lawmaster from La Russell reeled in a 8lb 5oz quillback at Table Rock Lake. Lawmaster was bowfishing when he caught the record-breaking fish.
"We were actually fishing for common carp that day when I had just come across this little dude," he said in a statement. "We knew it was pretty good size, but it wasn't until the next morning we were thinking about it and decided to contact the department."
This article has been updated to include quotes from Andrew Branson.