Man Charged in Capitol Riot Found Not Guilty at Trial, But Not by Jury
A New Mexico man accused of misdemeanor offenses stemming from the January 6, 2021 riot at the U.S. Capitol was found not guilty of all the charges against him on Wednesday.
Matthew Martin was charged with entering and remaining in a restricted building, disorderly and disruptive conduct in a restricted building, violent entry and disorderly conduct in a Capitol building, and parading and demonstrating or picketing in a Capitol building.
Martin was one of the hundreds of people charged in the 2021 riot, which led to the deaths of five people and became the subject of an ongoing House investigation into former President Donald Trump, his family and his allies.
Judge Trevor McFadden said video evidence indicated Martin was not blocked by Capitol police when entering the building, though he added that the entering a restricted building charge was a "close call." Martin was acquitted in a bench trial, meaning there was no jury present, just McFadden.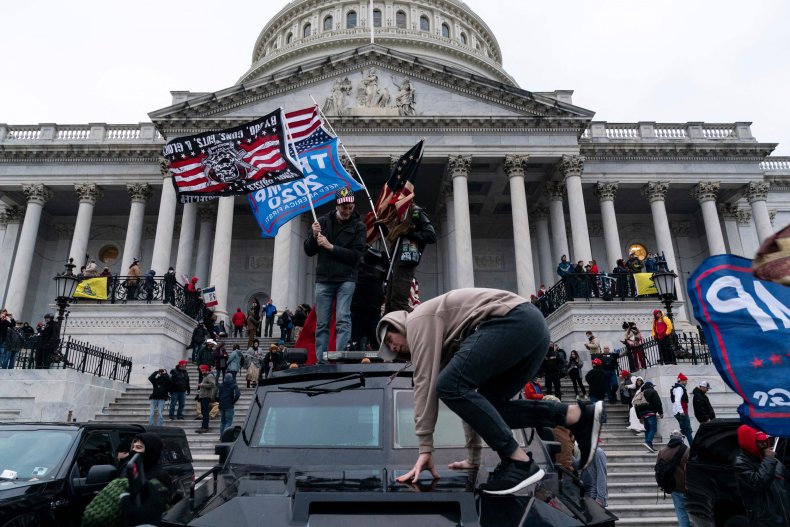 Only nine of the people charged in connection to the riot have received sentences of longer than one year, with most either being acquitted or pleading guilty to misdemeanors that are punishable by less than a year in prison or a fine.
CCTV footage from the Capitol showed Martin was in the building with other rioters on January 6, recording the protest with his cell phone, the U.S. Department of Justice said.
He claimed he had minimal awareness of the violence that was happening around him, such as the rioters smashing windows. He testified that a Capitol officer waved him into the building once the riot began, saying he "went with the flow" as he approached the building, according to the Associated Press.
Martin told CBS News congressional correspondent Scott MacFarlane in an interview outside the courthouse that he wants to get his life and his job back. Martin is an engineer for a government contractor at the National Laboratory in Los Alamos, the AP reported.
Dan Cron, Martin's attorney, told Newsweek his client was grateful for McFadden's decision.
"We appreciate the careful attention to detail by Judge McFadden," Cron said. "And at this point, we're just hopeful that Matt can get back on with his life. This has been a grueling odyssey and we're happy that it is reached its conclusion."
McFadden was the same judge who found New Mexico's Otero County Commissioner and Cowboys for Trump founder Couy Griffin guilty of illegally entering a restricted area on the day of the riot. However, he acquitted Griffin of a disorderly conduct charge in a bench trial late last month.
So far, more than 300 people have been accused of taking part in the riot, with the majority being charged with entering and remaining in a restricted building.
Update 04/06/22 4:25 p.m. ET: This article was updated with additional information.
Update 04/06/22 3:35 p.m. ET: This article was updated with additional information and background.