Man Charged With Murder in Road Rage Incident That Killed Pennsylvania Mom Julie Eberly
North Carolina police have arrested and charged a man with murdering Julie Eberly, a Pennsylvania mother of six, during a road rage incident that occurred last week.
The Robeson County Sheriff's Department said Thursday that Dejywan Floyd, 29, of Lumberton, North Carolina, has been arrested and charged with first-degree murder and discharging a weapon into an occupied property.
Eberly was shot and killed on March 25 while traveling southbound along Interstate 95 in North Carolina from her home in Manheim, Pennsylvania. The 47-year-old was traveling with her husband, Ryan, for a beach vacation to celebrate their wedding anniversary.
The couple's car was targeted with gunfire after they came too close to the suspect's vehicle during a lane merge. The suspect came alongside Eberly's passenger door before rolling down the window and firing multiple shots. One of the bullets fatally struck Eberly, who was sitting in the passenger seat.
Eberly died after she was taken to UNC Southeastern for treatment of her injuries, police said. Her husband was not harmed in the shooting.
"I didn't see that he was going around me and I pushed him into the shoulder mistakenly. As soon as I was able, I gave him room to get back on the highway. No car contact, no nothing. I saw in my mirror that he was passing us to the right and gunshots were fired, our car was hit. My wife yelled my name. I asked if she was hit and she said, 'Yes,'" Ryan Eberly, said in a statement, according to WPVI-TV.
Julie Eberly left behind six children, who were at home with their grandparents at the time of the shooting, police said on March 25.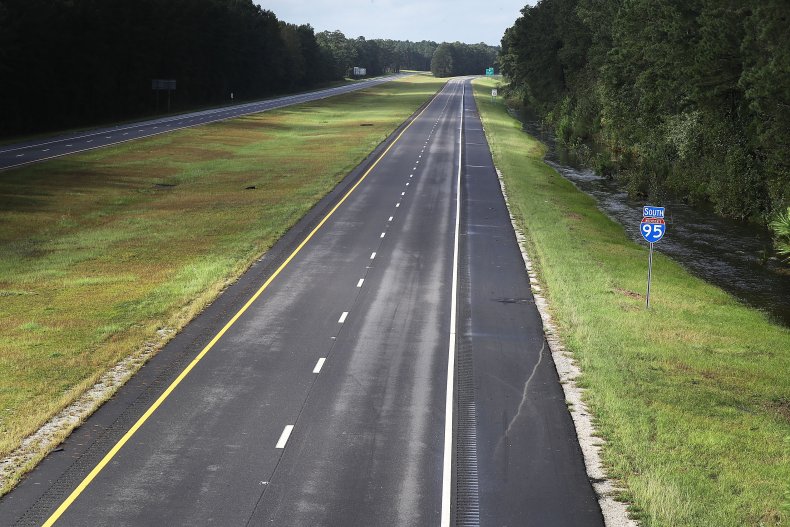 "This was an innocent family from Pennsylvania headed to the beach for a vacation," Robeson County Sheriff Burnis Wilkins said in a statement.
"Thankfully they had left their six children at home with grandparents, but now these kids have to live with the thought of their mother being murdered in such a cowardly and senseless way. My heart goes out to this family and I ask that everyone reading this stop and pray for this entire family," Wilkins added.
Eberly's death prompted a wave of community fundraising and activism to honor her life. A GoFundMe page that was launched last week in her memory raised over $47,000 in just the first three days. As of Thursday, the page has raised over $65,000.
"Our dear Julie was taken too soon in a senseless shooting incident in Lumberton, NC on her way to vacation," the fundraiser description says.
"We want to raise funds to honor Julie and her life. Julie was a beautiful, loving, generous, and giving person. We will be using the funds to help others and to give to the organizations that were close to her heart."
Wilkins said Friday that Floyd's arrest was the result of both the police and the community working together. Authorities received surveillance footage from dozens of businesses and residents in order to track down Floyd's path both before and after the shooting, he added.
"Regardless of the circumstances, no one deserved to be murdered while traveling our nation's highways. I am proud of the work put forth by the law enforcement agencies that came together as one to bring this case to a successful conclusion," Wilkins said, according to WPVI-TV.
Floyd was arrested after midnight Thursday at an apartment building in Lumberton. He is now being held in the Robeson County Detention Center without bond.
Newsweek contacted the Robeson County Sheriff's department for additional comment, but did not hear back in time for publication.