Man Cheered for Issuing Brother This 'Ultimatum' Over Wedding Guest List
Internet users have blasted a man who promised his nephew that he would be the ring-bearer at his wedding one day, but now that the big day is happening, he isn't inviting any children.
Reddit user u/SuddenLight718 has explained how his brother made a promise a year ago that the poster's 5-year-old son could be the ring-bearer at his wedding when it happened. Though he might not have thought much of this promise, it certainly meant a lot to his nephew, who held onto the idea.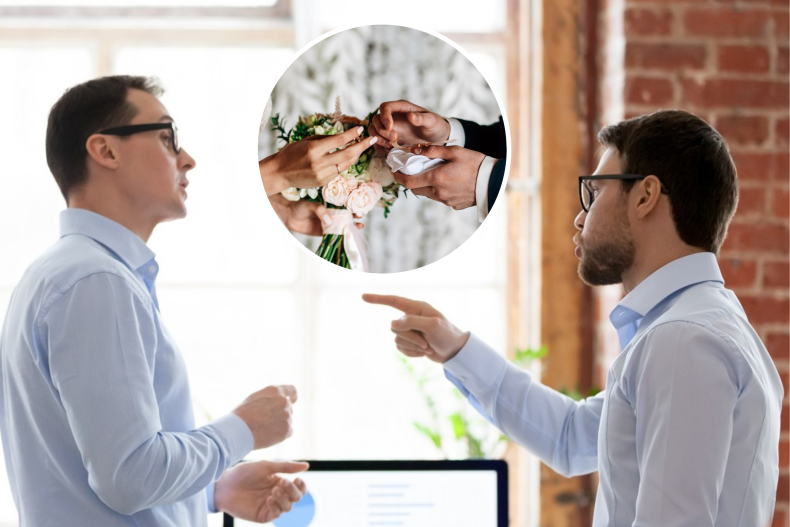 According to a 2016 YouGov survey of 1,692 British adults, 25 percent of people believe that all guests should be able to bring children to a wedding.
Now that the planning is well underway, the bride and groom have decided to go for a child-free ceremony. This has left the original poster incredibly conflicted. Taking to Reddit, he asked if he was being unreasonable "for insisting my brother explain to his nephew why he can't attend his child-free wedding?"
When the poster rang his brother to congratulate him and tell him how excited his son was to be the ring-bearer, his brother explained that "his fiancée is pretty adamant about a child-free wedding, so the promise he made might not be doable anymore."
Not only is the poster upset that his son can no longer be the ring-bearer, a child-free wedding also makes it a logistical nightmare for him even to attend. In the post, he explains that he lives abroad, so would have to fly to the wedding without the children. The other option is to fly with his two sons and leave them with people they don't know very well while the adults attend the wedding.
The poster wrote: "Admittedly, I was hurt over this on my son's behalf. I told him we would still try to make it, but it was unlikely that we could. I also told him that if he even wanted us to consider coming, he would have to tell his nephew himself that he was going back on his promise and why."
The groom didn't like this suggestion, however. He said it felt as though his brother was "issuing him an ultimatum," forcing him to choose "between family and his wife."
Newsweek has shared the difficulties faced by couples who choose not to invite children to their weddings. It appears this particular ceremony is now becoming part of the debate.
Bruce Russell is an event planner who has helped curate many beautiful weddings. The choice to not invite any children to the big day is something he's very familiar with. Russell told Newsweek: "It's completely up to the couple whether they want children at their wedding or not. Guests should respect that. It's a privilege, not a right, to be invited to a wedding celebration.
"If you think you might offend someone by not inviting children, I always think the personal and direct approach is best. Have a conversation with these guests and explain why you've made that decision. If they are your friends or even family, they should understand," added Russell.
Having planned and attended many weddings himself, Russell noted that children can be "restless, loud and mischievous", so couples can be forgiven for wanting to keep their celebrations adult only.
Feeling so adamant about his point, however, user u/SuddenLight718 ended the post by explaining that his brother "shouldn't have made promises he couldn't keep." The post was shared on February 9 and already has more than 8,900 votes, the majority of which side with the poster.
With more than 2,000 comments on the Reddit post, many people have agreed that the brother should explain to his nephew why he is now uninvited from the wedding. It shouldn't fall down to the dad.
One person wrote: "Your brother made a promise that got the child all hyped up, and now he wants someone else to deal with the emotional fallout, because it would be inconvenient for him to deal with it himself?"
Other people took issue with the idea of it being a child-free wedding in the first place. One Reddit user commented: "While I understand that people have the right to have their wedding child-free, I personally couldn't imagine having my wedding without my nieces and nephew there. I wanted the whole family there."
Has a wedding come between your relationship with a loved one? Let us know via life@newsweek.com. We can ask experts for advice, and your story could be featured on Newsweek.