Man Claims He Was Unjustly Jailed For Killing Rooster: 'Defending Myself'
A Florida man has claimed self-defense after slaying his neighbor's pet rooster.
James Nix Jr. of Jacksonville, Florida, spent 30 hours in jail for aggravated animal cruelty in May. He says he should never have been arrested.
Nix described the incident to WJAX-TV. "I'm defending myself," he said. "I was fearing for my safety, and the chicken died."
Are Roosters Dangerous?
Chicken Scratch, a website for raising and breeding chickens, says roosters aren't normally aggressive, but they can be if the rooster feels threatened.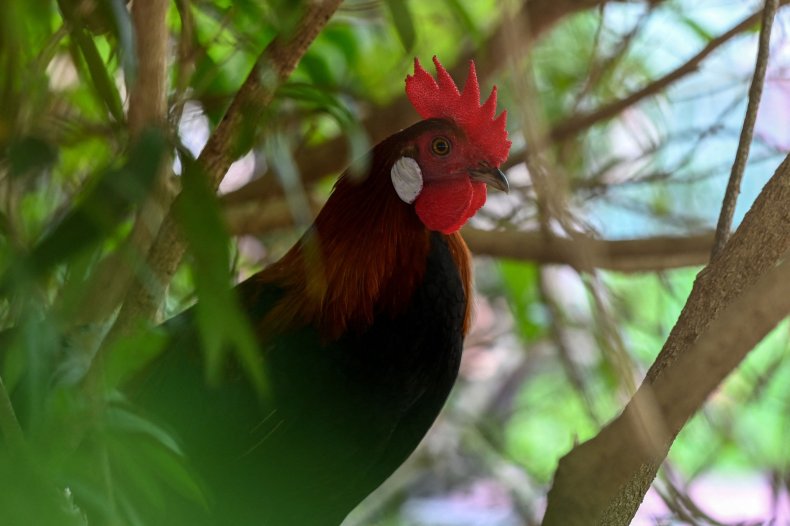 Hobby Farms, a website that says they provide "inspiration and advice for growing fruits and vegetables, raising farm animals and back-to-basics living on farms of all sizes", says, "Hens grow only little buds on their feet, but roosters can grow spurs that are extremely long, sharp and dangerous. Spurs are what roosters use against rivals as well as other threats to themselves and their hens. Should one of your boys perceive you as a threat, he will not hesitate to use his spurs against you."
The Rooster & The Mailbox
And that may have been what Nix was afraid of.
He described checking his mail when the rooster ran up on him.
He describes the noise he heard by tapping his fingertips hard on the truck behind him in the interview.
"And I turn around, and there's a chicken out there in the street. I said, 'Oh boy, here we go,'" recounted Nix.
"Turn around, walk to my place," that's when he says he heard the same noise, again aggressively tapping the truck with his fingertips, "Now the chicken's in my yard! Now its neck flares up."
Can You Tell If A Rooster Is Aggressive?
Pet Keen, a website that claims to "offer practical and helpful advice—backed by research and science" to pet lovers, says that there are signs that a rooster may be becoming aggressive including:
"Spurring: The rooster jumps at you and tries to rake you with his spurs.
Flogging: The rooster flies at you and beats you with his wings.
Chasing: He chases you away from the flock, especially when you look like a threat."
At that point, Nix claimed he picked up a "stick" to fend the rooster off.
"But the chicken's jumping up at me, and I accidentally knocked in the head, you know? Call it a lucky shot, whatever," he said.
Owner Jason Defelice was furious to return home and find his rooster dead. He was approached by four children, ages 7 to 12, who witnessed the incident.
"The man with the blue truck beat a rooster with a steel pole and killed it," said the children, according to WTLV-TV.
Defelice confronted his neighbor with the dead rooster in hand, yelling in his yard.
"I just told him to leave," Nix said.
Defelice reported his slain bird to the Jacksonville Sheriff's Office Animal Code Enforcement. Police investigated and cited Nix for animal cruelty on May 30, landing him in jail for 30 hours.
Nix said he did not understand why his neighbor called the police.
"Chickens die every day, people—at Church's, Popeyes, Kentucky Fried Chicken," he said.
He also questioned what send-off the rooster deserved, exclaiming, "I didn't know to give it a 21-gun salute! CPR, mouth-to-mouth, do you know? Or call the chicken ambulance?"
Roosters can sometimes attack children and pets and harass hens, according to the American Council on Science and Health. In many urban areas that allow chickens, roosters are prohibited or limited in number.
In May, an aggressive rooster was captured attacking a young girl on a Bing security camera at a farm.
Last year, a New York City man was left bleeding after a rooster charged at him while he was walking down the street.
And a woman in Australia bled to death after a rooster pecked at her leg in 2019.
However, two of the four children who witnessed the rooster's death wept to police and asked "why the suspect was so mean."
"The rooster didn't attack him," they said.
Newsweek reached out to Nix and the Jacksonville Sheriff's Office for comment.