Viral Video Shows Philadelphia Man Scaling 19-floor High-rise to Escape Fire That Filled Building With Acrid Smoke
Footage of a man scaling a 19-floor apartment tower in West Philadelphia night has gone viral on social media. The man climbed down the outside of the tower after fire was reported in the building.
The video, shared to Twitter by local news station 6abc, had been viewed more than 76,000 times by 4.00 a.m. ET. The fire was reported at about 9.30 p.m. E.T, according to the station.
A local NBC station also captured helicopter footage of the man's death-defying descent. Pilot Jeremy Haas told the station: "He climbed about 200 feet down on what looked like basically chain link fencing and then the railings of each apartment building."
Authorities think the fire started in trash on the first floor, before rising through a building trash chute and filling the upper floor hallways with thick smoke. Tower residents called 911 to report the fire, and began to evacuate the building.
Numerous police and fire trucks attended the scene to secure the building and escort residents to safety. At least four residents and three police officers needed medical attention after the incident, 6abc reported.
One neighbor told the station she noticed a building on fire and, like other locals, called police. One police car was soon joined by other emergency vehicles, including numerous fire trucks, she said. "[Residents] were stuck all on their balconies hollering and screaming, 'Help me, help me so I can get out.' It was terrible," she added.
One resident said this kind of incident had happened before. "I wanna move," she said. "They need to shut this down."
Another resident added: "They need to close these buildings down."
A paraplegic man who said his neighbor carried him to safety down the building's stairs called the man a "neighborhood hero." He said: "He put me right on his shoulder from the fifth floor. If it wasn't [for him] I'd still be in there. For real, man."
The extent of damage to the building—thought to be a public housing tower—was not immediately clear.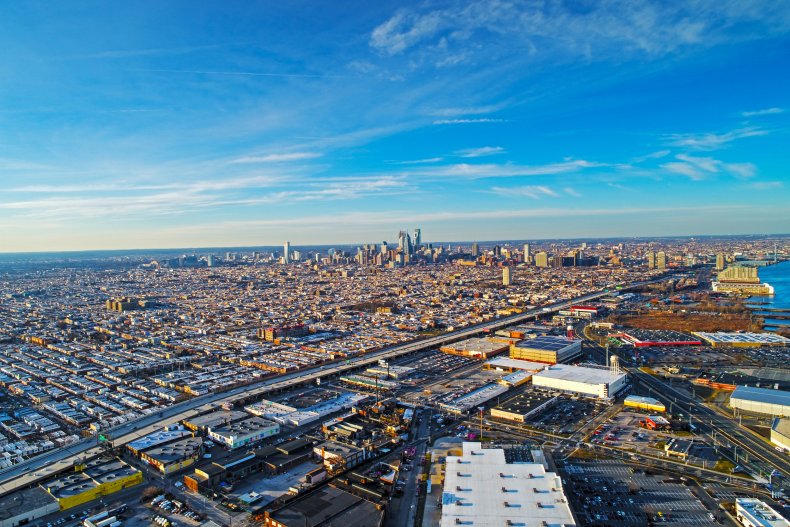 Earlier on Thursday, an alleged arson attack at a Japanese animation studio claimed the lives of at least 33 people. Dozens more were injured in the fire, which engulfed the building in Kyoto on the island of Honshu.
Neighbors reported hearing a bang and watching flames spread around the building. One said, per the BBC: "I saw some people with burns, covered with something. They were rushed to the ambulance."
A 41-year-old is suspected of breaking into the building and setting it alight. The suspect, who was detained and taken to hospital, is thought to have used petrol to spread the flames quickly.
Viral Video Shows Philadelphia Man Scaling 19-floor High-rise to Escape Fire That Filled Building With Acrid Smoke | U.S.