Man Commits 'Drive-by' Killing With Hawk As He Throws Deadly Bird Out of Moving Car
A man armed with a deadly hawk has been launching it out the window of his car in "drive-by" attacks, as he uses it to kill other birds.
The owner of the bird of prey has shared two clips to TikTok, as he films himself throwing the winged hunter from a moving car.
The first clip, shared to the account @huntingwithhawks, was uploaded on Sunday, and was simply captioned: "First day out with the bird this season."
TikTok added a warning to the video, watched more than a million times and able to be seen here, saying: "The action in this video could result in serious injury." But a follow-up, shared on Monday, has caused an even bigger stir on the social media site, amassing more than 14 million views, and can be seen here.
The bird handler, thought to be in the U.K., captioned the video: "Couple of kills today." He later confirmed it was a Harris hawk.
It shows him sitting in the passenger side of a vehicle, as someone else films, while they drive around residential areas. Children can be seen running around a playground and using swings in the background, as the deadly bird hunts just yards away.
As the owner spies prey, he launches the hawk out the open window from the perch on his left arm, clad in a thick safety glove. It swoops down and attacks the unsuspecting animal with its razor sharp claws.
Almost immediately the car stops and the owner jumps out and runs over to the hawk, possibly to retrieve the hunter in case it flies away. It's not clear what exact species of bird the hawk is going for, although they appear to be small black birds.
The footage was met with shock online, as people questioned whether the bird could hurt a person, while others questioned the legality of the practice.
Answering one query, the handler confirmed in the comments: "This hawk was trained by my 12-year-old brother it knows what to go for for and [what] not to go for it will not harm children."
Falconry, which encompasses the keeping and training of falcons or other birds of prey as well as the sport of hunting with such birds, is legal in the U.K. under certain conditions.
Anyone wishing to take part must obtain a license from the government to "kill wild birds in the course of falconry," which includes the Eurasian Sparrowhawk, Harris Hawk and Goshawk.
The license granting the "hunting wild birds for sport" allows birds such as skylarks, starlings, magpies, rooks and feral pigeons to be killed. The owner stated in the comments "next videos we should have a seagull," which is one of the species listed, classed as the common gull.
However, the legality surrounding hunting from a moving vehicle is unclear, and it is not known whether the hawk owner has a license. The practice has still been met with shock online, legal or not, as people branded it "wrong."
Jonny asked: "Why is he doing a drive by with birds."
Matt admitted: "Never in my life did I think I would see drive by falconry."
Howieazy said: "Dude has an attack hawk."
DeAnn thought: "Crows? Nope that's wrong."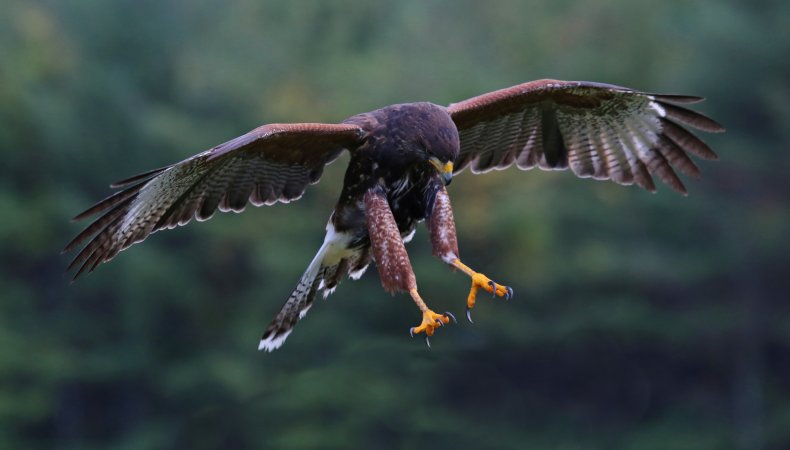 TheGingerlord agreed, saying: "Why though, crows are intelligent birds. I understand with pigeons but not a crow."
JustinSane commented: "Pulling a drive by on birds."
ZeekayFN reckoned: "It's in their nature to hunt this [is] what the bird does for fun obviously the owner knows that."
"I want a battle hawk now," Joshua wrote.
While Robert K claimed: "This not fair play! The other birds don't see him coming. Nah mate not right."
Pdotz joked: "Drive by's 200 years ago..."
And Matt Corry added: "Now that is a weapon."
Newsweek reached out to @huntingwithhawks for comment.
UPDATE 8/24/21 10:00 a.m. ET: This article was updated with video from @huntingwithhawks.