Man With 'Cop Killer' Tattoo Reportedly Shoots at Florida Officer
A Florida man with the words "cop killer" tattooed across his chest allegedly shot at a police officer trying to pull him over before speeding off.
Virgilio Salgado, 28, is alleged to have opened fire at a Florida City Police Department officer near Northwest 7th Avenue and 2nd Street early on Saturday morning, Fox affiliate WSVN reported, quoting police.
The officer had been trying to pull him over during an attempted traffic stop.
The network reported that the officer was not injured in the shooting, although a tire on the police vehicle was struck, and that Salgado allegedly drove away. NBC 6 reported Salgado allegedly fled the scene in a black Nissan Titan pickup truck.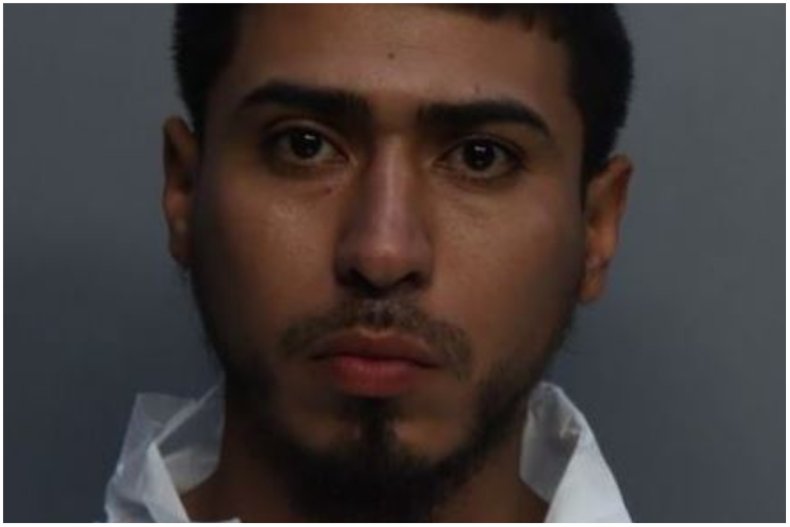 Following the shooting, detectives arrived at the scene and started to collect evidence and shell casings that had been left in the area.
Salgado was arrested later in Miami Dade County and was allegedly driving the same pickup truck that was present during the shooting.
Detectives identified Salgado via the officer's body camera footage and through other technologies.
Newsweek has contacted the Florida City Police Department for comment.
According to the Gun Violence Archive, a database that collects information about shootings from across the U.S., there have been 234 shooting incidents across Florida since January 1 this year.
Salgado, who WSVN reported has the words "Cop Killer" tattooed on his chest, has been charged with aggravated assault with a firearm on a law enforcement officer, use of a firearm during the commission of a felony, and driving with a suspended license.
He appeared before a judge on Sunday and is being held at the Turner Guilford Knight Correctional Center on a $21,000 bond. When Salgado is released, he will remain under house arrest.
According to Florida-based legal firm Lasnetski Gihon law, people found guilty of aggravated assault on a law enforcement officer in the state face between three years and 15 years in prison.
The law firm added: "If you are convicted at trial or if you plead straight up to a judge to Aggravated Assault on a Law Enforcement Officer, Firefighter, etc., the judge must sentence you to the minimum mandatory sentence, at a minimum.
"The judge cannot go below that minimum mandatory sentence. The prosecutor is the only person that can go below the minimum mandatory."
There are circumstances where an attorney can negotiate a sentence below the minimum mandatory with the prosecutor, according to the legal firm.