Man Defended for Rejecting Estranged Father's Kids: 'Unwanted and Unloved'
Members of a popular internet forum stood in support of one couple who refused to take in a pair of extra children, despite a loss in the family.
In a viral Reddit post published on r/AmITheA******, Redditor u/Flaky_Sink3268 (otherwise referred to as the original poster, or OP) said her husband was awarded guardianship of his half-siblings after his father died, but revealed why the couple had no interest in expanding their household.
Titled, "[Am I the a******] for telling my husband's aunt I am not responsible for raising his half siblings?" the post has received nearly 11,500 upvotes and 1,500 comments since November 3.
"My husband was told three months ago that his father, who he is estranged from, and his father's wife had passed away in an accident," OP began. "He had been listed as the person to become guardian to their two young children."
Continuing to explain that her husband was never made aware of this custody arrangement, OP said he was unwilling to become guardian, forcing his aunt to take on his father's children.
OP also said that her husband's aunt has desperately tried to force the children upon the couple—but to no avail.
"She has reached out countless times to convince him to meet the kids and form a relationship [to] see if he could build up to wanting them," OP wrote. "He has no interest in this.
"She told me they were just as much my responsibility...as they are my husband's," OP continued. "I told [his] aunt I had no responsibility to raise the kids [and] that I was not going to raise them if my husband wasn't interested.
"I told her if SHE doesn't want them she should say no, but she should not try to force them into a home where they are unwanted and unloved," OP added. "I told her it's tragic for the kids but they are not my children."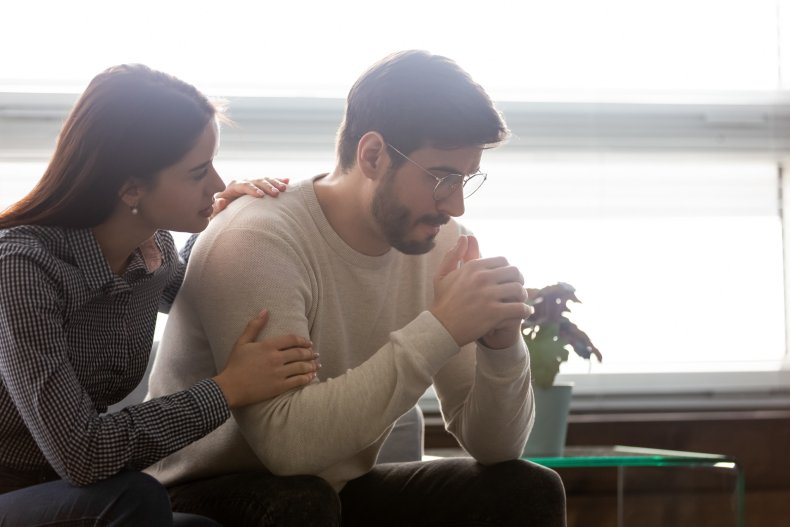 Despite certain tropes and the idealistic sentiment that family is forever, even the closest familial relationships can deteriorate to a point beyond repair.
Estrangement, defined by Psychology Today as "when at least one family member begins distancing themselves from another because of longstanding negativity in their relationship," can have a devastating impact on families.
And according to Tina Gilbertson, psychotherapist and Reconnecting With Your Estranged Adult Child: Practical Tips and Tools to Heal Your Relationship, estrangement is usually the result of repeated, or sustained breakdowns in communication.
"It usually comes down to somebody not feeling heard, understood, liked, loved, or respected enough to overcome what might otherwise be considered a normal relationship hurdle," Gilbertson told Newsweek.
"People usually feel troubled in a relationship for quite some time before making the decision to step away from it," Gilbertson added. "What might seem like a sudden explosion probably actually had a long fuse."
Although siblings, cousins, aunts, uncles and other family members can become estranged, eroded relationships between parents and adult children are often magnified, and can lead to even more vitriol down the road.
"Parents may understand the need for independence intellectually, but they wonder why this has to mean total cutoff," Gilbertson said. "So they keep reaching out in all sorts of ways, ensuring that the adult child's need for separation isn't met.
"One of the most unexpected and usually ill-advised actions I've seen parents take is to show up at an estranged adult child's home or workplace," she added. "Catching an estranged person off-guard is almost never a good tactic."
For OP's husband, "off-guard" would be an understatement.
Instead of an estranged parent, OP's husband was presented with his estranged half-siblings—whom he'd never met and held no relationship with.
Throughout the comment section of the viral Reddit post, many Redditors were shocked by the notion that the couple is responsible for the pair of children, and defended OP and her husband for standing firm in their refusal.
"Their dad was out of his mind putting your husband down as the guardian in case anything happens," Redditor u/CrystalQueen3000 wrote in the post's top comment, which has received nearly 13,000 upvotes.
"If you're not talking and haven't in years, then it follows that they're not going to want to take in kids that they've never met," they added.
Redditor u/thekelsey21, whose comment has received more than 3,000 upvotes, echoed that sentiment.
"Sounds like dad was trying some good old emotional manipulation, hoping it would work," they speculated.
"Or [it] sounds like the other relatives refused and maybe suggested OP's husband," Redditor u/fitey384 suggested. "This aunt sure acts like it."
"It's heartbreaking for the kids and yes they're innocent in all of this," Redditor u/MillieHillie chimed in, receiving more than 1,200 upvotes. "But no one should be forced to take in kids that are not their responsibility."
Newsweek reached out to u/Flaky_Sink3268 for comment. We could not verify the details of the case.
If you have a similar family dilemma, let us know via life@newsweek.com. We can ask experts for advice, and your story could be featured on Newsweek.