Man Discovers 'Behemoth' Spider in Ear in Terrifying Post
A man has come forward to reveal he found a spider in his ear after experiencing pressure and a tapping sensation, shocking the Internet with his discovery.
The now-viral post, titled, "TIFU by having ears," has garnered 10,400 upvotes and 1,200 comments since it was shared on May 31. Redditor @tickt0ck shared the post to the subreddit "Today I F**ked Up," and it has been turning heads ever since.
Redditor @tickt0ck told Newsweek, "[I] never thought I'd have a news article about the spider that was in my ear. I can say that I am now a nightly ear plug wearer."
According to Healthline, bugs getting into a person's ears are "rare," but can happen. Most of the time, the critter will get into the ear when one is sleeping outside. Bugs can also fly into an ear canal when a person is awake as well, like when working or running outdoors.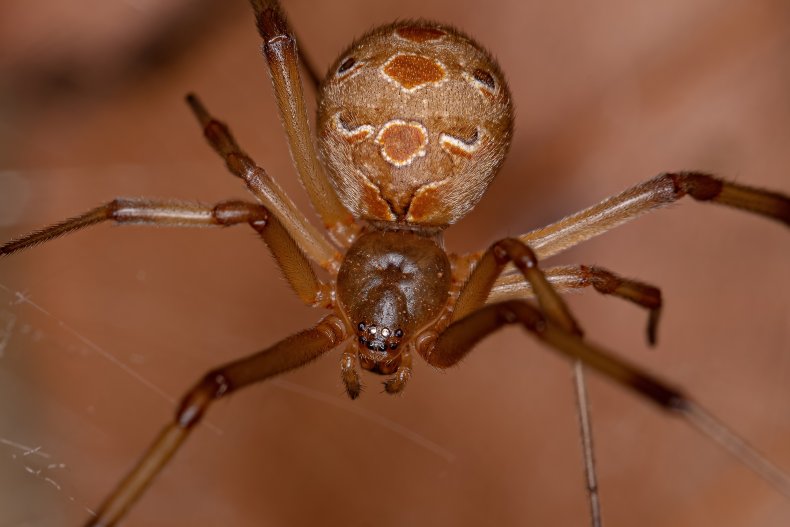 What To Do If You Think There's A Bug In Your Ear
It's advised not to use a cotton swab or Q-tip, as it can push the bug even furth inside. Pulling on the back of the person's ear toward the back, the afflicted person can shake their head to possibly knock the bug loose.
If the bug is alive still, vegetable oil or even baby oil can be introduced into the ear, which will typically result in killing the creature. If the bug is dead, it's possible to flush the ear out with warm water in a syringe, removing it.
But if the person has a history of ear issues, it's critical to get a doctor's assistance. If the bug can't be removed at home, it's essential to get the help of a doctor as well.
A Disturbing Slumber
The Redditor revealed the situation happened a few days ago, but he's still "calming down a bit" over it.
He said he was awoken around 4 in the morning to pressure deep within his ear. He also experienced a tapping sound and sensation, and it was a "constant" thing without a "particular rhythm."
"Tap, tap, tap, tap... tap, tap, tap... tap, tap, tap, tap... tap," the man recalled.
"I've been known to stay calm in high-pressure situations, but I started to panic. I'm realizing something is burrowed deep in my ear. I'm freaking out feeling this unknown invader tap dance on my eardrum."
He sprang up and rushed to his bathroom to attempt to "dig it out" with a finger, which didn't work. Next, he used a Q-tip, "coming to terms that I'm going to obliterate this creature inside my head."
The original poster (OP) admitted he had "never felt so uncomfortable," and he continued using the Q-tip for a minute, but the "creature" inside his ear wasn't ceasing. The man pulled the Q-tip out, and there weren't any "bug particles" on it, but the pressure inside was growing.
"I go back in with the Q-tip even deeper," the OP continued. "I feel the demon squirming and get a new pain. I'm thinking the b**tard bit me for sure. I pull the Q-tip out, and I see in the mirror, to my horror, a behemoth of a spider (relative to my tiny innocent ear hole)."
But, unfortunately, that's not where the story ends.
"It shot out of my ear and across my face."
By this time, the man said he was screaming, "and I b**ch slapped [myself] so hard in an attempt to kill it. It has to die."
He said the creature "went flying."
"I did not care about my dignity at this point," the man relayed. "I let out an adrenaline-filled battle cry while I attacked and got my revenge by tissue. I'm feeling pretty violated, but feel compelled to share my story and hope to hear from others who have experienced something similar."
In a comment to a Redditor who asked how the man got the bug out with the cotton swab, the OP revealed, "Technically I don't think I got it with the Q-tip. It just ended up scaring it out. Thankfully it didn't try and further burrow."
The man even attached an image of the spider dead in the tissue to the post as well. He also reasoned that based on comments it isn't an "uncommon" occurrence, and people have had "a range of similar experiences from earwigs, moths, centipedes, [ticks], spiders and other critters."
"My heart goes out to all of you, and [I] am so sorry you have gone through this," the OP concluded before adding some context on using a Q-tip: "I was wrong to use a Q-tip. I was lucky to not perforate my eardrum. If this happens to you, people are saying hydrogen peroxide has worked. I don't know, I'm not a doctor. Just don't jab a Q-tip in your ear."
Redditor Reactions
Many Redditors were completely shocked at what the man experienced, and one such user admitted the OP "lived one of" their "worst nightmares."
"If it were me, I would have eye-dropped rubbing alcohol into my ear to either kill it or make it run out," they said. "Would have to Q-tip the dead spider out though. No matter what, this scenario is horrifying, Lol. You have my sympathy."
Others have experienced their own similar nightmares with bugs. One Redditor had a spider in their ear for two whole days. "I suddenly one morning could not hear good [in] my other ear, and when it finally opened up, I felt something on my neck and tried to feel what it was and grabbed a f**king spider!" they said. "It was so gross, I lost my s**t."
The OP replied back: "Oh my gosh. I'm so sorry you went through that. We should start a support group."
For another user, a moth was the culprit, and they awoke to a "tickling" in their ear and a "fluttering sound." They started to freak out, and they woke up their fiancé, alerting him.
"He thinks I'm just dreaming it at first, but takes his phone flashlight and checks anyway," they added. "Only to find a little moth trapped in there. He gets tweezers and tries to pull it out, but it comes out in pieces. Ugh. I liked moths until that moment. If a spider ever crawled in my ear though you might as well kill me. Lol."
Another user thinks the situation the OP described "is the thing nightmares are made of," adding, "I obviously don't know how I would react or if it's even a better option, but what about pouring water directly into your ear?"
While a user admitted they started reading the post, and they knew where things were headed. They wanted to stop, but they didn't, but they wish they had.
"That's always been a fear of mine, I also check all of my headphones and headsets before I put them on/in," they said. "Now I'm actively paranoid."
Other people had comments like, "Well, another reason to keep using earplugs every night," "New fear unlocked," and "The picture was horrific enough, but the story just pushes it up so many notches that I'm shaking."
This isn't the only viral post involving creatures.
An "alien" creature with lips that looked human washed up on an Australian beach.
A photo of an "alien" lobster-like insect shocked the Internet.
In addition, a creature with long legs is scaring the Internet as well.