A man died by drowning in the wave pool of a California water park on Father's Day Sunday, police say.
The man, believed to be in his forties, was reportedly seen unmoving and floating face down in the deep end of the pool at Fresno's Island Water Park at about 12:45 p.m.
Concerned visitors alerted the park's lifeguards, who then called the authorities just before 1 p.m. to report a possible drowning, according to The Fresno Bee.
Lifeguards were able to pull the man from the water to begin CPR until emergency services arrived, the publication reported.
"I can confirm that around 12:45 today, our lifeguards removed a man from the wave pool," Island Water Park general manager Bob Martin said in a statement to The Bee. "They began CPR and continued until the paramedics took over and transported to Community Hospital."
One woman who was at the scene at the time said she saw a man floating face down in the deep end of the pool, adding that there were about 200 people in the water when lifeguards jumped in to rescue the swimmer.
"They are blowing the whistle, everybody is still sitting in the water, not trying to get out of their way. They are telling everybody to move out of the way, move out of the way!" Amanda Hamby told ABC30. "They finally got him to shore. It took them a little bit to get him there. They got him to shore and they just started pumping on his chest."
Hamby said she believed the man may have become stuck under an inner tube.
Lifeguards performed CPR on the unidentified man for about 15 minutes until paramedics arrived, she added.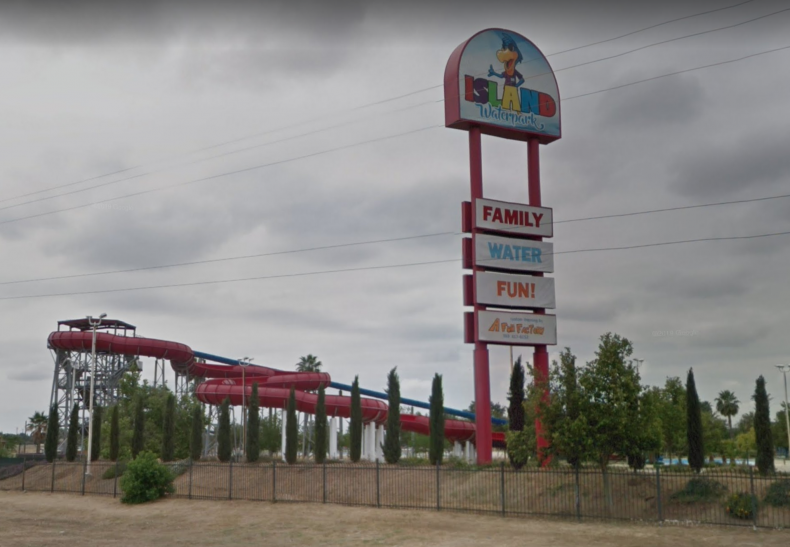 The victim was transported to Community Regional Medical Center where he later died, Fresno Police told the outlet.
The cause of the drowning remains unknown and an autopsy is believed to be underway.
The park had closed its doors over the course of the pandemic and had only recently reopened for this Memorial Day weekend.
Newsweek has contacted the Fresno Police Department and the Fresno Sheriff's Office for comment.
Unforeseen dangers are always a possibility at amusement parks, despite increasing safety regulations. In May, a woman in Australia encountered a serpent while on a toboggan ride. The post went viral on TikTok and has since garnered almost 400,000 views.
Just last week, a waterslide at a popular New Jersey resort caught fire on Tuesday, June 15, resulting in an alarming blaze.
Luckily, the attraction, called "High Anxiety," wasn't operating as the park was empty at the time, officials said.