Terrifying Moment Woman on Theme Park Ride Nearly Slides Into Python
This massive scare certainly wasn't part of the attraction.
A woman's viral post showed just how close she came to a wild python while on a theme park ride.
The woman, known as Nancy or @wonderfulstuff0 on TikTok, explained on the app that she was spending her Tuesday at the Toboggan Hill Park in Australia's New South Wales when she came across the slithering serpent.
She happened to be recording herself riding the theme park's toboggan ride when she came across the python. In the video, the snake is seen curling up on the ramp's edge.
With no way to stop the ride, Nancy is given no other option than to move past the python, just inches away from her.
She posted the brief encounter to TikTok with the caption, "It's horrible to meet a snake when you have no way to pass!"
Her video has since been viewed over 77,000 times, and the comments sections is split between viewers terrified of snakes and viewers who were not phased by the python's presence.
"Ohhhhhh NO thankyou," one horrified commenter wrote. "[That slide's] one big snake sun baking [bed]!"
"Holy cow. I'd be c******g myself wondering what [was] gunna [happen] when u get closer and what do u do," another chimed in.
Another viewer who claimed to have also recently visited the theme park claimed that when they rode the ride, "there was over 9 on the track and [the park employees] went down with a wheelie bin and just put em in that."
Native Australians, however, were quick to remind Nancy that "it's only a python." According to the Australian Museum, pythons are typically not a danger to humans given their lack of poisonous venom.
The snake will, however, bite if it feels threatened. In cases of an aggressive bite, their teeth can break off and become lodged in their victim's skin, causing great pain and discomfort.
Several in the comments engaged in discourse about whether the serpent was a carpet python or a diamond python based on its skin, though it was not immediately clear who was correct in their species assessment.
Still, it was not much of a reassurance to viewers still nervous about the prospect of coming into close contact with snakes. "Everyone in the comments like 'It's only a python,' what if it wasn't Joe??" one user asked.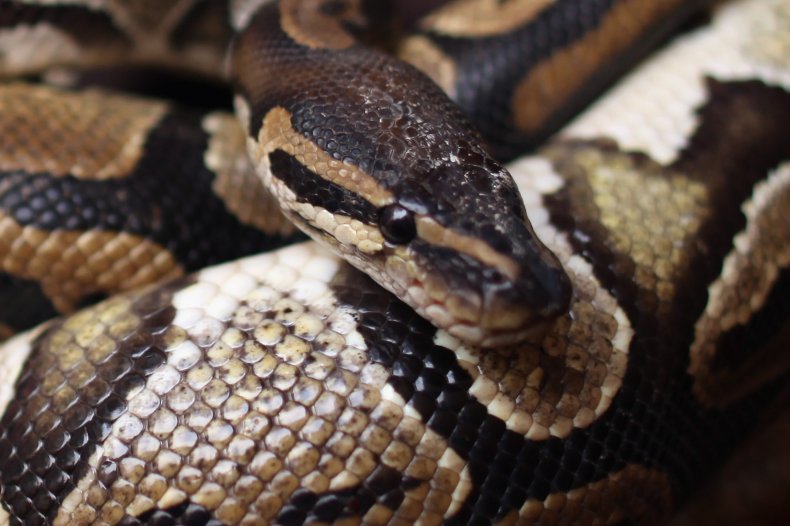 Similarly to Nancy, a woman in Botswana recently went viral for her scary encounter with a python documented on social media. Tanya Drysdale shared on Facebook that she had to fight off a massive 15-foot python that was attacking her small dachshund.
Fortunately, she and her husband were able to free their pet, who made out only with a few python teeth in its belly.