A man has shared eerie snaps from inside an abandoned 19th-century farmhouse, which still had food rotting in the fridge.
Photographer Bryan Sansivero, from Long Island, has been capturing buildings slowly being reclaimed by nature for the past decade.
The 36-year-old stumbled across the ruins of an old farmhouse in Maryland, which he estimated was around 2,160 square feet.
The structure, built in 1890, bore the remains of several generations, with a horse-drawn carriage in the barn, while children's toys from the 1990s lay scattered on the floor.
Sansivero captured the incredible interior and shared the photos to his Instagram page, with the most recent uploaded on Saturday after he explored the building in May.
He explained he and a friend found the ruin, as he told Newsweek: "It is extremely hidden, even the driveway is almost impossible to see from the road. There are several structures on the property, including a dozen or so cars, a barn, and a large truck trailer and you can't see any of these unless you're right on top of them. It's pretty much completely hidden from the outside world because of nature.
"There were at least three bedrooms, two bathrooms, a large living area, kitchen, and smaller rooms throughout. My thoughts walking around were a bit uneasy. It seemed too perfect to be left the way that it was found, something seemed off. Seeing the photographs and the faces all around the house, made you feel as if someone was watching. There were a lot of dolls that people would say are creepy, but that's not the sort of thing that scares me."
Sansivero revealed property records indicated it was built in 1890, and he estimates it was abandoned in the mid-2000s.
Remnants of family life were strewn about the sprawling building, with books, photos, personal possessions and furniture left behind.
"There were many many items in this house spanning generations. To me the most intimate items are always photographs. For me these bring out a sadness more than anything. There was a photograph of a headstone taken in the 1800s and then there were family pictures that looked like they were taken in the 1990s.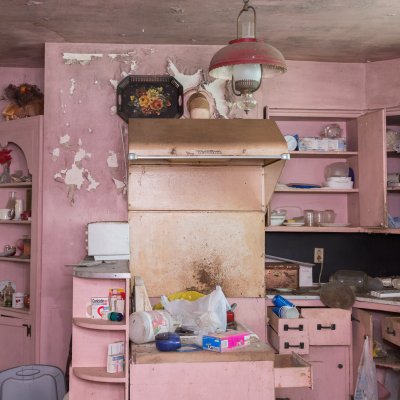 "Seeing children's toys such as games and dolls also can trigger a lot of emotions. A lot of these toys dated back to the 1950s. There was a lot of vintage clothing, including a wedding dress, and pictures from the wedding scattered around. In the barn was a horse-drawn carriage that would have been used in the early 1900s," he said.
And he came across vintage items that shed light on the former owner, as Sansivero explained: "In addition to being a farmer, the owner was a postmaster and letter carrier for decades. He may have delivered mail in the buggy, but I'm not completely sure."
As he explored the building, Sansivero admitted the kitchen gave off one of the worst odors he'd come across, due to food left to rot in the fridge.
He recalled: "It smelled very musky and damp. The kitchen was one of the most foul-smelling rooms I've ever been in. The refrigerator was still filled and rotten food was thrown everywhere on the floor. It smelled exactly how you may think a moldy house that's been left for over a decade would smell.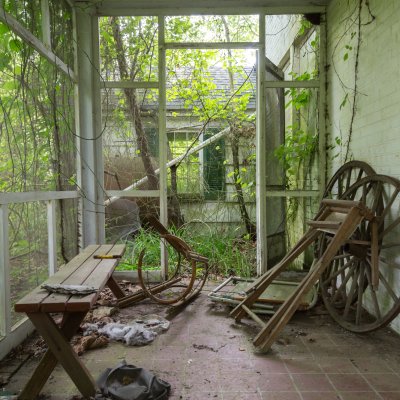 "I believe it was abandoned sometime in the mid-2000s. Again based on property records but also items and papers left behind in the house. I believe it was left because after the owners passed, nobody was left to claim the belongings."
Sansivero confirmed he always leaves everything just as he found it, and he recently published a book on his website, American Decay: Inside America's Forgotten Homes, sharing striking interiors from his exploration.
"I always leave everything behind, with the hope that it stays there as it was. It is sad to see items succumbing to decay, and it's always tempting to want to rescue something, but that's what makes these places so photographable," he added.
Over the years he's ventured into more than 100 buildings as part of his "dangerous hobby," saying the states of New York, Virginia and Maryland are the best for finding hidden gems.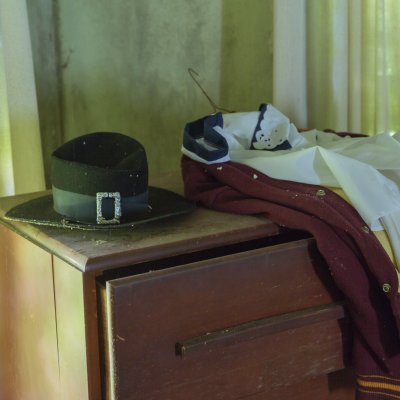 Some buildings he's ventured into date back to the 18th century, as Sansivero shared some rare finds, saying: "I've explored houses that were built in the 1700s, and certain items dated back to the time of the revolutionary war.
"Whether these items were in time capsule houses or they were part of an antique collector's collection, they dated back to the 18th century. There was a piano in a house I explored that was handcrafted in the mid-1800s. The same one had sold at an auction for around $30,000."
But exploring houses with a lot of history has its own risks, as he revealed: "Most are dangerous and some are safe. A lot of the time the floors are sinking in and you have to be very careful where you step. There have been some instances when I came close to getting injured, but thus far I've been very lucky."
And nothing is too shocking anymore, as Sansivero revealed: "I've explored abandoned science laboratories. Patient files in abandoned hospitals, prosthetic legs, coffins, etc. If it's strange I have probably seen it. I will just say that it is a risky hobby, and it's not for everyone."