Woman Finds Hidden Masterpiece in Her Childhood Home After Ripping up Old Carpet
A homeowner has shared the colorful 1970s masterpiece she found hidden beneath the floor, after ripping out some old carpet.
Grace Benavente recently moved back into her childhood home, in Portland, Oregon, after her parents bought it in 1998, and then rented it out for 20 years.
Benavente, who is in her "late 20s," set about renovating one of the rooms for her housemate, and uncovered the intricate retro carpet, which had lain undiscovered even by her parents.
Speaking to Newsweek, Benavente revealed more about her personal history with the house, saying: "I lived here when I was very young and have some of my earliest memories in the room where I made the carpet discovery, as it was my dad's office and we'd play computer games together in there and I'd hang out and talk to him while he was working."
After deciding it was finally time to rip up the white carpet, Benavente was expecting to find concrete, but instead uncovered an intricate carpet design dating from the era the house was first built, in 1972.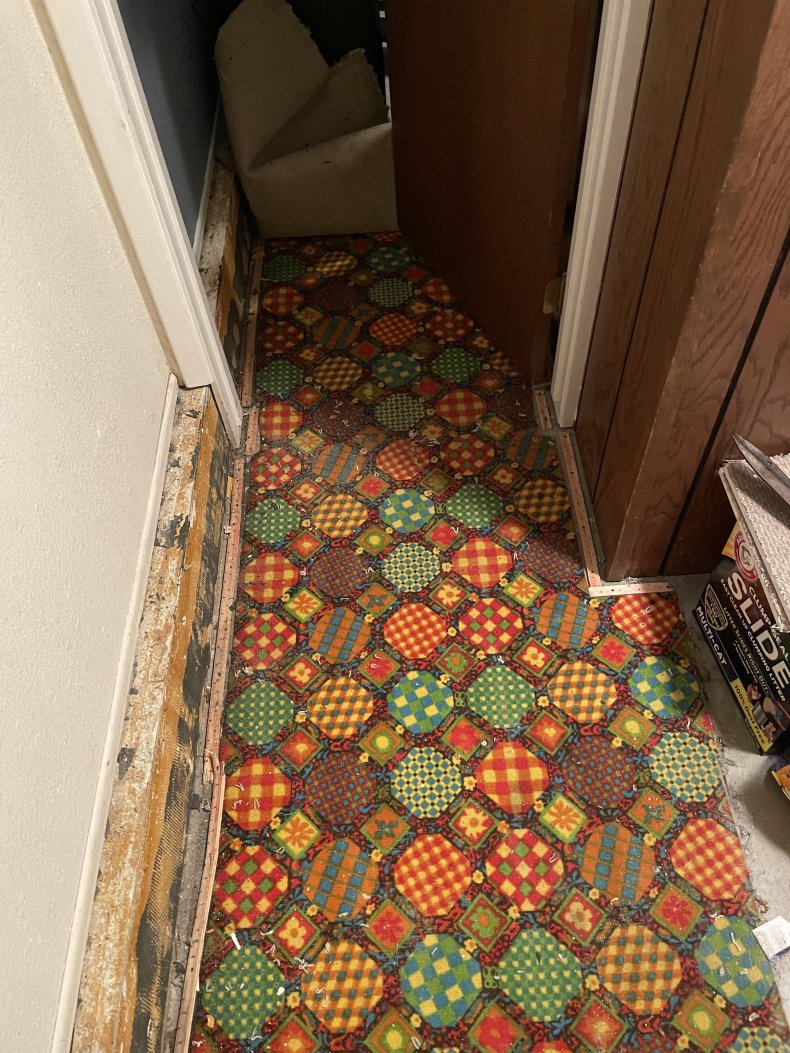 She said: "The original homeowners back in the 70s decided to turn half the garage into a bonus room and it's in that room where we discovered the colorful carpet. The white carpet that was on top was old and stained and when our most recent roommate moved in and needed the bonus room as a bedroom we decided it was time to rip that old carpet up.
"When we began removing the thick white carpet we immediately discovered this groovy 70s carpet beneath! We genuinely were sure all we'd find underneath was concrete garage flooring. It was a delightful shock and I immediately sent pictures of it to my family and to friends who I knew would appreciate it. My dad and I cracked up at the realization that he could have had a pretty vibrant office if we'd known that carpet was hiding under there."
She added the previous owner had simply "stapled" the white carpet on top, saying they decided to "slap down some of this carpet without any padding or floorboards beneath it."
Benavente shared a snap to Reddit earlier on Monday, revealing the multicolored mosaic-style pattern, which she confirmed wasn't tile or vinyl.
She said: "We tore up some old white carpeting in my house expecting to find concrete underneath but instead found this 70's masterpiece."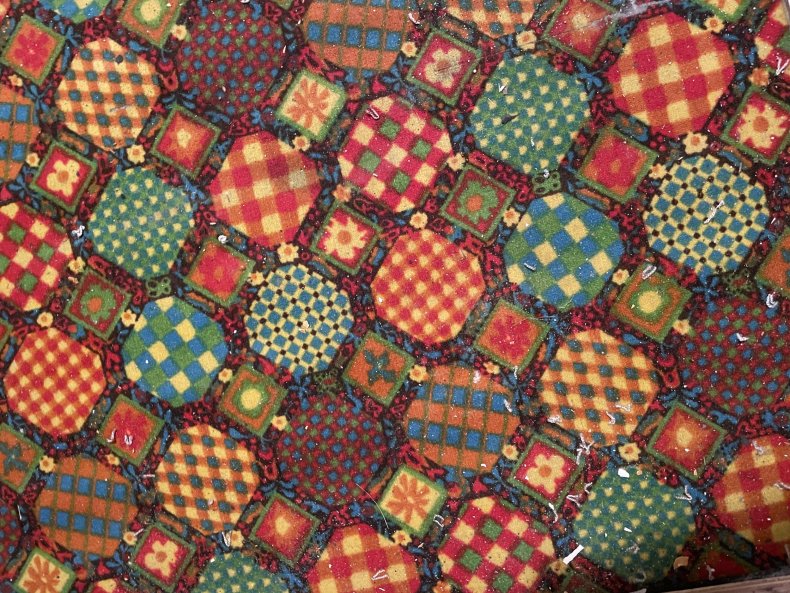 Benavente explained she was framing a piece of the carpet, telling Newsweek: "I am saving chunks of it that aren't worn out and am going to give some to a couple friends who love the style. I also plan to keep a square of it for myself and frame it!
"As for the floor we pulled it from, my roommate is going to get a couple area rugs and rock the concrete floor as a sort of urban vibe (AKA make do on a tight budget). Someday I'm sure I'll put other flooring in there but for now it's just got a fun story!"
And she revealed she found a few other original design features, adding: "In terms of other 70s interior design in my house, there are a few quirks here and there—I discovered old orange and yellow marbled-looking vinyl in my bathroom under the carpet (because who wants carpet in a bathroom?) and some floral paper lining the drawers and cabinets in the kitchen. And it's got classic popcorn ceilings, of course!"
Responding to Reddit commenters, she hypothesized that as the house was built in the earlier part of the decade, it could also be influenced by the interior styles of the 1960s.
"The house was built in '72! Crossover between the two eras' styles perhaps," she added.
The quirky feature has attracted a lot of attention online, with ajzaff claiming: "You either like it or hate it. No in between."
Puffthecamel commented: "Sure it's not the most aesthetically pleasing but that's a super unique design, I'd keep it."
TMYLee pointed out: "I would suggest getting a clean pieces and put in frame and hang it as piece of arts. As for floor decor, I don't think it is nice but as an art pieces. It work better. Hell!! you can sell it as pieces of carpet art from 60's."
While Pope_Cerebus revealed: "OMFG! My grandparents had that carpet when I was growing up, and I loved it! Was great fun to make up games and play with toys on the patterns. If you want to know what to reuse it for, a child's playroom is what you use it for."
And Thirsty_Comment88 joked: "Get a roommate with better taste! That floor is awesome."