Minnesota House Listing Reveals Sprawling Cave System Hidden Inside
An ordinary Minnesota house is hiding a huge secret, with its real estate listing revealed a sprawling cave system inside.
This four-bed, three-bath in Rochester looks fairly innocuous from the outside, yet step inside its impressive original carriage doors and you'll find a whopping 3,600 square feet of connected caves.
The $550,000 hillside home, located at 933 11th Street SW, was built in 1926, and is up for sale for the first time in 34 years.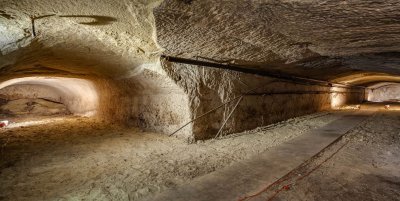 The real estate listing, on Edina Realty, says: "One of the most enticing features are the attached caves, the opportunities are endless for this additional 3600 square feet of space. Own a part of Rochester's history!"
Photos show the cavernous subterranean passageways featuring electric light and even a ceiling fan. The cave itself is said to measure 200 feet long, 18 feet wide and more than eight feet high, according to MedCityBeat.
The listing showing off the cave system, which is located off the main living area on the ground floor, went viral after it was uploaded to TikTok and Instagram last week.
Property fan Samir shared snaps of the caves, saying: "Starts off very regular, nice doors, cool little hallway and stairs. Kitchen could be a little bit bigger but it's OK, What's that angled sink though.
"And then you get to the back and you've got this. I'm so scared I don't want to know what's happening behind that door. Don't follow the light to the corner you may never return.
"But for real though what do they have this for. Maybe for potatoes, or maybe mushrooms or something, I don't know. How long did it take to dig? It seems to never end. I guess it could be pretty fun to have a party down here."
The clip has been viewed thousands of times, as people joked it was the definition of a real-life "man cave."
Writing on Instagram, Tony.d.718 quipped: "I'm glad they have a fan. I'd hate to have no air flow in my cave."
"The ceiling fan really makes that cave cozy. ," theresa_sharks_girl_24 agreed.
While johntomblack thought: "Some GoT catacombs right there."
Zillowgonemild reckoned: "This house seems designed to withstand an extended siege."
While taryn_g pointed out: "And they said people don't want homes that come with crypt space anymore."
And thatkarasboi commented: "Here's my man cave."
The house is referred to as the Plummer Pump House, and is situated next to the sprawling 49-room Plummer House, now maintained by the Rochester Parks and Recreation Department.
The English Tudor home was built by Dr. Henry S. Plummer and his wife, Daisy. The 65-acre estate features the "iconic" water tower.
And the main building also has its own caves, with The City of Rochester website explaining: "There are two caves on the property, one going into the house and the other under the water tower."
The listing adds the "beautifully preserved" home features period slate flooring, a floating staircase, original beamed ceiling and an open fireplace.