Man Finally Arrested After 18 Months for QAnon Conspiracy Theory Vandalism on Landmark Rock Formation
A man was arrested on Monday in connection to the QAnon-related vandalism at a group of rock configurations known as "America's Stonehenge."
Mark Russo, 51, of Swedesboro, New Jersey, has been charged with one count of felony criminal mischief following an investigation into the defecation of the stones in Salem, New Hampshire from September 2019.
Police said the rock appeared to have been damaged by a power tool. It was carved with "WWG1WGA," which officials said stands for "Where We Go One, We All Go All," the rallying cry from QAnon proponents.
The slogan from the 1996 film White Squall is frequently used by QAnon supporters who have misattributed the line to President John F. Kennedy. Social media posts bolstering QAnon conspiracy theories commonly include the hashtag #WWG1WGA.
Several photographs and hand-drawn pictures were also found attached to an 18-inch tall wooden cross that had been suspended between two trees.
There was another carving on the rock tablet that said "IAMMARK," which is how police connected Russo to the vandalism. Authorities were able to link him to an "iammark" Twitter account, which referenced "a few improvements" made to the rock configurations.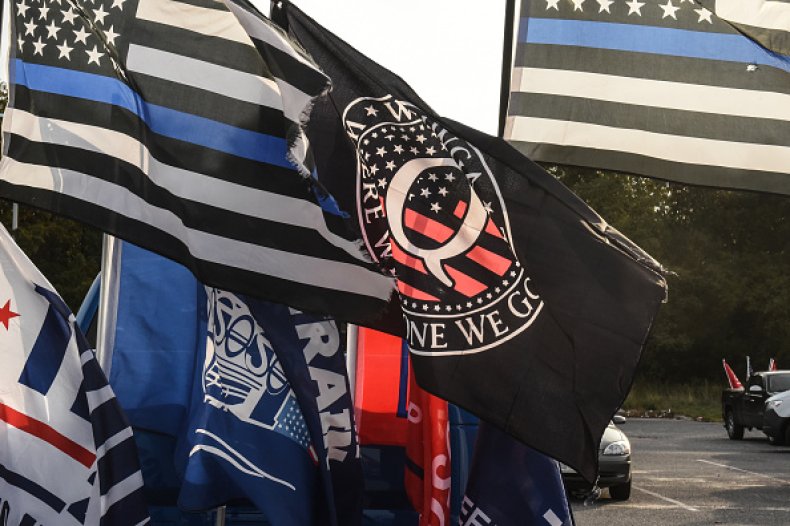 Bail was set at $3,000 cash for Russo, who is scheduled for a hearing on April 21. He was arraigned on Tuesday at Rockingham Superior Court, where a lawyer entered a not guilty plea on his behalf, according to the Associated Press.
Russo is currently being held at the Salem County Correctional Facility in Woodstown, New Jersey, pending extradition back to New Hampshire, according to the New Hampshire Union Leader.
In a statement made by Salem Police Chief Joel Dolan, the police department thanked the FBI's Bedford office for assistance in the investigation.
"A job well done to Detective [Michael] Geha, who has determinedly and skillfully worked on this case for well over a year," Dolan said. "This is an example of fine police work, and how law enforcement agencies, wherever they may be located, can work together to resolve investigations such as this one."
The FBI has deemed QAnon a domestic terrorism threat. Those who believe the extremist ideology are predicting that former President Donald Trump will somehow be inaugurated again on Thursday, March 4. Auhorities uncovered threats by militia groups to breach the Capitol building on that day and confirmed they will be increasing security measures over fears that the violence from he January 6 riot would be repeated.
America's Stonehenge is believed to be a rock structure dated more than 4,000 years old, according to a website for the attraction. However, skeptics argue the evidence suggests the structure is the work of a 19th-century shoemaker.