As Far-Right Extremism Flares in U.S., Allies Fear Transnational Threat
World leaders and transnational human rights groups reacted with horror to the January 6 storming of the U.S. Capitol; an unwelcome vindication of those who have long warned that America's most serious national security threat is coming from inside its borders.
Far-right extremism is not new to any of America's allies, and certainly not the European nations ravaged by German fascists and their allies in Second World War and subsequently periodic neo-Nazi and white supremacist revivals.
But American partners abroad have been watching the rise of America's modern extremist "alt-right" tide with concern, aware that the global reach of U.S. media and culture risks the export of a very American far-right extremism to their countries, infusing existing far-right groups with a new ideology honed by decades of neoliberal excess and political malaise.
A spokesperson for U.K. Counter Terrorism Policing (CTP) told Newsweek: "There are no longer any particular national boundaries with regards terrorism—we've seen people based in different countries around the world trying to radicalize and recruit anyone they can—whether that's on the far right or those involved in Islamist terrorism activity."
Allies, particularly in the Anglosphere, are reviewing their counter-terrorism focus after decades of prioritizing the threat posed by jihadists; whether so-called "homegrown" militants or those dispatched by transnational organizations like Al-Qaeda and Islamic State.
This remains the focus for many nations. In the U.K. and France for example, authorities are still stressing the danger posed by extremist jihadis, including those who have returned from the wars in the Middle East and North Africa.
Such extremists have launched multiple attacks in recent years, including the 2015 rampage in Paris that left 130 dead or the 2017 suicide bombing of an Ariana Grande concert in the U.K. that killed 22 people.
Far-right extremists and their racist and authoritarian ideologies fit more neatly into mainstream Western political discourse than those of Islamists. It is easier for them to amass political influence and infiltrate mainstream parties. This cover makes rooting out right-wing terrorism more difficult and more politically unappealing.
The British CTP includes a national unit with "national strategic oversight," the spokesperson said, which receives intelligence, assessed daily, from around the country relating to right-wing terrorism.
"The overriding threat to the U.K. remains from Daesh-inspired groups and individuals," the CTP spokesperson said, using an alternative name for ISIS. "But our operations reflect a broader range of dangerous ideologies—including right-wing terrorism—and we will work tirelessly with our partners to confront them."
Since March 2017, the spokesperson said, British law enforcement authorities have stopped 27 terrorist attacks. Eighteen were Islamist, eight were right-wing, and one was "left, anarchist or single issue terrorism."
From September 2019 to September 2020, suspected right-wing terrorism accounted for 21 percent of the nation's 215 counter-terrorism requests. The majority—56 percent—were Islamist-related, with the remaining 23 percent unclassified.
Social media platforms like Telegram, Gab and Parler allow users to spread hateful ideologies and extremist tactics anonymously. Others, like Twitter and Facebook, have a greater reach, though are more heavily censored. The same has been true for Islamist terrorism, advocates of which have long exploited social media to recruit members, raise funds and direct operations.
Some infrastructure set up primarily to combat the Islamist threat will be increasingly turned on the far-right. The CTP's Counter-Terrorism Internet Referral Unit (CTIRU), for example, has been in operation since 2010 as the first of its kind.
"Every day, officers from the CTIRU trawl the Internet, looking for material," the CTP spokesperson said. "They also investigate material that members of public and partners flag up to them through an online reporting system. The CTIRU receives thousands of referrals from the public every year."
The threat of terrorism extends to countries large and small. New Zealand was rocked by the Christchurch mosque shootings in 2019, committed by a white supremacist Australian whose Facebook live stream of the atrocity and manifesto were peppered with U.S.-influenced far-right memes and semi-ironic internet humor.
Violent extremism "is a prevailing security issue both domestically and internationally," a spokesperson for the New Zealand Security Intelligence Service (NZSIS) told Newsweek.
"The often disparate, individualized views of the people and groups adhering to some violent extremist ideologies, and the use of online platforms to radicalize others and share violent extremist ideologies, will continue to be a challenge for security agencies around the world for the foreseeable future."
NZSIS was already in the midst of "a significant transformation" in operations before Christchurch, "including an increased focus on white identity extremism," the spokesperson explained.
"This transformation has continued, and while we are unable to get into specific details, we can say that our ongoing change has enabled the NZSIS to be more focussed on the identification of previously unknown, new and emerging national security threats."
January 6 prompted a fresh debate on whether a legislative infrastructure is needed for America to truly address its festering far-right problem. Currently, there are no laws specifically criminalizing domestic terrorism, and unlike for Al-Qaeda, ISIS and other Islamist groups, membership of or financial support of right-wing extremist groups is not illegal.
As the FBI told Newsweek: "It's important to note that membership in groups which espouse domestic extremist ideology is not illegal in and of itself—no matter how offensive their views might be to the majority of society. Membership in a group is not a sufficient basis for an investigation."
"The FBI does not and cannot designate domestic terrorist groups," the Bureau added. "The FBI can never initiate an investigation based solely on an individual's race, ethnicity, national origin, religion, or the exercise of First Amendment rights."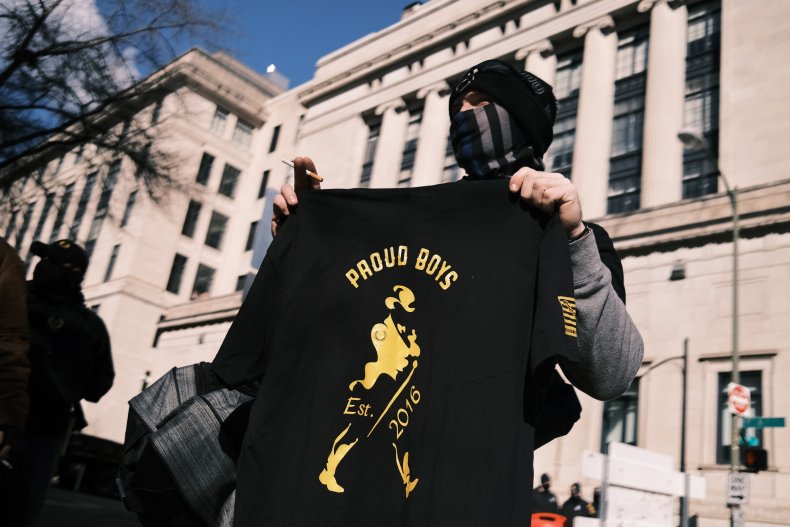 Four years of nationalism and polarization under former President Donald Trump brought a new cast of right-wing extremists to the fore in the U.S. QAnon groups, Proud Boys, Oath Keepers, Three Percenters, Boogaloo Bois and others have become nationally recognized names.
Some have spread their brand abroad. QAnon groups are springing up across the world, as are groups of white supremacists—who are trying to rebrand as "Western chauvinists"—claiming to be national chapters of the Proud Boys street-fighting group.
Last month, Canada became the first nation to officially proscribe the Proud Boys as a terrorist organization, citing the "pivotal role" of its members on January 6. The listing means law enforcement can now freeze Proud Boys assets and charge its members with terrorist offenses.
A spokesperson for the Royal Canadian Mounted Police (RCMP) told Newsweek that the threat of "ideologically motivated violent extremist groups"—a blanket term including far-right organizations—"has increased in the country over the past several years."
Along with the Proud Boys, the American neo-Nazi Atomwaffen Division and the Base groups were also listed as terrorist entities by Canadian authorities. Members of the former have committed several murders in recent years, while member of the latter were arrested last year and charged with planning to kidnap Michigan Governor Gretchen Whitmer.
The chaos and economic hardship of the coronavirus pandemic has handed extremists of all stripes an unprecedented recruitment opportunity. The far-right has focused on the Chinese origins of the virus in line with its anti-immigration, white nationalist ideology, while railing against government restrictions on personal freedoms and engaging in anti-vax conspiracy theories.
The RCMP spokesperson said that "certain IMVE threat actors are leveraging the pandemic in an attempt to further their objectives." This includes "trying to use the pandemic to spread disinformation and conspiracy theories, expand recruiting efforts and, in some cases, advocate violence."
January 6 may have been the culmination of years of far-right growth, but it could mark the beginning of a new phase of extremism in the U.S. The battle against the far-right is set to form a significant part of President Joe Biden's domestic security efforts, a focus that is already causing concern in online extremist groups.
Biden's Homeland Security Secretary Alejandro Mayorkas wrote in the Washington Post last month that domestic violent extremism "poses the most lethal and persistent terrorism-related threat to our country today."
"The horror of seeing the U.S. Capitol, one of the pillars of our democracy, attacked on Jan. 6 was a brutal example of our suffering, and it compels us all to action," Mayorkas wrote.
America's friends abroad are watching intently, hoping the Biden administration can do more than his predecessors to stop the flow of toxic far-right ideology to the rest of the world.