America's White Supremacist Problem Risks Feeding Next Global Terrorism Wave
The United States' international "War on Terror" against extremism is in its 20th year, but experts and former officials warned Newsweek that it was the U.S. itself that may feed the next wave of global terrorism should hateful ideologies like white supremacy continue to flourish within its borders.
Former CIA officer and FBI Special Agent Tracy Walder says groups and individuals brandishing dangerous far-right dogmas at home are infiltrating abroad.
"They already have begun exporting their hate," Walder told Newsweek.
Walder, whose foreign intelligence work earned her a number of accolades, pointed to the international influence of groups such as the Proud Boys, a far-right, self-described "Western chauvinist" organization that closely aligned itself with former President Donald Trump and participated in last months' deadly Capitol riots.
The group has witnessed a sharp rise in international recruitment across U.S. allies abroad, including Australia, Germany and the United Kingdom. Canada declared the U.S.-based Proud Boys a terrorist organization earlier this month.
"I think it is only a matter of time until their influence grows even more throughout Europe, Russia, and other countries," she said. "Much like foreign terrorist networks, they find recruits overseas, primarily through the internet, and it is very easy to virtually radicalize them."
Walder said not only U.S. intelligence agencies but also U.S. law enforcement agencies need to crack down on this type of extremism before it's too late.
A former senior counterterrorism official who requested anonymity described the issue as a "Pandora's Box."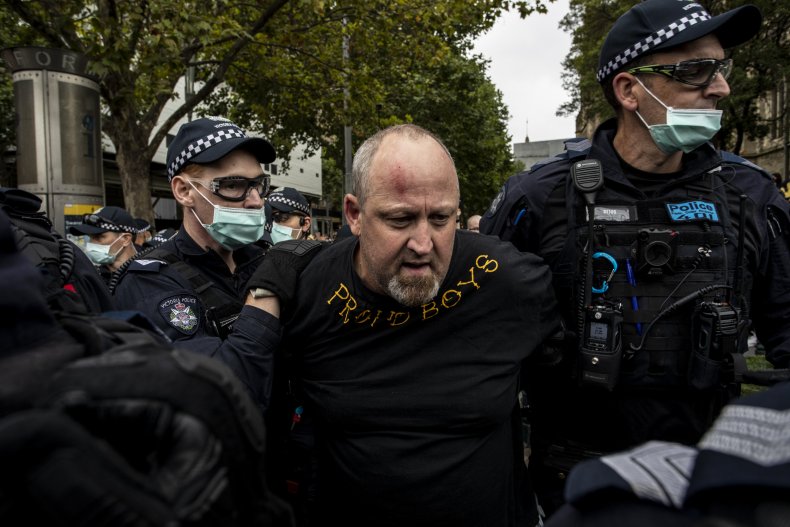 The former official agreed with Walder's call for greater law enforcement action, and said the FBI would need to walk a fine line between respecting freedom of speech and political expression while at the same time addressing any ties to international terrorism.
"Agency lawyers maybe would stroke at the lines between free speech, political activity, and the international terrorism activity," the former official told Newsweek. "If these guys are meeting with foreign intel operatives then they would be swept up in collection, but these clowns are meeting with far-right parties in Europe."
With those fine lines in mind, the former official noted U.S. intelligence agencies tasked with monitoring and intercepting far-right threats would be faced with a unique threat: "Insider threat issues, no different than some countries had during the Al-Qaeda and ISIS wars," the former official said.
Newsweek has previously reported on the extent to which extremism has permeated both active duty and veteran military and law enforcement communities.
Defense Secretary Lloyd Austin declared a 60-day stand-down earlier this month specifically to address the need to root out radicals among the ranks of the U.S. armed forces in the wake of reports detailing the scope of veteran involvement in the Capitol riots. Other federal agencies have also begun to sound the alarm.
"I don't think it's debatable that it is or it isn't an issue," Pentagon spokesperson John Kirby told reporters on Monday. "What we don't know is the extent of it, and what we don't know is exactly and how best to go about eradicating that and the behavior that it inspires. That's the problem."
As Washington continues to reel from the events of January 6, it has become apparent that the already iconic day came as a wake-up call for public officials not only in the U.S. but across the globe.
"[The Capitol riot] was a shock for everyone, for the American audience, of course, but it was a shock for the whole world," one European official who spoke on the condition of anonymity told Newsweek. "Have in mind that all the 24/7 news TV in France, the U.K., Germany or more generally in Europe were live."
The European official emphasized the nuances of white nationalism as it exists in the U.S. versus in Europe and other parts of the world, where collusion is hindered due to opposing strains of ideology, while noting that leaders such as French President Emmanuel Macron have spoken out on the issue.
"White supremacist violent movements are less important in Europe than in the U.S., and the internationalization of such movements is always hard because they heavily rely on strong national issues," the European official said. "But they are monitored very closely and actions are being taken, such as the Christchurch call between President Macron and PM Jacinda Ardern of New Zealand, to curb such speeches on social platforms."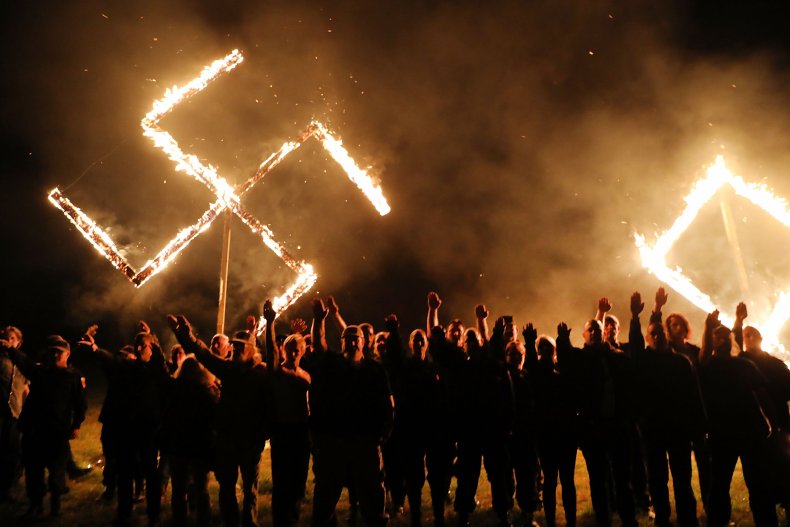 The Christchurch massacre of March 2019 saw a lone gunman espousing white supremacist views kill some 51 people across two mosques in one of New Zealand's largest cities. If it occurred in the U.S., it would have been the second-deadliest mass shooting in national history, topping the Orlando nightclub shootings June 2016 and coming up just short of the Las Vegas shooting rampage that occurred in October of the following year.
As the number of violent far-right-linked acts in the U.S. rises, the European official emphasized that, "as of now, there is a very good and very strong anti-terrorism cooperation by the United States with France."
Efforts to curb such organized beliefs, from within and without, extend to other U.S. allies in Europe as well.
A German official told Newsweek that Germany has numerous prevention programs in place, including in schools, on local levels, on state levels and on the federal level, and that these programs "also address threats from abroad, which is not totally new, since extremist ideologies spread via the internet."
From New Zealand to Norway to Texas, violent white supremacist beliefs have demonstrated an ability to cross international borders through online platforms.
"Over the past decade, we have seen surging violence in the United States, Europe and beyond motivated by elements of white supremacy," Anti-Defamation League CEO Jonathan Greenblatt told Newsweek. "These violent extremists influence and inspire one another."
He argued the first steps toward combating this trend was to expose those behind it and to gain an understanding of how they interact.
ADL's research has identified U.S. influencers of such beliefs abroad, accusing individuals like former Ku Klux Klan Grand Wizard and Louisiana state representative David Duke of disseminating harmful ideologies through his travels to Europe.
Others spreading exporting their controversial creed include white nationalist Counter Currents editor-in-chief Greg Johnson, Occidental Observer editor Kevin MacDonald, alt-right leader Richard Spencer and European New Right proponent Tomislav Sunić, according to the ADL.
"Global access to white supremacist ideology, and its easy dissemination across borders via various social media platforms," Greenblatt said, "means many of the ideas promoted by the white supremacist movement—curtailing of non-white immigration, attacks on globalization and the accompanying conspiracies about elitist globalists—are increasingly part of mainstream political and social rhetoric."
Some of these positions have been espoused by officeholders in the U.S., who have found them useful in attracting voters.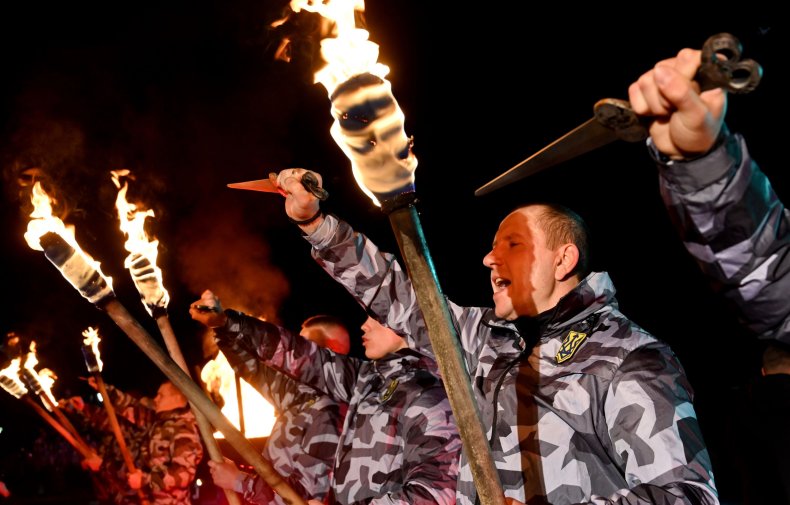 Acts of violence associated with far-right ideologies have killed more people in the U.S. than all attacks linked to foreign groups like Al-Qaeda and ISIS since 9/11. Ali Soufan, a former FBI special agent who serves as CEO of The Soufan Group, told Newsweek that this type of attack is often dismissed as an isolated incident, and links are not sought or established to a larger movement across the country and beyond.
Soufan dedicated much of his career to diagnosing the threat that jihadi forces posed to the U.S., and today he's sounding the alarm on how homegrown groups are a danger not only to this country but others as well.
"For years, my team and I have been warning about the growing connections between U.S.-based extremists and white supremacists operating abroad," Soufan told Newsweek.
While he said high-profile attacks such as those in Norway and New Zealand "invited closer scrutiny on global white supremacy extremism," he said that such scrutiny "reveals that, like the global jihadist movement, violent white supremacists and far-right actors maintain international linkages and continue to forge global networks with ideologues radicalizing individuals across the globe."
He compared jihadi hubs like Afghanistan, Iraq and Syria to white nationalist recruitment hotspots like Ukraine, where far-right militias are involved on both sides of a U.S.-supported war against rebels aligned with Russia, whose own ultranationalist Russian Imperial Movement became the first white nationalist group to be designated by the State Department as a foreign terrorist organization earlier this month.
"One of the most dangerous aspects of this threat is the transnational dimension," Soufan said. "We tend to use language like 'domestic' terrorism when talking about white supremacy extremist groups, which leads people to believe this threat is strictly a national issue. This is not the case."