U.S. 'War on Terror' Covered Nearly Half the World in Past 3 Years, This Map Shows Where
Counterrorism operations conducted by the United States covered nearly half the countries of the world over the past three years, marking an extensive global footprint nearly two decades into the "War on Terror" declared after 9/11, according to a new study.
The data was released Thursday by the Costs of War project at Brown University's Watson Institute of International and Public Affairs. Researchers found that the U.S. conducted counterterrorism operations in some 85 countries from 2018 through 2020.
Costs of War co-director Stephanie Savell, who authored the report, discussed the importance of understanding the extent of this activity at a time when the U.S. public was growing fatigued with foreign conflict.
"Ending endless wars first requires acknowledging their scope," Savell told Newsweek. "Despite lots of talk about the U.S. pivoting away from counterterrorism as a foreign policy priority, there is no evidence of a drawdown."
And while both presidential candidates in the last election advocated for an end to the "forever wars" sparked by the U.S.-led intervention in Afghanistan now in its 20th year, Savell said the U.S. commitment abroad has only expanded over the past few years.
"In fact, counterterrorism operations have only become more widespread in recent years," Savell said. "U.S. post-9/11 wars are now taking place in far more places than most Americans realize—at least 85 countries. That amounts to more than 43% of countries in the world."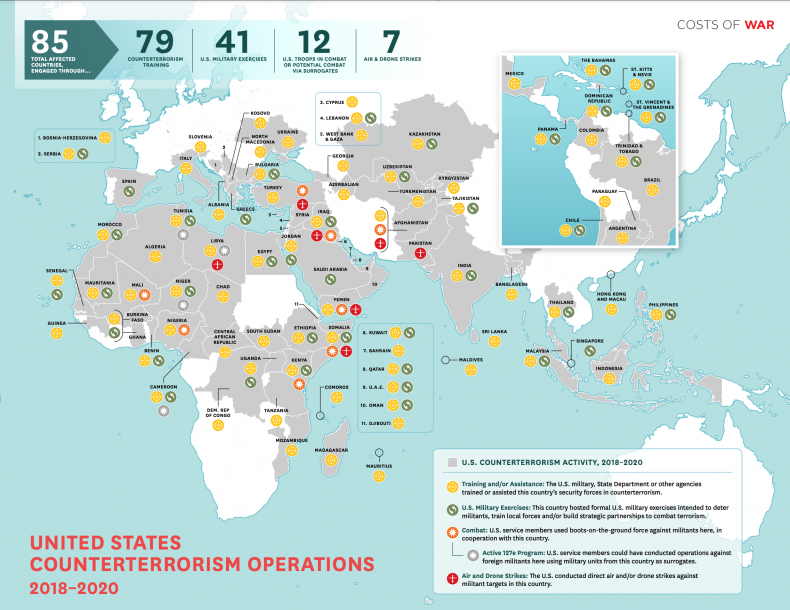 The operations detailed in the latest paper are broken down into four broad categories by nation: Counterterrorism Training (79), U.S. Military Exercises (41), U.S. Troops in Combat or Potential Combat Via Surrogates (12) and Air & Drone Strikes (7).
Countries bombed by U.S. aircraft or drones over the past three years were Afghanistan, Iraq, Libya, Pakistan, Somalia, Syria, and Yemen. All of these countries, with the exception of Pakistan, also had U.S. boots on the ground.
Those in which U.S. military forces were directly involved in combat operations included Afghanistan, Iraq, Kenya, Mali, Nigeria, Somalia, Syria and Yemen, while others where U.S. Special Operations Forces had "Section 127e" authority to lead operations were Cameroon, Libya, Niger and Tunisia.
Newsweek recently detailed the extent of the U.S. military presence in 29 locations across 15 nations in Africa, all of which were included in the Costs of War report.
While the largest number of U.S. troops abroad are posted in the Asia-Pacific region, where a geopolitical rivalry with China has begun to eclipse other U.S. national security concerns such as counterterrorism, the next largest cluster could be found in the Middle East, where the U.S. has waged war on the Islamic State militant group (ISIS) and Al-Qaeda.
Recent years, however, have seen U.S. forces here turn their sights to another foe, Iran and its partnered militias across the region.
Among the drone strikes counted by the Costs of War was that which killed Iranian Revolutionary Guard Quds Force commander Major General Qassem Soleimani and his entourage at Baghdad International Airport in Iraq. The operation, ordered by former President Donald Trump, set off a new round of tensions adding to those sparked by his administration's withdrawal from a 2015 nuclear deal with the Islamic Republic and major world powers.
While the previous administration did draw down U.S. personnel entrenched in long-spanning conflicts in Afghanistan, Iraq, Somalia and Syria, the Pentagon remains active in these countries and others. It remains uncertain if President Joe Biden will choose to change this.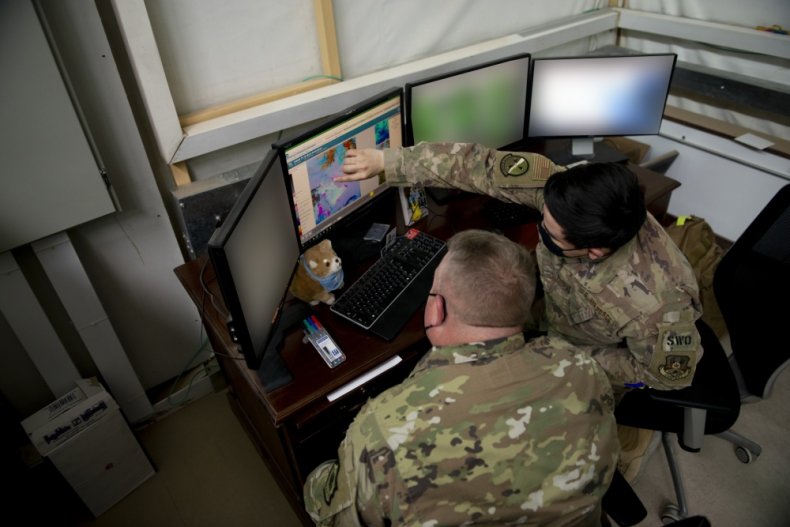 Echoing past statements by the president, State Department spokesperson Ned Price told reporters last week that "President Biden is committed to bringing a responsible end to the so-called forever wars."
This comment was specifically in the context of Afghanistan, from which U.S. troops are scheduled to exit before May 1 per an agreement reached between the Trump administration and the Taliban. President Biden, however, has put this deal under review, as he has many of the decisions made by his predecessor.
The new U.S. leader has rejected much of what Trump stood for, including his "America First" strategy that purported to prioritize domestic interests over woes overseas. Rather, Biden has proposed an "America is Back" tagline to symbolize a renewal of Washington's position in the world.
But Savell expressed reservations as to what this would mean for the country's sprawling military presence.
"In this context, the 'America is Back' rhetoric is worrisome," Savell told Newsweek, "because it signals a potential return to a militarized status quo in which the U.S. is exporting its militaristic approach and its weapons to many, many places—places where the war on terror mindset often intensifies, rather than ameliorates, conflicts and violence."