Trump Pulls Most US Troops from Somalia, But 'Not Withdrawing' from Africa
The Pentagon has announced the withdrawal of most of the U.S. troops deployed to Somalia by early next year, the latest drawdown ordered by President Donald Trump in what's projected to be his final weeks in office.
"The President of the United States has ordered the Department of Defense and the United States Africa Command to reposition the majority of personnel and assets out of Somalia by early 2021," the Pentagon said in a statement published Friday afternoon.
The U.S. is believed to have around 700 troops in Somalia, and up to 6,000 across Africa.
U.S. soldiers have been deployed to Somalia for 13 years, targeting militant groups such as Al-Shabab, an affiliate of Al-Qaeda. More broadly, the U.S. military presence in East Africa has been leveraged to maintain influence on the continent in the face of growing influence by other major powers such as China and Russia.
"While a change in force posture, this action is not a change in U.S. policy," Friday's statement said. "We will continue to degrade violent extremist organizations that could threaten our homeland while ensuring we maintain our strategic advantage in great power competition."
The Pentagon said some troops would be repositioned outside of East Africa, while others would be transferred to neighboring countries "in order to allow cross-border operations by both U.S. and partner forces to maintain pressure against violent extremist organizations operating in Somalia."
"The U.S. will retain the capability to conduct targeted counterterrorism operations in Somalia," the statement continued, "and collect early warnings and indicators regarding threats to the homeland."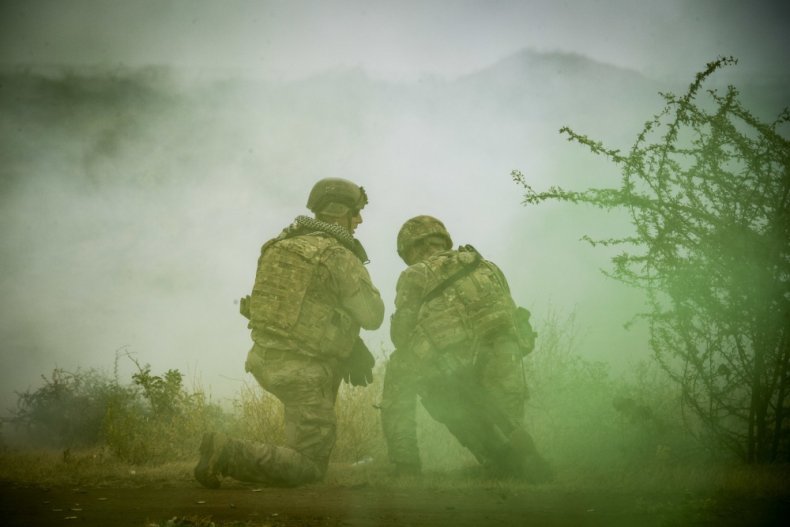 The Pentagon emphasized that the decision was not an abandonment of the continent.
"The U.S. is not withdrawing or disengaging from Africa," the statement read. "We remain committed to our African partners and our enduring support through a whole-of-government-approach."
Reached for comment, AFRICOM shared with Newsweek a statement expressing similar sentiments about the move.
"The U.S. military is not withdrawing from East Africa," AFRICOM commander U.S. Army General Stephen Townsend said. "At the direction of the President and the acting Secretary of Defense, U.S. Africa Command is repositioning our forces within East Africa. Our presence in Somalia will decrease significantly but U.S. forces will remain in the region and our tasks and commitment to partners remain unchanged."
He said the country would continue to work in the region and country, including efforts toward "building and maintaining regional security, continuing to observe and intensify pressure on Al Qaeda's franchise al-Shabaab and advancing mutual interests with our East African partners."
Even from afar, Townsend said U.S. forces were capable of addressing any threats.
"We have demonstrated an ability to respond rapidly in any region when a need
arises – that remains unchanged," Townshend said.
Two AFRICOM maps published in February of this year by The Intercept detailed the U.S. military's "enduring" and "non-enduring" presence in 29 locations across 15 nations in Africa. The former category included 16 positions in Ascension Island, Burkina Faso, Chad, Djibouti, Gabon, Ghana, Kenya, Niger, Senegal, Somalia and Uganda, while the latter included 13 spots in Cameroon, Libya, Mali, Niger, Somalia and Tunisia.
Most of these sites were included in a partially redacted release of the AFRICOM's 2020 posture plan released in October of last year.
The U.S. military presence in Niger received spotlight three years ago when four U.S. Special Forces operators were killed, along with eight Nigeriens in an October 2017 ambush conducted by a local branch of the Islamic State militant group (ISIS).
In the latest U.S. casualty in Africa, news emerged last week in a number of major Western outlets that a CIA officer was killed in combat during a raid against Al-Shabab commanders in Somalia. Just days later, acting Defense Secretary Christopher Miller visited the Somali capital of Mogadishu in an unannounced trip as he toured Southwest Asia and East Africa.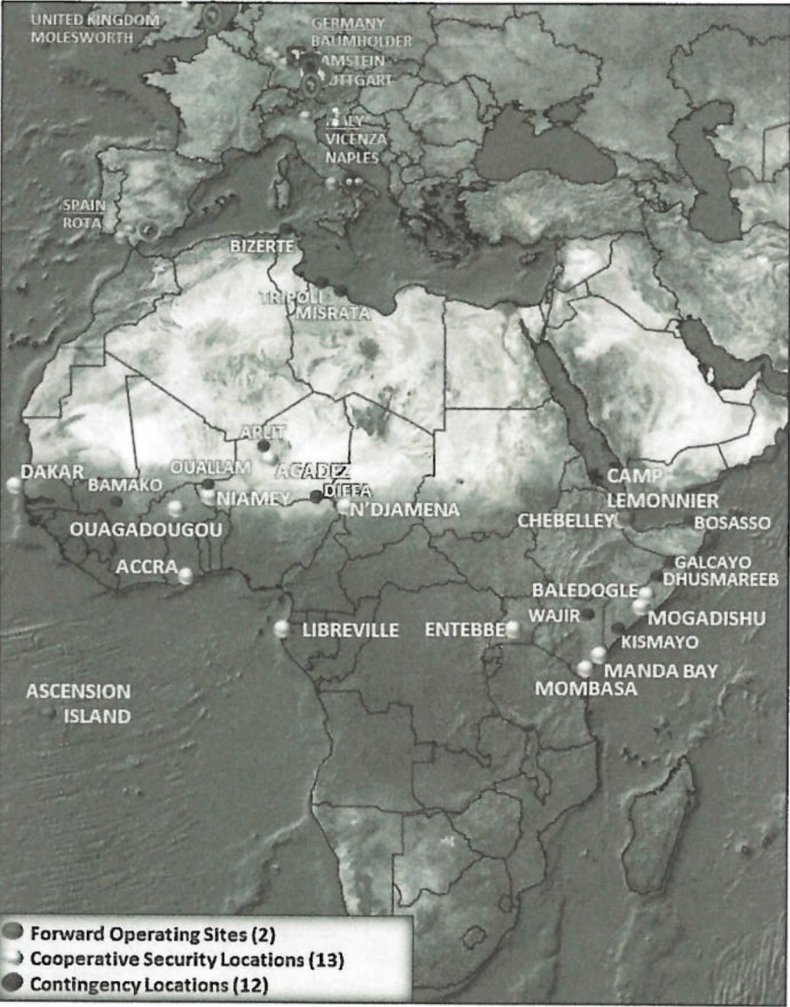 Somalia has been beset by civil war since the overthrow of longtime leader Siad Barre in 1991. Competing factions fought for rule and the United Nations deployed a force, with the U.S. intervening around this time until pulling out along with other international forces in the wake of the deadly Battle of Mogadishu in 1993.
The U.S. began conducting strikes against Al-Qaeda and other accused militant group targets in Somalia in 2007. This campaign, begun under former President George W. Bush as part of the "War on Terror," was escalated under former President Barack Obama and then further intensified by Trump.
But the U.S. leader has also repeatedly called for an end to the country's "endless wars" abroad. Last month, the Pentagon announced it was withdrawing thousands of troops from Afghanistan and Iraq in support of this goal.
The changes in U.S. military posture abroad come in the wake of Trump's projected loss in the presidential election in which he ran against rival Joe Biden, now the president-elect.
Biden has said little of what sort of foreign policy he would pursue toward Africa, but has vowed to immediately reverse Trump's travel ban applied to the majority-Muslim nations of Niger, Somalia and Sudan.