Proud Boys Designated a Terrorist Group in Canada
Canada became the first country to designate the far-right Proud Boys group a terrorist organization on Wednesday, saying that they "played a pivotal role in the insurrection at the U.S. Capitol."
In a statement made by Canada's Public Safety Minister Bill Blair, the country has declared the Proud Boys "a neo-fascist organization" that has "openly encouraged, planned, and conducted violent activities against those they perceive to be opposed to their ideology and political beliefs."
"Canadians expect their government to keep them safe and to keep pace with evolving threats and global trends, such as the growing threat of ideologically motivated violent extremism," Blair said on Wednesday.
The male-only group of self-described "Western chauvinists" joins a list that includes Al-Qaeda and ISIS as government officials try to track down on the nation's "most serious threats."
Government officials also announced that 12 other new groups had been added to the Criminal Code and that another seven entities are being reviewed. There are now 73 terrorists entities listed in Canada.
"Based on their actions and ideologies, each group meets the legal threshold for listing as set out in the Criminal Code, which requires reasonable grounds to believe that an entity has knowingly, participated in or facilitated a terrorist activity, or has knowingly acted on behalf of, at the direction of, or in association with such entity," Public Safety Canada said.
The Proud Boys consists of semi-autonomous chapters located in Canada, the U.S. and internationally.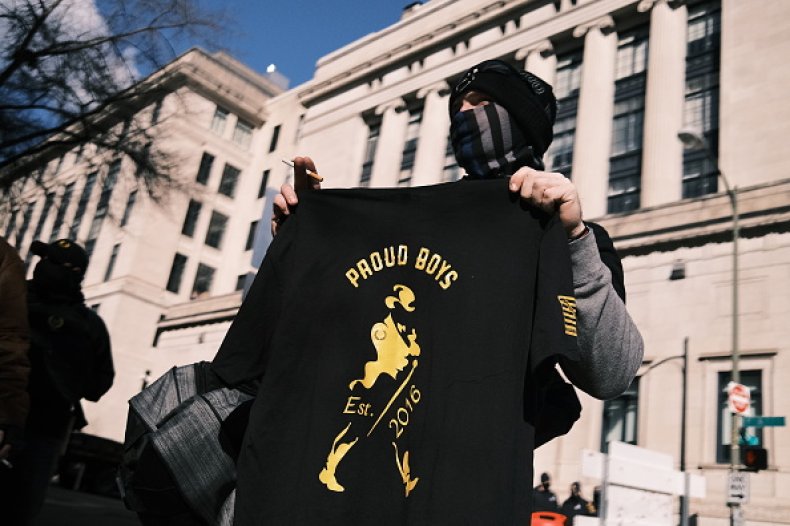 The announcement comes a month after the Capitol riot in which the Proud Boys allegedly joined the violent mob that seized the U.S. Capitol in efforts to halt Congress' certification of the 2020 presidential election results. The attack left five dead, including Brian Sicknick, a Capitol Police officer, whose remains were returned to lie in honor in the Capitol Rotunda on Tuesday.
Public Safety Canada cited the Proud Boys' connection to the insurrection and their involvement in counter-protesting Black Lives Matter demonstrations as reasons for the country's decision.
Being designated as a terrorist group will mean that police can seize property of the group and its members and banks can seize their assets. Group members may also be denied entry in to Canada.
The Proud Boys was formed in 2016 by Vice Media co-founder Gavin McInnes, who is a Canadian.
McInnes has since left the group, but he told Newsweek that the group plans to fight the matter in court. He said that the club had refused to go to the Capitol on January 6, but some members chose to go on their own.
"I was adamantly against Jan 6 and begged everyone not to go, but I guess they were too angry," McInnes said in an email.
He warns that if members continue to attend rallies, the U.S. will likely follow suit in designating the group as a terrorist organization as well.
Enrique Tarrio has since become the Proud Boys chairman. Tarrio was arrested shortly after he landed in Washington, D.C., to attend the rally that preceded the Capitol riot.
"The leader of the Proud Boys was arrested two days before the insurrection as part of a stated effort by U.S. law enforcement to apprehend individuals who were planning to travel to the D.C. area with intentions to cause violence," government officials said.
Police arrested Tarrio for burning a Black Lives Matter banner taken from a historic Black church back in December. His arrest also led to two felony weapon charges.
The Proud Boys spoke out last month about the motion passed in the Canadian House of Commons, in which politicians unanimously voted to list the group as a terrorist entity.
In a message shared on messaging service Telegram following the vote, the Proud Boys said, "One man's terrorist is another man's freedom fighter."
"We stand in solidarity with our Canadian brothers, and all of our brothers across the western world. Thus always to tyrants," the group wrote in the post.
Newsweek reached out to representatives of Enrique Tarrio for comment but did not hear back in time for publication.
Update 02/03/21 3:21 p.m. ET This story was updated with further comment from McInnes.