Man Finds 'Secret Room' Hidden in His House—Complete With Electricity and Flooring
A man has described his shock at discovering a "secret room" in his house, which had even been fitted with flooring and lights.
Daniel Smith shared a clip of the find to his TikTok page, @_daniel.py, after his curiosity had been piqued by an out-of-place panel.
Smith, who lives near Austin, Texas, filmed the panel behind a door, which jutted out further than the rest of the wall.
He said: "So, I've been wondering why they had this wooden panel behind the door here, instead of just patching the hole in the wall.
"The other day I got a magnet out and found there were screws under here, so I dug out a bunch of this plaster and unscrewed it, and pried it off the wall."
As he removed the wood, he said: "I found insulation behind there, which I guess I would expect, but what I wasn't expecting was to find another room in here."
Smith later told Newsweek that his home is a two-story, four-bedroom detached house.
"I assumed there was a void there because the ductwork had to be somewhere for the downstairs bedroom. I initially assumed the panel was poor patchwork for plumbing that had been repaired after the house was built.
"I had requested the plans from the city for another project and found another void. It appears these were both supposed to be finished crawl spaces. The other void above the garage was left sealed.
"My guess is that the builder opted not to finish the crawl spaces and just boarded them up. I've talked to neighbors with the same floor plan and they were also unaware the space was there," he said.
Smith, who works in technology but has a "passion for DIY projects," added: "As for the previous owners, it sounds like they didn't know either, according to a neighbor that still keeps in touch with them. There were three layers of paint that I cut through to release the panel.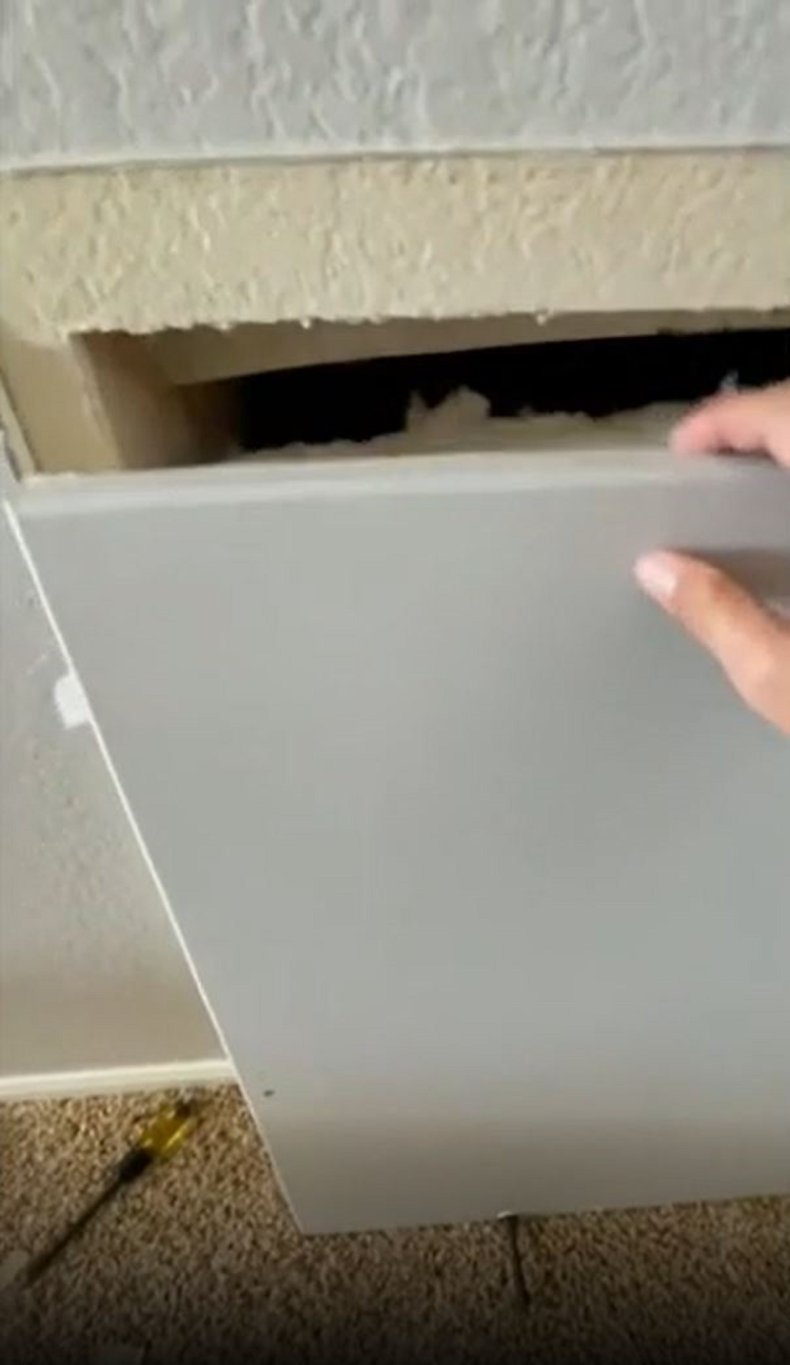 "We are the third owner of this nine-year-old house. I wouldn't be surprised if the original owners didn't know it was there either. It's behind a bedroom door so you would not notice it with the bedroom door open."
He added: "It was a neat find. We are going to add a proper door with insulation and convert it to storage."
In the comments below his TikTok video, Smith explained why the find was so odd, writing: "This is not our main attic. We have two other attic access panels neither of which connects to this space.
"My last 3 houses had a single access point for the crawl space and eaves. This was the third point of access I found here. This one had been forgotten."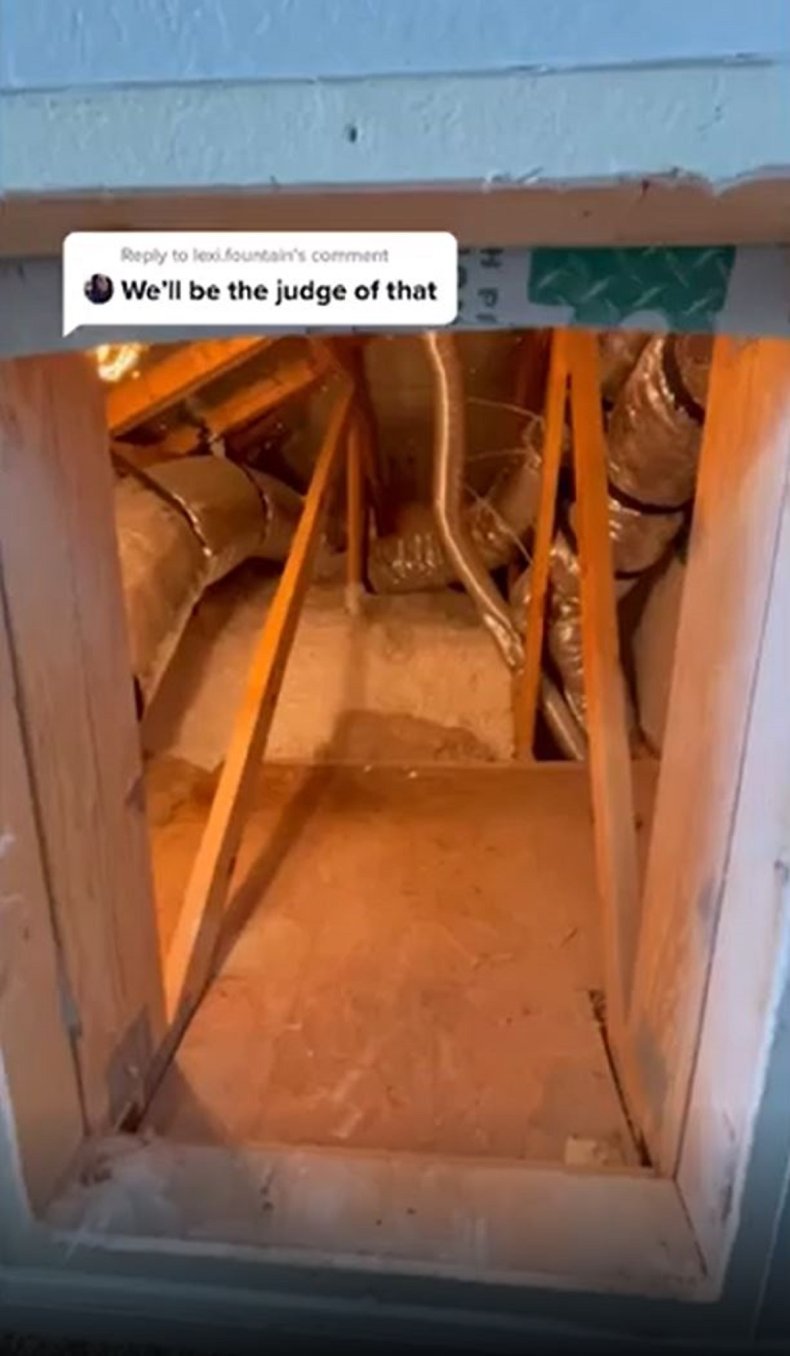 One of the clip's viewers, TikTok user @diesel1490, said he knew what the space was: "It's called an attic knee wall almost all new houses have them, installed to access AC ducts, plumbing etc."
Smith's clip, which can be seen here, has amassed more than 11 million views since it was shared in November with the hashtags #secretroom #hiddenroom.
Last month, Smith posted a follow-up video showing the interior of the space. This has been watched about 250,000 times.
He said in the follow-up: "Here's the inside. What I was surprised about was it had lights, power and a floor. We have some larger crawl spaces and an attic space, but none of them have lights or a floor in them. The others had some form of actual hatch on them, and this was just behind the door."
TikTokers offered numerous suggestions for what he should do with the space. Blake Ingram wrote: "Panic Room!"
Nothing posted: "Throw a mattress some LEDs and a small TV and you got yourself a sesh room."
Ameen joked: "Imagine the light was kept on by the previous owners and it was just draining electricity."
Diana Dax claimed it could be "a dog room" while CASPER suggested: "Gaming room."
For the moment, Smith has found a more prosaic use for the space, saying: "Well now it's to store my Christmas decorations."
According to the FSEC Energy Research Center at the University of Central Florida, an attic knee wall "is a vertical separation between attic space on one side and conditioned space on the other side.
"This wall is prevalent wherever there are ceiling height changes in the space below, such as having a room with 12-foot ceilings next to a room with 10-foot ceilings, or in a space with coffered ceilings where very short knee walls may exist."
Update 1/21/22, 7:30 a.m. ET: This article was updated with comments and photos from Daniel Smith.