Man Finds 'Secret Room' Hidden Behind a Fake Wall in His Pantry
A man claims he discovered a "secret room" boarded up behind a fake wall in his pantry, which even had a window.
Logan Hunter shared a clip to his TikTok account @loganhunter_p, revealing he had become curious about a loose piece of panelling.
The college student decided to see if there was anything behind it, after knocking and realizing from the sound that it was hollow.
Hunter, thought to be based in West Virginia, said in a video: "I literally just think I discovered a hidden room in my apartment.
"So this is my pantry, and I realized like this wall is really wobbly. There's nothing behind it. So I'm going to take it apart and see what we can find. So I'm working on taking off the light switch now."
In the footage, shared at the end of last month, he manages to pry the sheet of wood away, saying: "The wall was already doing that, it's coming off so…"
After lifting one side, he films behind it, and to his shock sees a staircase, and promptly swears at the discovery.
The clip has amassed more than 860,000 views, and can be seen here. It is captioned: "About to go to work so I will make a part 2 when I get back!" He added the hashtags "hiddenroom" and "secretroom."
Hunter, who is believed to be studying radiology at West Virginia University, stuck to his word and shared a follow-up a day later. "Pt 2 of the secret room in my apartment," he aptly captioned the video.
Hunter tells viewers: "So I just got home and I'm about to explore but it's dark out now. So now I can't see anything I realize I'm going to have to shut myself in here because I don't want my cats to follow me up this...
He films himself squeezing through the partially lifted panel, as he reckons: "So I think I'm just going to have to crawl down. Oh god this is scary. Shutting the door behind me so my cats don't follow me. This is very spooky. I don't have roommates or anything who can do this with me or for me, so if I die then like no one's going to find me or know where I'm at.
"These stairs are actually kind of nice and sturdier than what I thought they would be. Creepy. This seems like a really good place to hide things. Which might be good or bad, depending on what we find."
He walks up the stairs and films an entire room, which has decent head height, a window and flooring of some sort.
Hunter exclaimed: "This is a cute room, what the f***? Why would they have this closed off. You can even stand up. This is such a cute room. Wait, maybe the floor's not safe. Why is there just wood chips?
"OK, I don't know this is so cute. I'm afraid to walk anywhere, but there's the window."
His follow-up amassed nearly 200,000 views, and he has since shared two more videos about his discovery.
Hunter said he realized it was the attic for the building, adding: "I haven't had time to go back up into the attic yet. Yes, I know it's an attic, by the way. Everyone is like: 'Oh it's an attic it's just an attic.'
"No s*** it's a f****** attic, like I get that, it was sus that it was boarded up and I wasn't told about it. That's creepy. I haven't been back up there yet." He said he has plans to decorate the space and turn it into a "chill spot."
His discovery amazed fans online, with Kendra joking: "Maybe with a little vacuuming it could have potential."
Blah raved: "Heck ya! More square footage."
Chris Metz commented: "Is your apartment a house that was converted because you just found the attic."
James Wise Magic warned: "Pretty sure the owner was trying to lock the evil inside there forever and you just let it out."
Newsweek has reached out to Hunter for comment.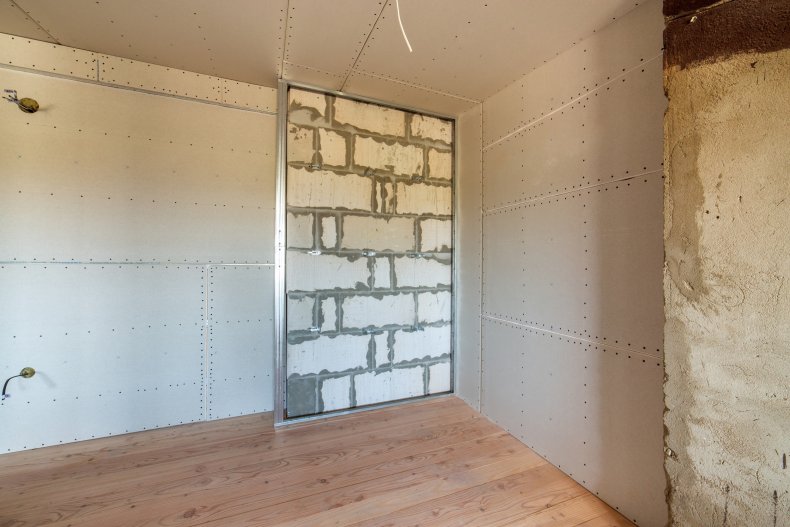 Update 11/3/21, 6:30 a.m. ET: This article was updated to add a new image.