Man Finds Human Leg Bone Inside Closet After Moving into New Apartment
A man was horrified to find confirmed human remains on the property of his new home last week.
Mohammad Siddique and his family found a human bone just a month after moving into their Jamaica Estates home in Queens, WCBS-TV reports. As the family began settling into their new space on Thursday, Siddique's cousin Haider Khan found the bone in a small space in a closet built into the wall.
"I was checking the closest to make sure I didn't leave anything behind, and I was checking the dividers between those shelves [in the closet], and there's a gap in the wall where there's a divider," Khan, 23, said in a statement to The New York Post.
"At first I thought it was a Halloween prop. My reaction was to throw it away. It looked like a rolling pin. But then I called the police."
When police arrived, they did not know what to make of the discolored human bone. Khan told The New York Post that they initially "weren't really taking it that seriously," noting that it was late at night when they arrived to inspect the item.
"I don't blame them—it's like the most simplest answer is usually the right answer," Khan added.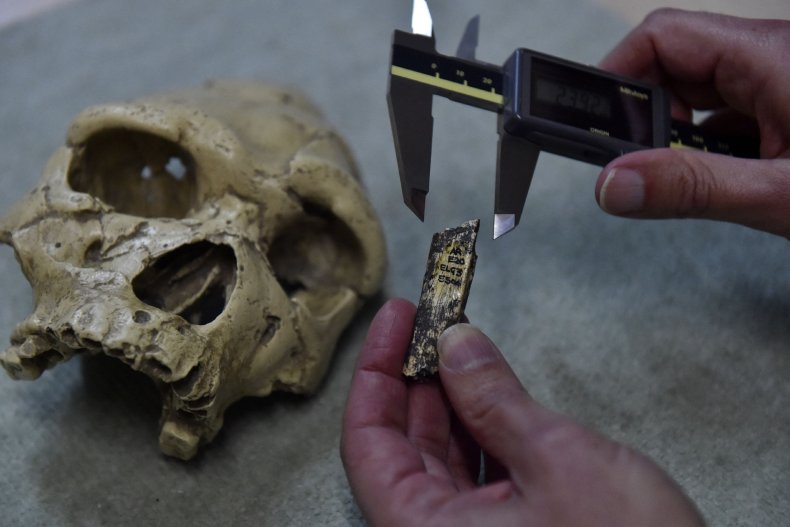 New York City's Office of the Chief Medical Examiner determined it was a human leg bone, although reports are conflicting on whether it was a femur or fibula, according to WCBS-TV.
Newsweek reached out to the Office of the Chief Medical Examiner for further comment on the situation, who confirmed that "the remains are human but not forensically significant."
Khan told the outlet that though he feared he could have contaminated a piece of criminal evidence with the discovery, police do not suspect foul play at the moment and confirmed that there were no other human remains found on site. Siddique hypothesized that, as the three previous owners over the last 100 years were all surgeons, it is likely a prop or "relic of a different time."
"[The previous homeowners] used to practice [medicine] in the house, sometimes in the basement," Siddique said. "But back in the day, actually, it was very, very normal."
Once the bone was confirmed to be human, Khan told The New York Post he "wasn't scared—I just felt surprised."
"It's a bone. What's it doing here!?" he added.
Siddique was also very surprised by the discovery. "I could never believe actually it could be human bone," he told WCBS-TV.
Newsweek was not immediately able to get in touch with Siddique or Khan for comment on the situation.
Meanwhile, on TikTok, another woman found a pile of bones in her backyard. Viewers believe that she may have stumbled upon an unmarked grave, as her 1903 home shares a property with an old cemetery. Another video creator found a "dead body" underneath her home's carpeting. Some viewers feared that her home may have been a grisly crime scene at one point in time.