Viral Video of Mysterious Green Liquid in Basement Viewed 500k Times
A man discovered a basement filled with lurid green liquid in a basement beneath a hatch in his Airbnb, which he reckoned looked like the lair of a "swamp monster."
Robertibus, who posts under Rob, was believed to have been vacationing with his other half, Nat, their baby and the dog, when curiosity got the better of him.
He decided to explore a hatch in the living room floor of the cottage they were renting, in scenes people compared to a horror movie. Rob shared a clip of the rental, near lake Coniston Water in England, to TikTok, showing a sofa over the wooden door in the floor, which he had to move to access the hatch.
The dad, from the U.K., shared a clip to the site, which can be seen here, which he captioned: "Not my usual content, but this was too spooky not to share. Was not expecting that!"
He narrates the video, saying: "So we've come away for a little weekend retreat in this lovely little cottage in the lakes, but I can't help but notice, where does this go?
"Well, sofa moved, so, guess it's time for an adventure. This is not creepy in the slightest. Some old school handle going on here. Right, give it a go. What is this. Oh my days. Just under the living room, that's terrifying. I'm scared too. What the heck?"
He opens the hatch to reveal stairs descending into the gloom, as he fetches a light before continuing filming.
Rob only manages to go down a few steps before coming to a room filled with bright green water. The arched room is made of brick, with cobwebs hanging from the ceiling, and a vent on the far wall, while something can be seen beneath the surface in the middle of the floor.
But the color of the pool is what alarms Rob the most, who continues in the clip: "Lights on, time to go. This is terrifying. What the flip? Oh my gosh, it's water. What the heck, it's quite deep and very green. What on earth is this. There's like a drain in the middle.
"What creepy ass thing is living in here. No. So, turns out we've booked the holiday home of a swamp monster.[...] I'm sleeping tonight!"
He later added a follow-up clip after the original, shared at the end of June, blew up and amassed more than 550,000 views, and possibly shared an explanation for the color.
Rob said: "The super creepy basement filled with green water. So it turns out this is probably a staining solution or something. It's a basement which leaks so they put some weird dye in it to figure out where the water is coming from. Creepy weird basement, case closed."
In that clip, in the comment section, Rob clarifies exactly where he was staying, writing: "Air BnB, near Coniston Waters in the lakes."
Despite the plausible reason for the odd color, people found the green basement equally terrifying.
Amy Hamilton commented: "Looks like a bunker but don't know what there's loads of water, maybe to stop people going down."
Scott Wood wrote: "The Chamber of Secrets has been opened!"
Ali Kani181 thought: "It could be an old type of water reservoir."
While Jakob John joked: "They didn't advertise swimming pool included?"
And referencing a horror film, Fabian Meyer wrote: "This reminds me of Evil Dead."
Although Emma Walker reckoned: "Err have you watched Ghostbusters, that's ectoplasm!"
Newsweek reached out to Rob for comment.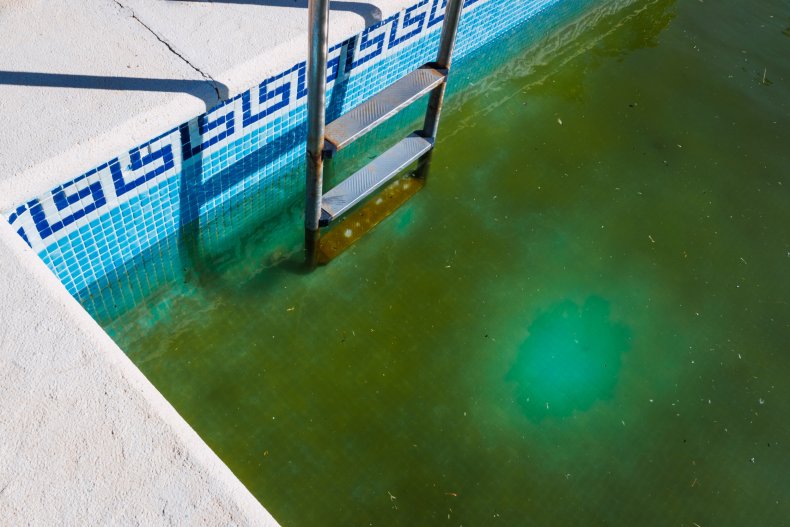 Update 9/21/21, 5:25 a.m. ET: The headline of this article was updated to reflect the viral nature of the video, and to clarify where Airbnb was referenced.