Man Flies 4,000 Miles to Save Aggressive German Shepherd Who Has Bitten People
A dog trainer has wowed pet owners after traveling more than 4,000 miles to help a German shepherd with aggression issues who had a history of biting people.
But, while the length of the journey taken to the U.K. was impressive enough, it was nothing compared to the apparent results achieved once he arrived.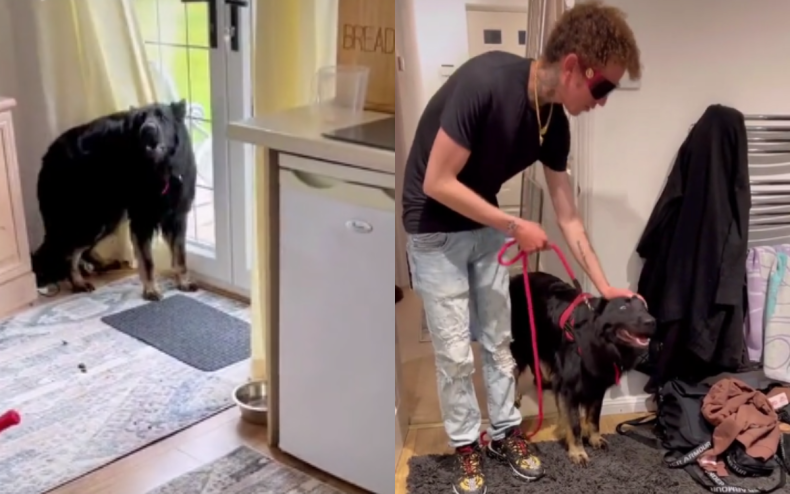 Aggression represents a major source of concern for some German shepherd owners. According to a study of 9,000 pets conducted by researchers from the University of Helsinki, German shepherds ranked among the most-aggressive dog breeds.
The research, published in Scientific Reports, ranked the breed as the fourth most-aggressive in terms of growling, snapping and barking.
Yet the German shepherd that California-based dog trainer and breeder Augusto Deoliveira came to the aid of had more significant problems than just that.
According to Deoliveira, who shared footage of his encounter with the canine to TikTok under his professional moniker of The Dog Daddy, Molly the German shepherd was "completely out of control" when he first met her and had a "severe fear of humans."
"She has bitten and no one can get close to her," he said in the video of their day together.
Having traveled more than 4,000 miles and spent three-and-a-half hours on a train to reach the dog's owner who lives in a "small village," the Brazil-born dog trainer set to work.
His approach began by exposing Molly to her "fear" of humans by getting close to her and slipping on a muzzle for the safety of others.
"I started exposing her to as many people as possible right away after I got her under control," Deoliveira wrote. "My relationship quickly changed with her after she realized I would not let her get away with her behaviors and also that she was safe with me."
The apparent transformation from the dog shown bouncing around his owner's kitchen, barking and out of control, to a more docile canine, happy to be petted by the trainer, is a dramatic one. Deoliveira says that it was done in just one training session.
The footage left many on TikTok stunned and has already been viewed more than 2 million times.
Sjd0402 commented: "Amazing!! she actually looks relieved...." with tanya12345613 writing: "This dog would have probably been put to sleep if no one could help her thank you for saving her."
Ginger984 added: "She must have been exhausted living like that, poor thing. Amazing work," while sherrygibbspicker wrote: "I am glad that they did not give up on this dog."
An avid dog lover, Deoliveira told Newsweek his interest in animals began at a young age when he would help his grandparents back in Brazil, who used to rescue dogs from the streets and bring them home.
"I was inclined to try to train them and communicate with them and understand them," he said. "Even then, people could tell I had a special connection with the dogs and I was invited to work with a dog trainer at the age of 12. It was there that I felt I found my calling."
Deoliveira eventually headed to the U.S. where word of mouth soon spread about his dog whisperer-like abilities. In the case of Molly, he said she was raised during the pandemic and has had issues ever since a trip to the vets as a puppy.
"She would be aggressive around anyone other than her family. Basically, her owner didn't understand how to deal with a dog that was struggling with fear," Deoliveira said. "The dog learned that the best way out was to show aggression."
Deoliveira added that the key to his success with dogs of this kind is showing them there is "someone who understands them."
"She was very scared. I needed to show her she didn't need to be scared, I had to let her see that for herself," he said. "I had to use an approach that let me safely get close to her, instead of allowing her fear and aggression to get in the way."
Having worked to desensitize Molly to people being near her, Deoliveira showed her owners how to continue to reinforce his approach, and the trainer is confident that the canine can now live a happier life.
"Once I get through to the dog the first time, it becomes much easier," Deoliveira said.
Do you have funny and adorable videos or pictures of your pet you want to share? Send them to life@newsweek.com with some details about your best friend and they could appear in our Pet of the Week lineup.