Man Gets 8 Years in Prison for Burning, Looting Minneapolis Businesses During 2020 Riot
A St. Paul, Minnesota, man was sentenced Wednesday to 100 months in prison for damage that prosecutors said he helped cause and for items he looted during protests in the summer of 2020.
Victor Devon Edwards, 32, was given his sentence of over eight years in prison followed by two years of supervised release by U.S. District Judge Patrick Schlitz, after Edwards was convicted by a jury in August on one count each of rioting and arson.
Edwards allegedly went to downtown Minneapolis on the night of August 26, 2020, after Eddie Frank Sole, 38, fatally shot himself as police were approaching to question him in connection to an earlier shooting. As police and emergency medical personnel surrounded Sole's body, several people in a nearby crowd accused police of shooting him, according to The Star Tribune.
Following the accusations and before surveillance video eventually showed that Sole shot himself, protests and riots broke out in the city, with many people still on edge in the months following the death of George Floyd at the hands of a Minneapolis police officer.
Edwards was one of hundreds to protest in the city that night, and prosecutors said he entered several stores including the Target headquarters, Caribou Coffee, a restaurant called Brit's Pub and a Saks Off Fifth, according to a Justice Department release announcing Edwards' sentence.
Edwards was allegedly seen on surveillance footage looting several items from the department stores as well as contributing to a fire that caused an estimated $1 million in damage inside the Target headquarters.
Two men with Edwards that night, Shador Jackson, 25, and Leroy Williams, 35, both pleaded guilty to conspiracy to commit arson. Jackson received nearly three years in prison, and Williams has yet to be sentenced, according to The Star Tribune.
Each of the three men had felony convictions prior to the 2020 riots. Edwards had a 2016 third degree conviction for criminal sexual conduct and other convictions for theft, drug possession and child endangerment, while Jackson had prior convictions for second-degree assault and drug charges. Williams had prior convictions of theft, illegal firearm possession in public and burglary, The Star Tribune reported.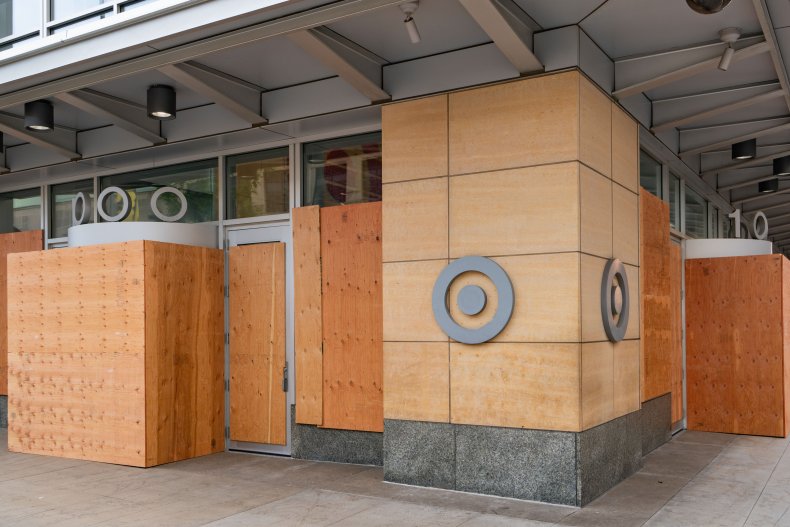 More than 130 people were arrested in connection with the riots.
According to prosecutors, surveillance video shows Edwards looting a department store and entering other closed stores and businesses. Edwards also took orders from friends for items to steal during the looting, they said.
The Associated Press contributed to this report.