Man Who Glued Shut COVID Vaccine Center, Stopping Hundreds of Shots, Jailed
A man has been jailed for 12 weeks for gluing shut the doors of a COVID vaccination center in the U.K., in an act that prevented over 500 people from receiving their booster vaccinations.
Hayden Brown, a 53-year-old man from Norfolk, appeared before Norwich Magistrate's Court on Wednesday, pleading guilty to criminal damage, according to Norfolk Constabulary.
Brown also admitted to causing a public nuisance relating to the fact that he prevented COVID-19 booster vaccines from being administered to 504 vulnerable people.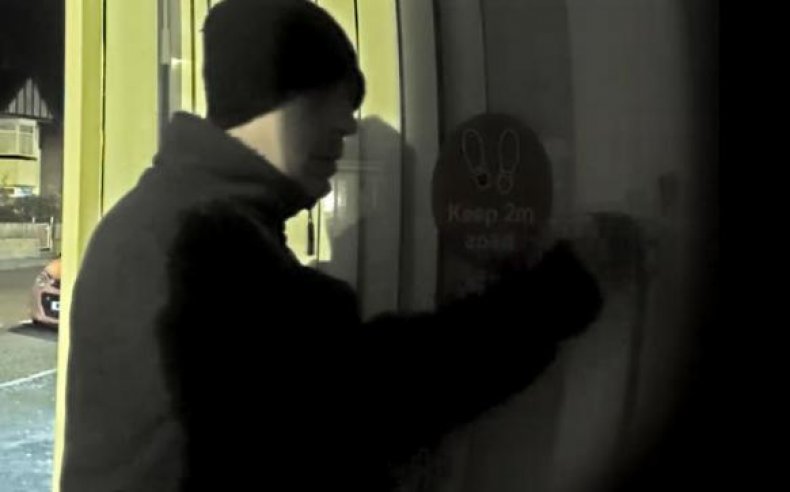 "Brown's actions prevented more than 500 people to receive their COVID-19 vaccinations," Norfolk Constabulary superintendent Nathan Clark said. "A large number of these people are elderly and this disruption will have caused great anxiety to those who have chosen to be vaccinated and then not able to attend."
Brown placed glue in the lock of the Amanalisj temporary vaccination center operated by Phamacyexprezz in Gorleston on the night of November 26, which prevented the door from being opened. He was arrested on Monday.
He was identified by covert cameras that had been placed at the location following two previous incidents on November 12 and November 20.
Amanalisj's owner Waheedat Owodeyi told The Great Yarmouth Mercury that the first incident of a superglued lock occurred on November 12 and caused chaos at the center, which employs 10 staff. The incident caused the opening of the center to be delayed as a locksmith was called.
Owodeyi said that the second incident on November 20 had also caused delays, but the third incident had led to frustration for staff, volunteers, and those due to receive vaccinations and boosters.
Owodeyi said: "We just could not get the door open. it was very frustrating. He had superglued the lock.
"It has caused disruption to everyone."
The news comes as 69 percent of the U.K. population is fully vaccinated, according to The New York Times COVID data tracker. Over three-quarters of the U.K. population has received at least one dose of a COVID vaccination.
In addition to this, almost 19 million COVID boosters have been administered according to the U.K. government. Assuming one booster is administered per person, that means that over 28 percent of the U.K.'s population of around 69 million people have received a booster vaccination.
The U.K. is currently reporting around 43,000 COVID cases per day, an increase of 12 percent over the last two weeks. As an area, Norfolk, where Brown committed the offense, has experienced an 11 percent increase in cases over the past 14 days.
COVID cases in Norfolk have reached 54 per 100,000 people, below the U.K. average of 65 cases per 100,000 people. Currently, the highest case rate in the U.K. per capita is in East Sussex with 110 cases per 100,000 people.
According to The New York Times COVID tracker, deaths in the U.K. resulting from COVID have dropped by 16 percent over the past two weeks.
In the U.S., 59 percent of the population is fully vaccinated. Over the past two weeks, cases of COVID across the entire nation have dropped by 1 percent.
The U.S is currently reporting over 86,000 cases per day, or 26 cases per 100,000 people. The states with the highest vaccination rates are Vermont and Rhode Island, both of which have 73 percent of their citizens fully vaccinated.
On the flip side of this, the states of West Virginia and Idaho trail in terms of fully vaccinated residents with just 42 and 45 percent of their populations fully protected, respectively.