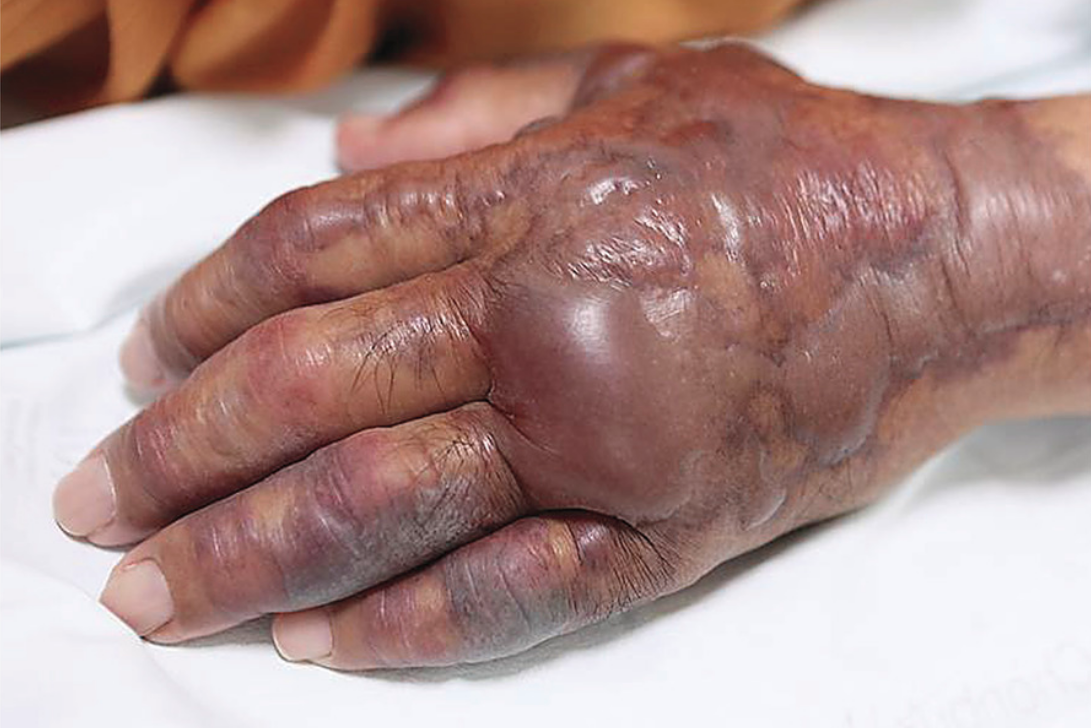 A 71-year-old man had his hand amputated when an almost 2 inch-wide blister developed on his hand after he ate sushi.
The unnamed man visited an emergency department in South Korea after suffering from a fever for two days, and being hit with "excruciating pain" in his left hand. Just 12 hours before the pains began he had eaten raw seafood, according to a case report in The New England Journal of Medicine.
When doctors examined the man, they found he had a deep purple blister measuring 3.5 by 4.5cm (1.4 by 1.8 inches) spanning his left hand.
Medics at the Chonbuk National University Medical School, Jeonju, South Korea performed emergency surgery on the patient. But despite their efforts, his skin lesions developed into necrotic ulcers and the man's left forearm was amputated 25 days after he first visited the hospital.
Read more: A lump moving across a woman's face was a parasitic worm crawling under her skin
Tests revealed the man's hand was infected with vibrio vulnificus: a bacteria found in seawater which is from the same family as that which causes cholera. Vibrio vulnificus can be both foodborne and waterborne, and is most commonly passed on in seafood. Oysters in particular are a high-risk food.
Vibrio vulnificus can also enter the body if infected water gets into a cut or scratch.
Hurricanes, storm surges and coastal flooding that create brackish water where rivers meet the sea raise the likelihood of the spread of infection. As the bacteria thrives in a warm climate, the infections are often reported in the U.S. between the months of May and October.
Those with weak immune systems, including those afflicted by chronic liver disease and cancer, are at a greater risk of catching vibrio vulnificus and experiencing complications than the average person, the authors of the case study wrote.

Vibrio vulnificus can either infect a wound, causing redness and swelling and spreading to the rest of the body if left untreated; or a blood infection known as primary septicemia. This can trigger symptoms such as fever, low blood pressure and skin lesions. In some instances, like the man in South Korea, amputations are needed to remove the dead tissue.
Cases of Vibrio vulnificus infections are relatively rare, although figures may be higher as incidences may go unreported. According to CDC estimates, the Vibriosis species of bacteria causes 80,000 illnesses and kills 100 people in the U.S. annually.
About the writer
Kashmira Gander is Deputy Science Editor at Newsweek. Her interests include health, gender, LGBTQIA+ issues, human rights, subcultures, music, and lifestyle. Her work has also been published in the The Independent, The Independent on Sunday, The i Newspaper, the London Evening Standard and International Business Times UK.