Video Captures Arrested Man Breaking Out of Police Car by Kicking Window 29 Times, Shattering Glass
A man arrested at a Troy, Michigan, hotel on a drug-related warrant faces additional charges for allegedly shattering the window of a police cruiser after kicking it 29 times with his bare feet. Surveillance video inside the car, which was shared to a local news station, captured the violent outburst.
Even before the suspect, identified as 27-year-old Rocky Hernandez, was charged with damaging police property, he faced other charges after an early-morning report on May 20 about a disturbance led to authorities looking into numerous charges against him and other suspects. The charges ranged from drug possession to kidnapping.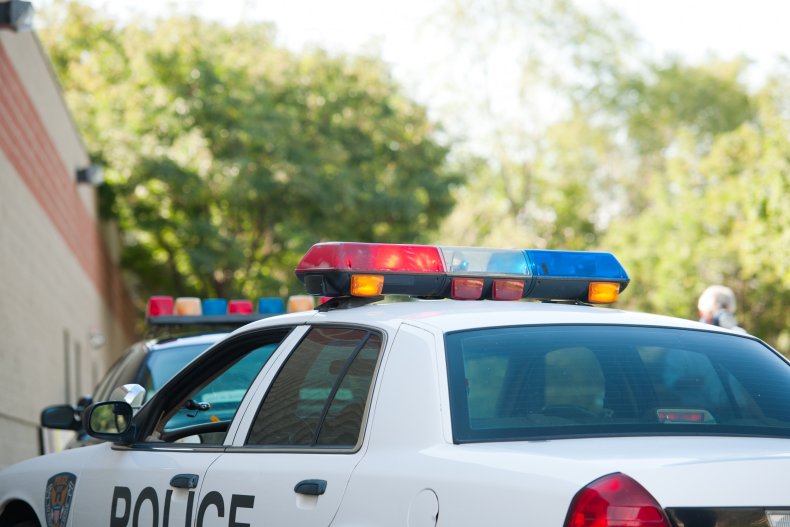 On Friday, WDIV-TV, a local NBC affiliate in Detroit, shared the video on its Twitter account. In it, a handcuffed Hernandez can be seen kicking the window with one foot at approximately the 1:07 mark before switching to both of his bare feet a little more than 10 seconds later, which shattered the backseat window. (Warning: The video contains explicit language.)
The string of events involving Hernandez began at 6:27 a.m. on May 20 when Troy police officers were called to the Hawthorn Suites for a welfare check after a woman who identified herself as "Mailey" reported she was awoken by a disturbance, WDIV said.
Police arrived on the scene, but Mailey was not in the lobby, where she said she would meet them. They requested the dispatcher to call the woman back to meet them.
The officers reported a man and a woman soon met them. The woman said she was Mailey, and the man gave his name as Justin Vita-Purnell. Police could not locate anyone with the full name "Mailey" gave them, and after several requests, she gave them a different name. The woman, 19, said she had given them the correct name all along, "even though she did not," according to the police report obtained by Newsweek.
She said told the officers she called them because her brother and a cousin (Vita-Purnell) were being loud in her room and she wanted them removed.
When police ran her name through their system, they found a full extradition warrant out for her in Miami-Dade County, Florida, for narcotics. They also found a history of other charges against her, including offenses involving drug paraphernalia and narcotic possession.
The woman was handcuffed and put into a police cruiser. Police found that Vita-Purnell had a driving-related warrant out of Ohio, but he was not taken into custody at that time.
Vita-Purnell later returned with Rocky Hernandez, according to officials. The two acted aggressively as Hernandez said the woman was his wife and demanded to know what was happening.
Police ran a check on Hernandez and found a full extradition warrant out for him in Miami-Dade County for narcotics. They also found he had arrests for domestic violence, multiple offenses of battery, multiple offenses of cocaine possession, multiple offenses of grand theft larceny, multiple offenses of burglary, multiple offenses of resisting an officer, fleeing and eluding, robbery, firearm offenses and a felony firearm violation.
He was arrested, put in handcuffs and placed in the back seat of a police car.
In the group's hotel room, police said they found meth pipes as well as a concealed weapon in one of Vita-Purnell's bags. A further search revealed several credit and debit cards, various identification documents, multiple checks, suspected stolen mail and a laptop computer.
While police searched the hotel room, Hernandez was arguing with an officer outside while handcuffed inside a police car, according to the police report. When the officers came outside, Hernandez had kicked out the window.
Police later discovered Vita-Purnell had been involved in a possible kidnapping. The driver's license of the woman he had allegedly kidnapped in Troy in May 2021 was found in his bag.
Police said the 19-year-old woman told them her brother and his girlfriend came for a brief visit at the hotel. While they were there, she said, she saw her brother and Vita-Purnell return at one point with "a bunch of mail," which officers believe was stolen.
Troy police are said to be seeking a warrant for malicious destruction of police property against Hernandez, and he is facing possible punishment from Miami-Dade County authorities, according to WDIV.
WDIV also reported police are seeking warrants against Vita-Purnell for identity theft, receiving and concealing stolen property, uttering and publishing checks, larceny from mail, carrying a concealed weapon and fraud. The TV station also said Miami-Dade County officials no longer want to extradite the 19-year-old woman. After being issued a citation for hindering and obstructing police, she was released.
Newsweek contacted the Troy Police Department for more details and comment but did not hear back in time for publication.