Man Killed by Lightning Day After News Site Says There Were No Deaths This Year
People claim The Washington Post "tempted fate" after revealing no one had been killed by a lightning strike in 2021, only for a man to die the next day.
The news site shared an article entitled "The United States has yet to see a lightning fatality this year, a record to date," published on Tuesday.
They uploaded the story on their Twitter page the following day, captioned: "Nobody has been killed by lightning in the United States this year, the first time the nation has made it this far into the year without a lightning death."
But just hours after it was shared, a man died after being struck by lightning in New Jersey.
Accuweather cited a report from the National Weather Service (NWS), confirming a man died on Wednesday after being struck at around 3.45 p.m. EDT.
Action News later revealed the man, who hasn't been identified, was playing golf at the Burlington Country Club in Westampton Township.
The site claimed officials revealed the man was struck between the sixth and seventh hole, as a storm passed through the area.
They quoted Westampton Township police, who said the deceased was found under a tree, which was also struck, leading them to believe he was seeking shelter under it.
The Washington Post article quickly attracted a lot of attention, and screengrabs were shared on Reddit, captioned: "Just a couple of hours after posting this, the first person died by lightning strike."
The author, Matthew Cappucci, took to Twitter in defense of the piece, saying: "Check the publishing time. I ended by saying this wasn't going to last."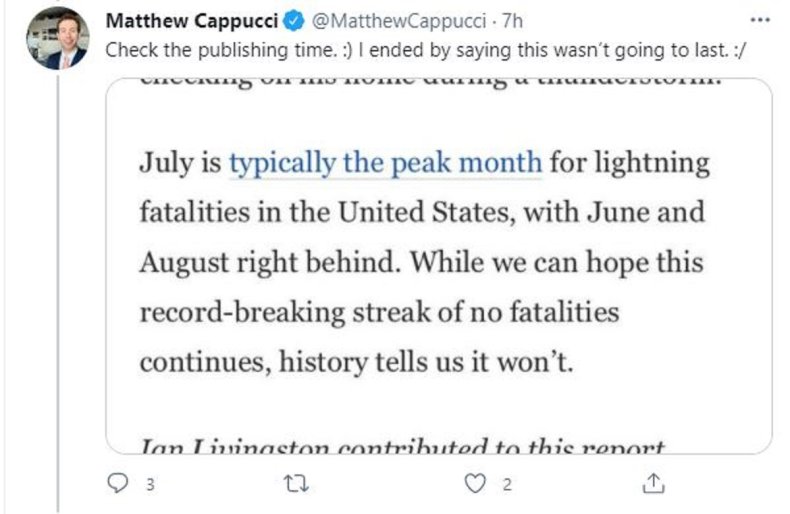 Cappucci, a meteorologist for Capital Weather Gang, referenced his last sentence, which says: "July is typically the peak month for lightning fatalities in the United States, with June and August right behind. While we can hope this record-breaking streak of no fatalities continues, history tells us it won't."
Despite acknowledging the record wouldn't hold, people still found the timing of the article eerie.
Harrison Hickman commented: "The next lightning strike death will be blamed on @washingtonpost for "jinxing" the record."
Joel Coon wrote: "Was about to say exactly this. WHY would they talk about it? It's like pointing out the pitcher is on his way to a no hitter in the 6th inning."
"Way to jinx it," Larry said.
Susan Wompierski thought: "Well this is ironic timing for me to read this tweet, moments after learning it was no longer accurate as this afternoon, a man in Westampton, NJ was struck and killed by lightning on a golf course."
While @cryborg added: "Oh great... you had to say it aloud."
The Lightning Safety Council indicates the last time New Jersey experienced a fatality due to lightning was in 2012 with the death of Viktor Ovsyankin, who was watching a soccer game near a tree in Demarest.
The NWS states 17 people died from lightning strikes across the U.S. in 2020.