Man Kills Wife, 4-Year-Old Daughter and Mother-in-Law After Divorce Appeal
A man in Harris County, Texas, is believed to have killed his daughter, estranged wife and mother-in-law Thursday morning before fatally shooting himself, according to a local sheriff's office.
Patrol units arrived at the Cypress Commons apartment complex around 8 a.m. after receiving a report of multiple gunshots when they found four people dead inside an apartment. All had died from gunshot wounds, according to the Harris County Sheriff's Office.
Investigators believe the man "came to the location and shot and killed his wife, daughter and mother in law before turning the gun on himself. A weapon was recovered at the scene and is believed to be the only weapon used in the incident," the sheriff's department stated in a description of the incident on its website.
Harris County Sheriff Ed Gonzalez told reporters Thursday that it appears the man and his estranged wife had "possibly been going through divorce proceedings or some type of formal separation," according to local news station KTRK.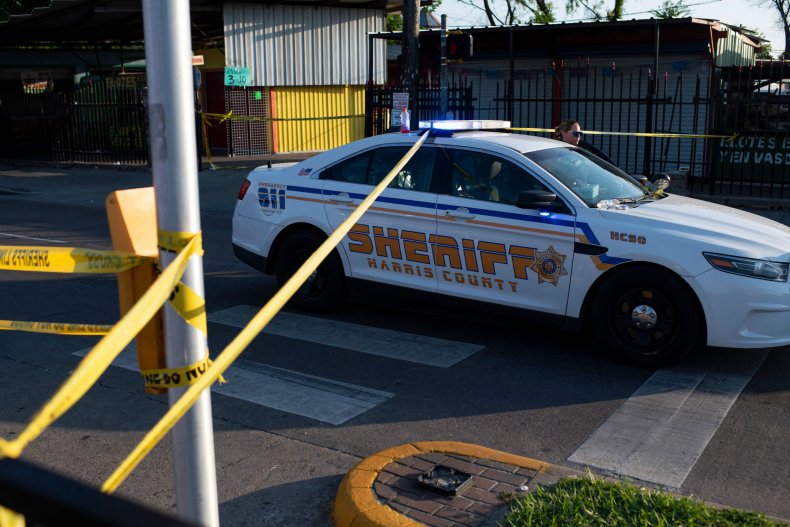 The sheriff added that there's been "a history of some ongoing issues between the two more recently that may have led to an allegation where the adult male had possibly injured the young child."
Gonzalez stated that there had also been a recent report that "may have been related to" the man "possibly slashing" the tires on his wife's car.
KTRK reported that court records show that the couple had been divorced, and that the man had filed an appeal. The couple has not been publicly identified by law enforcement officials or news outlets. The news station also cited court records alleging that the man was verbally abusive, had tracked his wife's car, and that his daughter said he had told her to keep her head underwater in a bathtub.
Newsweek has reached out to the Harris County Sheriff's Office for comment.
In a separate incident in Indiana last month, a man was accused of fatally shooting his wife in front of her daughter and a friend of the child's. The man was charged with murder, attempted murder and criminal recklessness.
Last December, police said that a man in Maryland killed his ex-girlfriend and ex-wife before taking his own life. Police said the suspect posted a video on Facebook Live outside of an apartment building talking about the crimes before he allegedly killed his ex-wife.
In April, a man allegedly killed his wife and teenage stepson by shooting them at a home in Texas.