Man Who Left Dog in Sweltering Car With Mouth Taped Shut Arrested: Video
A man was arrested by the Las Vegas, Nevada Metropolitan Police Department after a 3-month-old husky puppy that was left in a locked hot car was rescued as he was reportedly gambling in a casino, as seen in released bodycam footage.
The video, which was shared on the department's social media pages, was also picked up by Reddit where it went viral on the "What Could Go Wrong" forum, amassing more than 62,000 votes.
In the police department's caption on Facebook, officers received a call on July 20 from security of a hotel and casino alerting them to the puppy in a locked car parked on the top floor of a garage with its mouth taped shut. Police said the temperature reached a high of 113 degrees. The owner of the vehicle, 50-year-old Raul Carbajal, was arrested for willful, malicious torture of an animal.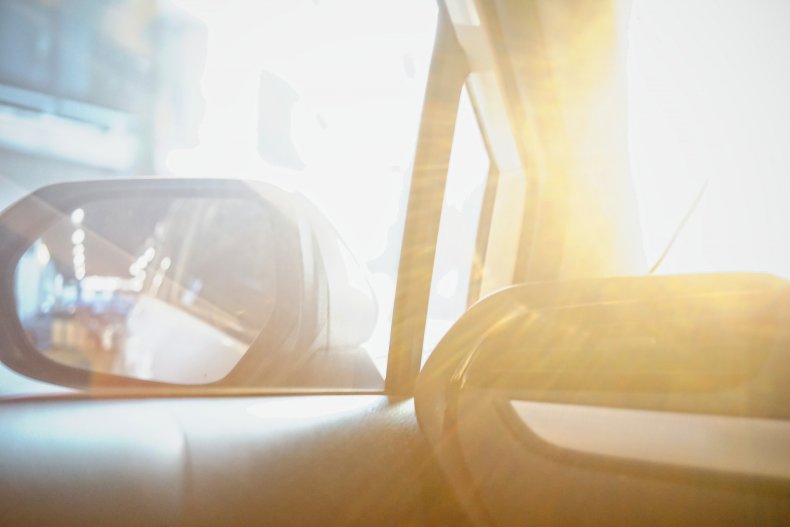 According to the American Kennel Club, dogs left in a hot car can face the risk of heat stroke, regardless of whether a window is cracked open.
"It doesn't have to be super hot outside for your car to heat up," the organization said. "The inside of a vehicle parked in 70-degree weather can reach 100 degrees in just 20 minutes."
Dogs may suffer from heat strokes, and the AKC reported that "hundreds of pets" die from car-related heat strokes every year.
"Security spotted a puppy inside a locked vehicle on the top floor of the parking garage with its mouth taped shut around 3 in the afternoon," the caption of the police department's post read. "Security got the dog out of the car through the vehicle's sunroof."
Officers said they learned that the dog was in the car for about two hours without air conditioning, food or water.
Carbajal, the owner of the car, reportedly was inside the casino.
Footage from an officer's body camera showed him as he approached the car where the husky puppy was sitting.
A woman sitting with the dog told the officer that the puppy was found to have "a lot" of saliva and had trouble breathing.
Shortly after, Carbajal was seen walking up to the car.
The officer asked him if it was his vehicle, and after Carbajal confirmed that it was, the officer placed him under arrest.
He advised Carbajal what he was arrested for as he got him situated in the police car.
"Do you realize how hot it is outside," the officer asked. "You had the vehicle off, windows up and you had tape around your dog's mouth."
Officials said that the puppy was still receiving medical care from animal control.
"This poor puppy is lucky to have survived this ordeal," the caption read.
The incident sparked anger among viewers across the different social media platforms where the video was shared.
"You can tell that cop was f**king pissed when he slammed that door," a Reddit user wrote.
"Car off, windows up, tape around the dog's mouth...what the f**k," another Redditor commented.
"That gave me chills man, you can hear the anger in the [cop's] voice," one Reddit user wrote. "That's just f**king despicable to harm helpless animals."
Facebook users were equally outraged.
"I could tell that officer was mad mad but trying to be as professional as possible," a person said. "Hats off to him as I don't have the kind of will power."
"What the hell is wrong with people," asked another. "I'm so glad you charged him with a felony."
One commended the security officers who alerted police to the incident.
"That pup would not have survived if it was not reported," they said.
Newsweek reached out to the Las Vegas Metropolitan Police Department and Las Vegas Animal Control for comment.
A recent incident involved a Walmart employee who helped police save a 2-week-old baby from a hot car.
There have also been other reports of animal cruelty.
A dog was found frozen to death in a cage earlier this year, while footage from a Ring doorbell camera showed a hooded individual picking up a dog and throwing it to the ground before kicking it.