After Tesla CEO Elon Musk expressed concerns about bitcoin's links to fossil fuels, an eco-friendly businessman claims to have found a solution using "cow poop."
In a profitable effort to utilize sustainable energy, the British entrepreneur has developed a cryptocurrency mining machine that runs only on manure, according to the BBC.
Josh Riddett, the 30-year-old managing director at Easy Crypto Hunter in Manchester, England, has reportedly established a system of harvesting energy from the fecal matter of cows, specifically to mine for cryptocurrency.
To harvest cryptocurrencies like bitcoin and Dogecoin, computers must process digital transactions on the existing blockchain. Computing power is required to solve mathematical problems, which can take up to dozens of terawatts annually.
To reduce the amount of nonrenewable energy spent on crypto-mining, Riddett's company has turned to farmers like Philip Hughes to use animal waste for alternative power solutions.
Jordan Harris, head of media and communications at Easy Crypto Hunter, told Newsweek that in an effort to combat environmental waste, the company does everything it can to make a lasting change with renewable energy.
"We are aware that our machines consume a lot of power, so as a company we are very passionate about using renewable energy where possible to reduce the environmental impact the machines can have when used at a large scale," Harris explained.
"A lot of our clients are owners of renewable energy sites, as using the power their sites generate to run the mining machines is far more profitable than what they would earn from selling the power to the grid," he said.
In a statement to City A.M., Riddett said, "Years ago, farmers were encouraged to develop green energy solutions, which is one of the reasons why we've seen solar panels appear in fields over the last 10 years, and these schemes came with good financial incentives. More recently, those incentives have dwindled to virtually zero, but our machines are now providing those lost incentives."
Each rig is filled with "lots of very powerful computer graphics cards," which cost about £18,000, or $25,500, per machine, according to the newspaper. Sites that hold up to 40 mining computers run off of the methane from the cow waste, which is turned into renewable energy via anaerobic digestion.
"Farmers have become one of our main clients, seeing as a lot of the time they have the facilities suitable for the machines already," Harris said. "And it's the sort of investment that suits their lifestyle since they can continue with their day jobs and don't have to worry about maintenance or monitoring the machines, since there is very little needed and what is needed we do for our clients remotely."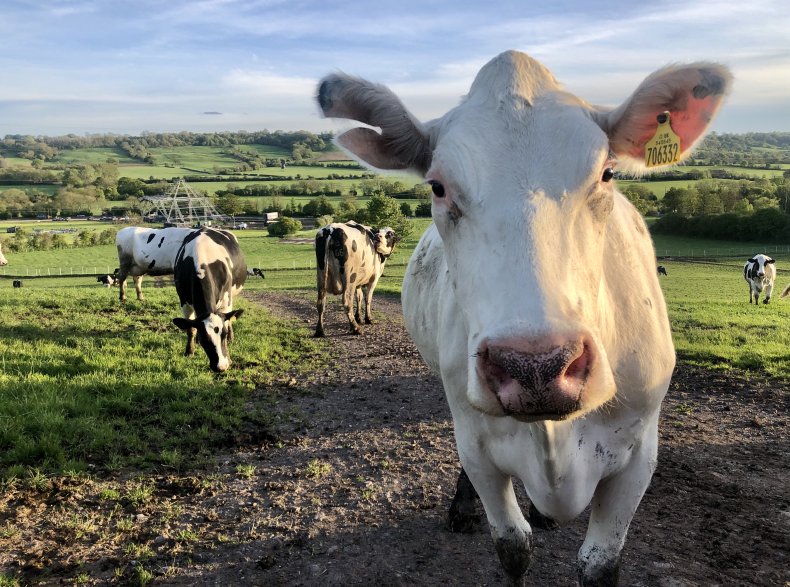 Riddett told City A.M. that in addition to the use of anaerobic digestion, his equipment across the 42 sites he occupies utilizes solar-, hydro- and wind-powered generators. Since switching to renewable sources of energy, he has earned upwards of £5 million, or $7 million, in global sale orders.
"I've always been business-minded, but I'm not a tech nerd," he told the newspaper. "I own the business, but I couldn't even write a single line of code."
He added, "I just had months and months of studying the market to learn about cryptocurrency and blockchain while having lots of late nights watching YouTube videos about it."
Hughes, who also leases out the renewable energy, noted in a statement to the BBC that business has been booming, but "it does very much depend on what day you ask that question." He acknowledged that the focus on Ethereum mining has been volatile in recent months, and its value has decreased from $4,000 to $2,400 since May.
Riddett told MarketWatch that despite the volatility of the crypto market, the work his company does "couldn't be greener."
"Our computers are capable of mining hundreds of different digital currencies, but we don't mine bitcoin because it's not as energy efficient as other coins and it's not as profitable," he explained. "When we started this business four years ago, green energy wasn't on our customers' radar, but now it's approximately 40 percent of our business and growing every day."
Riddett also expressed enthusiasm when talking about farmers becoming more digitally savvy with enterprises like leasing renewable energy.
"Farming is getting much harder, and that is something which will often drive a farmer to diversify in order earn a good living," he told City A.M. "There's a lot of diversification going on in farming these days, and, while the average age of our agricultural customers is 58, the vast majority of farmers now can talk about technology with the same confidence they talk about cows and pigs."
Harris agreed. "Farmers who have anaerobic digestion sites are a perfect candidate for crypto-mining since they can use all the biological waste from the farm, using anything from cow manure to potato peelings, to create electricity, which then in turn is used to power the mining rigs, creating an additional income stream for their business," he explained.
"One great impact that farmers getting involved with crypto-mining have had is that there is more commercial viability now to build more renewable energy sites, seeing as using the power for mining is more profitable than selling the power to the grid," he said.
"This will mean that there will be an increase in renewable energy sites, which will increase the amount of energy throughout the world that is green since a lot of renewable energy sites that mine still provide some power to other areas, such as the grid," Harris added.
Cryptocurrency has also been a hot button issue in America in light of the recent Colonial Pipeline hack that led to a $4.4 million ransom payment in the form of bitcoin. Colonial Pipeline's CEO recently defended his decision to pay the hackers, saying no one would "want to know" the results had the ransom not been paid.