Elon Musk Changes Twitter Bio to '#bitcoin' After Apparent Nod to Dogecoin With Meme
Fans of meme cryptocurrency Dogecoin rejoiced on Thursday after it was referenced by Elon Musk, but the billionaire CEO caused markets to trend in a different direction on Friday by changing his Twitter bio to promote bitcoin.
The change by Musk was enough to cause bitcoin's price to surge by up to 20 percent, CNBC reported as real-time price tracking data from CoinMarketCap showed the value spiked from around $32,000 to more than $37,000 in a matter of hours.
At the time of writing, Musk's latest tweet reads: "In retrospect, it was inevitable." But it was not clear if that was directly related to his posts about cryptocurrencies.
On Thursday, a tweet from the Tesla and SpaceX boss showed magazine titled "Dogue" that prominently showed a dog on the cover. In the Dogecoin community on Twitter and Reddit, it was interpreted as being yet another nod of support from Musk.
The value of Dogecoin, listed on the crypto-markets as DOGE, increased by more than 800 percent on Thursday, reaching about $0.082 per coin according to CoinDesk data. Dogecoin later dropped, priced around $0.05 per coin at the time of writing.
The Twitter account of the crypto, which launched as a joke in 2013 using branding of a Shiba Inu dog from an internet meme, responded to Musk's post in a tweet on Thursday that has since attracted more than 10,000 likes. "Not even mad," it read.
Members of the subreddits r/dogecoin and r/SatoshiStreetBets have been hyping up the cryptocurrency this week in an attempt to force its value up to $1.
The push seemingly aimed to replicate market disruption fueled by r/WallStreetBets this week, which saw its members pour money into stocks of GameStop, AMC and Nokia in order to thwart hedge fund short sellers who were betting the firms would fail.
Musk, who frequently posts internet memes and stock market musings, has previously boosted Dogecoin via his Twitter. Last December, the cryptocurrency's price surged by around 20 percent after the CEO posted: "One word: Doge." In July, Musk's tweet suggesting its success was "inevitable" caused a rise of about 14 percent.
Last April, Musk tweeted Dogecoin was "pretty cool" and may be his favorite crypto. He previously had "former Dogecoin CEO" in his Twitter bio, CoinTelegraph reported.
On Tuesday, Musk tweeted a link to r/WallStreetBets with the caption "Gamestonk!!" GameStop stock later rose by approximately 50 percent in extended trading.
The Dogecoin subreddit appeared enthused about Musk's most recent picture featuring the dog, some viewing it as an explicit endorsement that could boost their investments. One all-caps post on Thursday said: "This is not a drill. Musk is on our side."
The excitement appeared to have been slightly extinguished as of Friday morning after Musk changed his Twitter biography to an opposing crypto rival.
At the same time, the Dogecoin rally appeared to be faltering on Friday morning, with a price monitoring chart from CoinMarketCap showing a fresh downward spiral.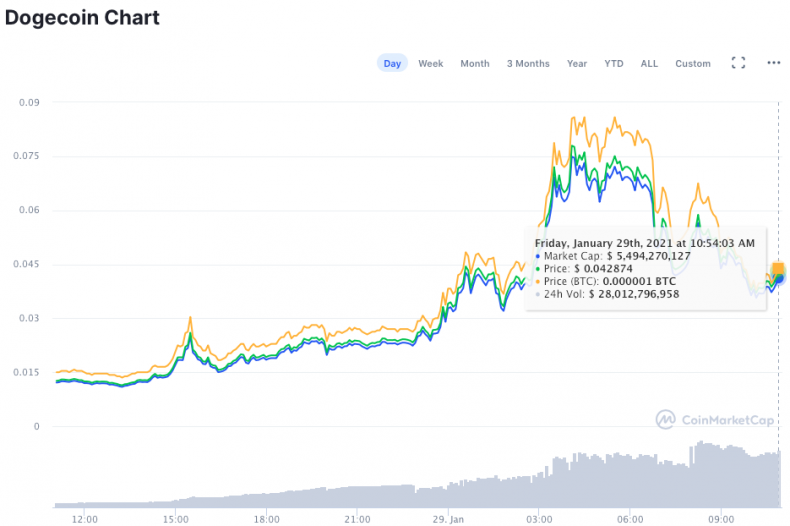 On the subreddit r/SatoshiStreetBets, which was also pushing Dogecoin this week amid the r/WallStreetBets stock trading frenzy, a frustrated user complained: "Elon changes his bio to Bitcoin and you sell Doge? You should be ashamed of yourselves."
Another user appeared to have a slightly more optimistic perspective on Friday morning, writing: "Elon Musk added #bitcoin to his profile description! Next step, the moon!"