A husband ran over his wife, killing her, at a Utah airport after they returned home from vacation, according to police.
Shawn Christopher Sturgeon, 38, was arrested after he allegedly mowed down his spouse at a parking complex at Salt Lake City International Airport on Monday. The couple had recently returned home along with their young child, according to a booking affidavit obtained by KSL.
Charlotte Sturgeon, 29, was killed when she was hit by an SUV on the second level of the parking complex at about 2:40 p.m. Salt Lake police who had reviewed surveillance footage said Shawn Sturgeon placed his child in the rear passenger seat.
Moments later, he got behind the wheel, drove forward, hit his wife and went another 10 feet before the vehicle stopped, according to the network.
A statement by the Salt Lake City Police Department read: "Shortly after the crash, [Shawn] Sturgeon drove the vehicle, with his wife critically injured inside, to the airport payment booths where he asked for help."
Paramedics later transported Charlotte Sturgeon to the hospital where she died, despite efforts on scene to save her life.
The statement continued: "Because [Shawn] Sturgeon drove from the garage to the parking payment booths, SLCPD established two crime scenes to document and collect evidence.
"There were no impacts to airport operations or air travel associated with this incident or the investigation.
Shawn Sturgeon was charged with "automobile homicide criminal negligence DUI of alcohol-drugs," according to a Newsweek review of inmate information on the Salt Lake County jail website.
Newsweek has contacted the SLCPD for comment.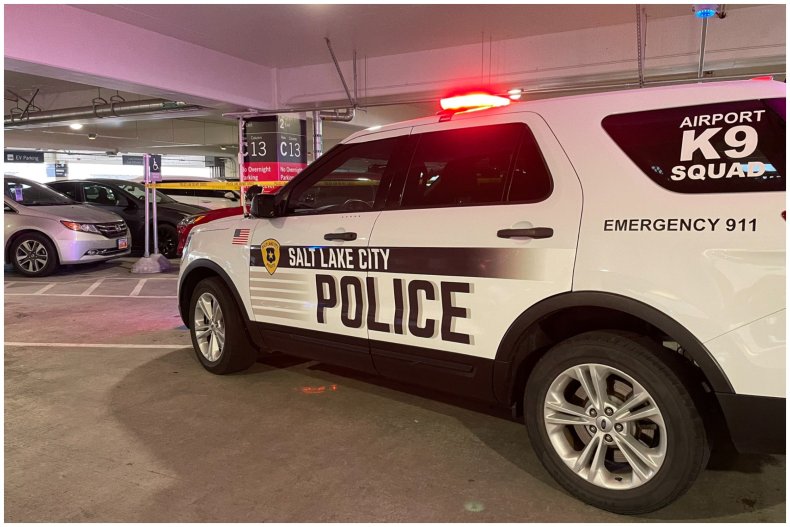 There were 62,074 motor vehicle crashes on public roads in the state in 2018, according to the Utah Highway Safety Office. They resulted in 25,645 people being injured and 260 deaths that year.
In 2018, a crash happened every eight minutes in Utah, and a person died as a result of a vehicle-related collision every 33 hours.
Newsweek previously reported on numerous cases where people have run down their partners. Earlier this month, a man allegedly ran over his girlfriend and her daughters at a Florida gas station.
According to the Volusia County Sheriff's Office, Nicholas Shaw, 29, had been driving back to his home in Stuart and stopped at a BP gas station in DeLand. The children's mother told police that she and Shaw had been arguing while they traveled back home.
Following the argument, Shaw is alleged to have run over his girlfriend, who was later assessed to have received non-life-threatening injuries.