Several police officers were hospitalized following a chaotic chase with a wanted woman.
Hannah Casperson, 25, of Brookfield, Connecticut, was being pursued by law enforcement along with her boyfriend, Thomas Crawford, in connection with 41 cases of vehicle break-ins, predominantly targeting cars parked outside of a senior living home in Wolcott, according to the Connecticut Post.
This comes as numbers show that while violent crimes increased from the year prior, property crime actually decreased.
On Friday night, officers were able to detain Crawford coming out of a grocery store. Casperson spotted the officers and fled in the couple's white Hummer.
Officers were able to locate her once again on Sunday morning in Waterbury, Connecticut, following a tip about her whereabouts. As they approached her car, she once again attempted to flee, kicking off an extended chase involving multiple area police departments. Casperson reportedly collided with two police cruisers before she was able to get to a nearby interstate, according to WTNH.
The Monroe Police Department confirmed to WTNH News that the wanted woman collided with a total of seven police cruisers during the chase, sending seven officers from the Waterbury Police Department to the hospital with injuries. The nature of their injuries has not been reported, but they are all said to be in stable condition.
Casperson's flight eventually came to end when she lost control of her vehicle and hit a telephone pole in the town of Monroe, closing traffic on the road and temporarily knocking out power. Authorities say her chase spanned 22-28 miles.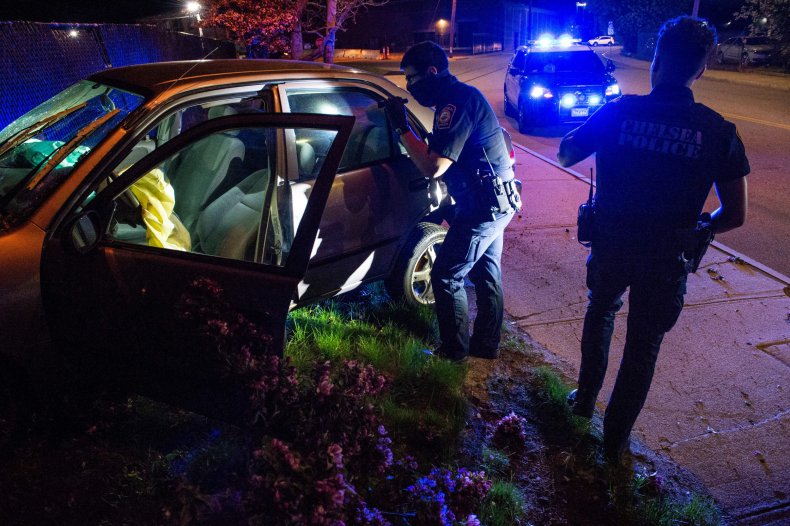 She was also taken to the hospital for non-life-threatening injuries. She faces charges relating to several outstanding warrants with more charges expected.
Casperson had a history of criminal activity prior to her chase on Sunday. She previously pled guilty to charges of criminal mischief in Southbury, Connecticut, but never showed up for a scheduled court date. WTNH News determined that she is also currently serving out an 18 months probation period for those earlier charges.
Newsweek reached out to the Monroe Police Department for a comment on this story but did not hear back before publishing.
Crawford, 32, is currently charged with 41 counts each of third-degree burglary, sixth-degree larceny, conspiracy to commit both previously listed charges, and second-degree criminal mischief. He is being held on a $75,000 bond. Casperson's charges are not specifically known at this time.
The various towns and communities where the couple had their run-ins with the law are located just southwest of the Connecticut state capital, Hartford.