Man Plunges to Death Into Lobby of Hard Rock Hotel & Casino, Investigation Launched
Shocked workers and medics battled in vain to save a man who plummeted from the second floor of a New Jersey hotel into the lobby below.
In a statement, police said they were called to the Hard Rock Hotel & Casino in Atlantic City around 4.10 a.m. on Monday morning. Hotel staff and medics attempted to save the man but he was pronounced dead at the scene, Atlantic City Police Department said.
Detectives investigating the fall concluded that the man was attempting to climb over a divider when he fell, the statement added. No further details have been released.
A spokesperson for the hotel told the news outlet: "We are deeply saddened and want to express our sincere condolences to the family of the individual."
It is understood police have identified the man who is believed to be 30 years old and from Rochester, New York.
Anyone with any information about the incident is urged to contact police.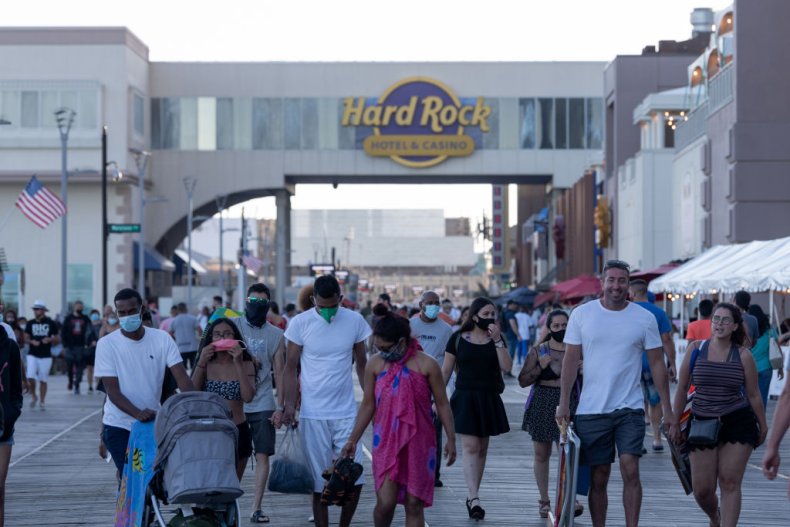 A number of other tragedies from great heights have made headlines recently.
Last year, Newsweek reported how a community in Dearborn, Michigan, had raised nearly $10,000 in less than 24 hours to cover the funeral expenses of a 19-year-old who died after falling from his hotel balcony in Mexico.
Ahmed Altaii, from Dearborn, was on spring break vacation in Cancun, Mexico, when he fell from the seventh floor of the GR Solaris Hotel around 10 p.m. on Saturday. The 19-year-old's girlfriend reportedly told Mexican authorities that Altaii had started drinking early in the day, the Yucatan Times reported.
A Facebook page titled Dearborn Area Community Members posted a video and several tributes to Altaii. It also shared a GoFundMe page that raised more than $9,000, of a $10,000 goal, in under 24 hours to help pay for Altaii's funeral.
Last summer, Newsweek also reported how a woman in Mexico suffered horrific injuries after she fell more than 80 feet from a balcony while trying to perform an extreme yoga pose.
Alexa Terrazas Lopez, 23, was attempting the move on the sixth floor apartment balcony in Nuevo Leon when she lost her balance and plunged to the ground below.
Surgeons spent 11 hours reconstructing her leg and she may not walk for another three years, Mexican newspaper El Sol de Mexico later reported.